Arroyo Grande Police Chief Steve Annibali's gun, badge, and police ID were stolen from his unmarked take-home police vehicle late on July 7.
Annibali said he violated at least one departmental policy, as he parked the vehicle on the street instead of in his driveway. Policy also stipulates that officers should remove all weapons from an unsecured vehicle. Annibali said he thought the car—which was locked and alarmed—was secure at the time, but now realizes it was "not secure enough."
"I walked out on Monday morning, noticed glass shattered across the sidewalk, and I said 'uh oh,'" Annibali told New Times.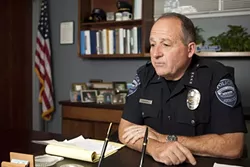 FILE PHOTO BY STEVE E. MILLER
'UH OH' : A driveway full of mulch prompted Arroyo Grande Police Chief Steve Annibali to park on the street, where a thief smashed his car window and stole a pouch holding the chief's gun and badge.
The chief said the items were in a small black emergency response bag stashed under the rear passenger seat. The thief broke the rear passenger side window, grabbed the bag, and took nothing else, he said. Annibali parked the car on the street because his driveway was full of recently delivered mulch.
"I filed a crime report right away, and I alerted the city manager about the policy violations," Annibali said. "In retrospect, I really wish I had gotten less mulch."
He emphasized that this crime—against a police chief, in a very safe neighborhood—demonstrates that "it can happen to anyone."
He added the incident has prompted his department to seriously review all of its practices and procedures about storing police equipment, including the definition of "secure" when it comes to police vehicles.
Annibali said he was unsure what action the city manager's office will take, but recommended he be held to the same standard as any of his officers.