A library might not sound like an ideal place to spend the hottest time of the year, but for decades the Summer Reading Program has made the San Luis Obispo County Library come alive.
"We want to keep kids reading during the summer so their brains remain active and thinking about amazing things," said Margaret Kensinger-Klopfer, youth services coordinator for the San Luis Obispo County Library.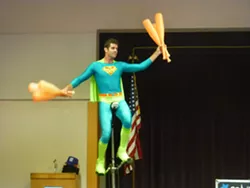 PHOTO COURTESY OF SAN LUIS OBISPO COUNTY LIBRARY
JUGGLING SUPER HEROES : Juggling troupe Something Ridiculous is one of many guests who liven up the county's libraries as part of the Summer Reading Program.
Children from 3 to 18 years old can sign up for the program at one of 15 county-run libraries between June 11 and Aug. 8. If they read 10 books in that time, they get prizes like books, masks, and a ticket to Legoland—or, for teen participants, a chance to win an iPad Mini or a zip line tour. Parents can also sign up their babies to do certain pre-literacy activities—reading, singing, or talking to the child—that will prepare them to read in the future.
At its core, the program seeks to counteract the summer reading slide, the loss in reading skills that occurs for children who don't read while school is out of session. By the end of fifth grade, the reading skills of these children could be three years behind their classmates, according to the literacy organization Reading Is Fundamental.
Halting the slide is no small challenge, but last year, about 5,000 children and teens participated in the Summer Reading Program. That adds up to 50,000 books read and, potentially, thousands of active minds ready to return to school in August. Besides, summer reading could do more than just halt the slide, it could help children find their passion.
"When kids come here during summer without assigned readings, they have a chance to learn more about what really drives them—and it doesn't come with a price tag," Kensinger-Klopfer said. "We're the only place that can really provide that."
In addition to the endless opportunities for adventure on the page, county libraries will feature wolves, firefighters, fairies, superheroes, and a magician in person. Close to 80 activities planned throughout the two-month program aim to bring kids into a reading environment. These events include musical performances; visits from Cal Fire and juggling group Something Ridiculous; chances to meet animals like wolves and hawks; and activities like henna art, building a bird feeder, and superhero school.
Some events require preregistration, but all are free to allow as many families as possible to join in the fun.
"Any time a family comes in and says, 'We've never been to the library before, but my kid heard about it at school and was so excited about getting a library card,' that's a really good feeling," Kensinger-Klopfer said.
Among the many sponsors who make the program possible are Altrusa International and the Foundation for SLO Public Libraries.
Going along with the free theme, four libraries—in Nipomo, Morro Bay, San Luis Obispo, and Cambria—serve free lunch and snacks for children and teens, courtesy of the Food Bank Coalition of SLO County. Kensinger-Klopfer estimated that 200 lunches and snack packs were given out in the first week.
"We realize that many families, in addition to not having educational opportunities during the summer, may not have access to enough food," Kensinger-Klopfer said. "And for kids to be able to read, they have to be fed."
For more information about San Luis Obispo County Library summer programming, visit slolibrary.org or one of the 15 county libraries.

Fast fact
This Sunday, June 28, nonprofits Wilshire Health & Community Services and Festival Mozaic will host a screening of the documentary Alive Inside about music's potential in combating memory loss. A panel discussion will follow the film. The screening is at 1:30 p.m. at the Palm Theatre in San Luis Obispo. Tickets can be bought for $12 via wilshirehcs.org.

Intern Anna Hoernell wrote this week's Strokes and Plugs. Send your business and nonprofit news to strokes@newtimesslo.com.