As I arrive at the San Luis Obispo Elks Lodge on Wednesday, July 4, the Lovin Spoonful's "Summer in the City" is blasting across the bright blue pool water: Hot town, summer in the city, back of my neck getting burnt and gritty. Been down, isn't it a pity
, doesn't seem to be a shadow in the city. All around, people looking half dead
, walking on the sidewalk, hotter than a match head.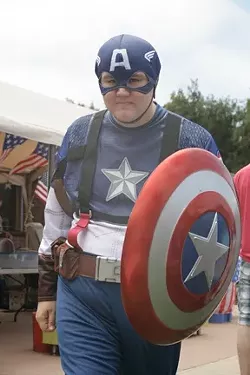 PHOTOS BY GLEN STARKEY
DEFENDER OF FREEDOM! : Joseph Logan came as Captain America!
Except people aren't looking half dead! They look happier than a sunscreen salesman at a nudist colony! The place is packed with kids splashing in the pool, adults lounging on recliners, American flags flapping in the light breeze, the smell of burgers sizzling on the outdoor grill of Tent City. A woman with a red, white, and blue hat is selling 50/50 tickets for a lodge fundraiser. The DJ keeps the upbeat summer sounds coming. I can't help but think that no one, simply no one knows how to celebrate our country's independence day better than the Benevolent and Protective Order of Elks! What's more American than rock'n'roll, burgers, and a good old-fashioned pool party?
Tons of folks have on their patriotic finest, but Joseph Logan wins for best costume with his Captain America outfit. He strolls around the pool, posing for photos, his saucer-like shield shining in the sun.
Ken mans the grill, cooking up hamburgers, cheeseburgers, veggie burgers, and grilled cheese sandwiches. The line is long but it moves fast as the three-person crew takes the orders and serves up hot food.
PHOTOS BY GLEN STARKEY
ONE, TWO, THREE! : Two young girls leapt in tandem into the SLO Elks Lodge pool.
"It's like a well-oiled machine," says my buddy Keith, glancing over at the grill, "or should I say well-greased?"
A while later, the DJ announces it's almost time for the traditional quarter toss, when the lodge throws $100 worth of quarters into the pool and lets kids 6 and older dive for as many as they can get. Have you ever seen a piranha feeding frenzy? Me neither, but I'm guessing it looks something like this!
The surface of the water roils as tiny fists shoot up clutching quarters. Kids take a deep breath and then head to the bottom again. It only takes about five minutes, and it's over, and the kids count their loot and compare tallies.
PHOTOS BY GLEN STARKEY
FLIPPIN' BURGERS! : Ken, an Elks Lodge volunteer, kept the burgers coming all afternoon during the July 4th pool party.
The smell of suntan lotion mixes with frying food, and every once in awhile I get doused by a stream of water from one of the kids' squirt guns. Between songs, the DJ announces upcoming lodge events, like cook your own steak night karaoke. I settle back in my chair feeling profoundly satisfied. Ahh! This is the life.
One of the great things about America is its bevy of philanthropic organizations like the Elks. From the Rotary Club to the Lions to Kiwanis to the Moose, it's clear people care. I happen to be an Elk, and we help with education scholarships, children with disabilities, and veterans. Though I spent $10 on raffle tickets, I didn't win the 50/50 drawing, but I feel pretty good knowing my lodge will put the money to good use.
Happy Birthday, America!
Glen Starkey takes a beating and keeps on bleating. Keep up with him via twitter at twitter.com/glenstarkey, friend him at facebook.com/glenstarkey or myspace.com/glenstarkey, or contact him at gstarkey@newtimesslo.com