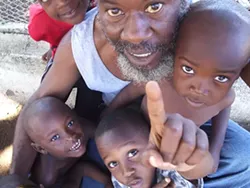 PHOTO COURTESY OF RAS DANNY
DOING IT FOR THE TRENCHTOWN KIDS : Derrick "Ras Danny" Reid, here with some youths from his native Jamaica, will lead his band Ras Danny & the Reggae All-Stars through its paces during four upcoming shows: Feb. 4 at Downtown Brew (a fundraiser for a Trenchtown youth center), Feb. 6 at Bali Isle, Feb. 12 at Mongo's, and Feb. 13 at Sweet Springs Saloon.
Bob Marley would be turning 65 on February 6. Like John Lennon, fans are left to wonder what more he might have accomplished had he not died an early death.
Two local people, who every year keep Bob's flame burning in the minds of reggae fans, are Wendy of Bali Isle and her husband Derrick "Ras Danny" Reid, a Trenchtown native whose early Jamaican band, Earth's Disciples, was managed by Bob shortly before his untimely death.
"Bob Marley was, to me, a teacher," reminisced Ras Danny. "When Bob Marley passed on, a group of us in Trenchtown did the first Bob Marley tribute show. The next year his wife and mother joined us, and it's been going on ever since."
After relocating to San Luis Obispo, Bob emulated the Bob Marley tribute he helped start in Jamaica with an annual tribute here, hence, this Thursday, Feb. 4, Ras Danny & the Reggae All-Star Band will present "The Trenchtown Tribute Tour" at Downtown Brew (7:30 p.m.; all ages; $8 presale or $10 at the door). DJ Katchafiya will open followed by a set from reggae act Mrs. Brown & the Dub Smugglers. All proceeds will benefit the "Trenchtown Culture Yard and Library," one of Bob's favorite charities. Ras Danny plans to use the money to buy instruments for the youth center. There'll be a silent auction with some great prizes, including a three-day, four-night yoga retreat.
On Saturday, Feb. 6, the Bob Marley Celebration continues at Bali Isle's new expanded location (672 Higuera St., SLO), with music and more during an all day event that marks the 10th anniversary of the first Bob Marley Birthday Bash that Wendy and Ras Danny started here in 2000.
And there will be more Bob Marley Tributes featuring music by Ras Danny & the Reggae All Star Band as well as DJ Katchafiya at Mongo's on Friday, Feb. 12 and at Sweet Springs Saloon on Saturday, Feb. 13.
"We must show care and give back," said Ras Danny.
Truer words were never spoken.
PHOTO COURTESY OF COLORSHOW
COLOR YOUR WORLD : Colorshow will bust out its popping party sounds at Native Lounge on Feb. 5. Think Fleetwood Mac meets hip-hop!
American werewolf's daughter attacks Native!
Before David Naughton starred in one of my all-time favorite horror movies (An American Werewolf in London), he sang and danced in a Dr. Pepper commercial. Sometime after that, he made sweet, sweet love, passing on his musical genes to Kendal Naughton, the fetching 21-year-old lass at the front of Colorshow, a Lake Tahoe-based pop, hip-hop quartet that's playing Friday, Feb. 5 at Native Lounge (10 p.m.; 21-and-older; $20). Local electro duo 2852 opens the show.
I heard a few Colorshow tracks on their Myspace page, and their press is accurate: "This foursome fabricates a wide range of beats from upbeat party drops to deep soulful real life laments and reflections."
They're touring in support of Freak Your Heart Out, their debut that's littered with upbeat raps from Galen Gifford (producer/vocalist) and Benjamin Cooper (multi-instrumentalist/vocalist). And, if you can get your head around this, they've been best described as "Outkast meets Fleetwood Mac."
Pick your genre
After kicking off the week with Ras Danny's reggae show, Downtown Brew will mix it up with nights of punk, world beat, emo, and hip-hop.
Check out punk veterans Guttermouth on Friday, Feb. 5 (7:30 p.m.; all ages; $12). According to the band, "God loves little children, combat medics, retarded people ... and Guttermouth." Find out why when they rip through a night of relentless, upbeat, punk rock.
PHOTO COURTESY OF OZOMATLI

MASH-UP MAYHEM : Ozomatli brings its world beat sounds to Downtown Brew on Feb. 6.
Ozomatli
brings its Latin-flavored hip-hop and world beat to the club on
Saturday. Feb. 6
(7:30 p.m.; all ages; $25). Now celebrating their 14th year of mashing up genres and being a leading light of the LA scene, they bring their notoriously awesome sound: "an urban-Latino-and-beyond collision of hip hop and salsa, dancehall and cumbia, samba and funk, merengue and comparsa, East LA R&B and New Orleans second line, Jamaican reggae and Indian raga."
The Thermals & Thao will do that indie, emo, alternative thing they do so well on Wednesday, Feb. 10 (7:30 p.m.; all ages; $12). This Portland-based super group, formed with members of Kind of Like Spitting, Operacycle, and Hutch and Kathy and the All Girl Summer Fun Band is signed to Sub Pop. The Get Down Stay Down will open the show.
Finally, get your rap and hip-hop on when Dead Prez visits the club next Thursday, Feb. 11 (7:30 p.m.; 16-and-old; $15 presale or $18 at the door).
PHOTO COURTESY OF GWYNETH MORELAND
AMERICANA MOMMA : Americana/alt.country singer Gwyneth Moreland plays the Frog and Peach on Feb. 4.
More music…
Energetic Mendocino-based Americana/alt.country duo Gwyneth Moreland and Michael Monko play the Frog and Peach in SLO on Thursday, Feb. 4. "We feature lead female vocals accompanied by a mixture of acoustic/electric guitars, mandolin, and fiddle," said Moreland. "We write our own material and cover a few traditionals with an edgy sound that's based on old-time blues and country."
Folkie Thursdays with Stuart Mason and special guests the Foggy Bay String Band continues this Thursday, Feb. 4 at the Gather Wine Bar in Arroyo Grande from 6:30 to 9:30 p.m. Mason is a member of Molly's Revenge as well as being known for his "authentic vocals, melodic mandola, and inability to hold his whiskey." The show is free.
La Bellasera Hotel & Suites has Brian Joseph coming to the hotel this Thursday, Feb. 4 (7 p.m.; $15; 238-2834) for the next installment of their "Date Night Concert Series." Heavily influenced by pop music, the folk singer writes sweet and often funny songs about small moments with big meanings.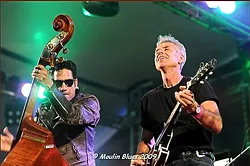 PHOTO COURTESY OF CADILLAC ANGELS
RUMBLE TIME : Cadillac Angles will bring their rootsy Americana sound to Mr. Rick's on Feb. 5 and Otter Rock Café on Feb. 6.
Nothing says authenticity like the lines on
Cadillac Angels'
frontman Tony Balbinot's face. His face reads like the highway maps he's used to traverse this great country of ours, where he's played every hole-in-the-wall, juke joint, bar, club, music hall, and festival that would have him. Now he's ready for a night at the beach when he returns to Mr. Rick's this
Friday, Feb. 5
for a 9 p.m. show. The Angels will also play Otter Rock Café on
Saturday, Feb. 6
. Prepare yourself for a barrage of the best rockabilly, blues, rock'n'roll, classic country, and surfabilly you've every heard.
Babylon Saints is ready to drop its new disc on April 6, but you can hear the band's new materials live in concert this Friday, Feb. 5 when they play a 21-and-older, 9:30 p.m. show at Frog and Peach; and Saturday, Feb. 6, when they play Mongo's at 9 p.m. Soulful and rootsy, with steel drum fills, the Saints give white Cali reggae a good name.
Sculpterra Winery & Sculpture Garden in Paso Robles continues with its foray into live music this Saturday, Feb. 6 from 1 to 4 p.m. when it brings Jade Jackson and Chick Tuesday to the venue. Call 226-8881 for details.
PHOTO COURTESY OF LITTLE BLACK TRAIN
Awesome bluegrass act Little Black Train plays a CD release party on Feb. 6 at the Red Barn.
Old-time bluegrass band
Little Black Train
plays an album release party this
Saturday, Feb. 6
in Los Osos' Red Barn. The evening starts at 6 p.m. with a potluck supper and the potluck band (BYOB). Little Black Train should go on about 7 p.m. A $10 donation is requested at the door. The band includes veteran string wizards Kenny Blackwell, John Weed, and Stuart Mason, but expect a surprise guest or two during this performance of vintage fiddle tunes and old-time songs from their new self-titled CD. Rumors are flying of guest appearances by ace fiddlers Gilles Apap and James Wimmer! You can get a taste of the band before the show by tuning into
Song Town
with Sonnie Brown at about 3 p.m. on KCBX 90.1 FM.
The House Red Band returns to the Clubhouse this Saturday, Feb. 6 for two shows: 7 and 8:45 p.m. Performing vintage soul, blues, and rock'n'roll, Red House features dynamic vocalist Mary Welsh. Expect to hear Stax and Motown hits along with songs by Norah Jones, Bonnie Raitt, and more.
PHOTO COURTESY OF CAFÉ MUSIQUE
GYPSY TRIPPERS : Gypsy, tango, and beyond await at Painted Sky Studios on Feb. 6 when Café Musique paddles in for a show.
Café Musique
will bring their unique arrangements of gypsy, tango, classical, swing, waltzes, and virtually anything else that captures their musical attention to Painted Sky Recording Studios this
Saturday, Feb. 6
at 8 p.m. ($20; 927-8330). For sheer virtuosity and eclecticism, it's hard to beat Café Musique!
Sacramento-based acoustic singer-songwriter Brandon Tyler has a couple dozens dates up and down the California coast, including a stop this Saturday, Feb. 6 at Frog and Peach (8 p.m.; 21-and-older; free).
PHOTO COURTESY OF DAVID SINGER
CLASSICAL CLASS : Acclaimed clarinetist David Singer (pictured) of New York's Orpheus Chamber Orchestra will join Maestro Michael Nowak and the SLO Symphony for this season's first concert this Saturday, Feb. 6 in Harmon Hall at the Christopher Cohan Center.
Acclaimed clarinetist
David Singer
of New York's Orpheus Chamber Orchestra will join Maestro
Michael Nowak
and the
SLO Symphony
for this season's first concert this
Saturday, Feb. 6
at 8 p.m. in Harmon Hall at the Christopher Cohan Center. The program features Mozart's Clarinet Concerto, Haydn's Sinfonia and Beethoven's immortal Symphony No. 7. Tickets range from $12.50 to $65 (756-2787).
Motown girl super group The Shirelles play this Saturday, Feb. 6 at 8 p.m. in the Clark Center. Mixing soft, sweet harmonies and loads of sex appeal, they became huge crossover artists with hits such as "Baby It's You," "Mama Said," "Foolish Little Girl," "Will You Still Love Me Tomorrow," and "Soldier Boy." Call 489-9444 for tickets.
The Steynberg Gallery will host the Songwriters at Play showcases every Tuesday from 6:30 to 9:30 p.m., and this Tuesday, Feb. 9 it features LA-based singer-songwriter Tom Freund, who's touring in support of his fourth full-length CD Collapsible Plans, which was produced by his long time friend Ben Harper with vocal and piano help by Jackson Browne. Other guest performers on the showcase include local guitar wizard Dorian Michael, LA-based Americana artist Lindsay Tomasic, and local favorites Gigi Beth and Ansley Rix. The cover's just $5.
According to Cal Poly arts, "Johann Strauss' 1874 operetta, Die Fledermaus, brilliantly interweaves the stories of three characters—the zany Eisenstein, who prefers incessant partying to incarceration; his wife Rosalinde, who resents his behavior and decides to teach him a lesson he will never forget; and their cunning, manipulative maid Adele—into a delightfully comic tale of whimsical romance and hapless revenge." Witness the performance by international opera company Teatro Lirico d'Europa this Wednesday, Feb. 10 at 7 p.m. in the Performing Arts Center's Christopher Cohan Center. A free pre-show lecture will be presented by Cal Poly Music Dept. faculty member Jackie Kreitzer at 6 p.m. in the Performing Arts Center's Pavilion. Tickets range from $36 to $58 (756-2787).
Matt's Music, Stage & School has a sweet little show lined up for you this Wednesday, Feb. 10 (7 p.m.; all ages; $20; 237-0054), when Marley's Ghost will take to the stage to promote its newest CD, Ghost Town. From bluegrass to bagpipes, eclectic Marley's Ghost can bring everything from the Nashville twang to Mardi Gras funk. "The stage has been moved, the lights have been hung, and we are ready for our first concert of the year at Matt's Music!" wrote Matt Franscioni. "We have a few less seats in our new concert configuration, making events even more intimate." Be there!
Glen Starkey isn't giving you the stink eye. That's just the way his face looks. Express your concern at gstarkey@newtimesslo.com.
CD Reviews
Four Tet—There Is Love In You
Balancing the late-night thump of the dance floor with the serenity of a wide-eyed, meditative headspace, Kieran Hebden returns with his first Four Tet full-length album since 2005's Everything Ecstatic. Aesthetically, it's everything you come to expect from Hebden. His creativity suffuses acid jazz-influenced orchestrations of organic sound with propulsive techno that provides a pulse to his minimal investigations. "Angel Echoes" opens with a sensual voice clipped to its essential syllables, with tight kick drum and twinkling bells swirling around it; it's gentle yet mesmerically intoxicating. The nine-minute "Love Cry" slowly builds from atmospheric static and computer squiggles to a motorik-locked beat, climaxing to a deep, oscillating groove. "Circling" and "This Unfolds" lift off into space, exploring dreamy hypnotic soundscapes that feel lighter than air in the first instance or as unruffling as a music box in the second. A superb album that feels genuinely reflective of an inner emotion. Take a listen and enjoy.

Various Artists—

Minimal Wave Tapes Vol. 1
An interesting thread in the early DIY electronic music scene that crossed continents, consider this where post-rock merged with the Commodore 64. Filled with blipping synths, automated Farfisa organ runs, and angular rhythms, Minimal Wave Tapes collects 14 early-'80s purveyors of drum machines and cold, analog synthesizers. This music isn't unheard of. Fans of early OMD would find a familiar aesthetics, as well as the computer music launched by Kraftwerk. But the unknown groups here erected their scene by hand, recording to vinyl and cassette in their home studios, then vanishing. Philadelphia's Crash Course In Science almost predates the angular funk of New York's Liquid Liquid, with the hot sizzle of speeding space ships that undercuts the rhythmic buggery of "Flying Turns." Oppenheimer Analysis sounds almost modern in its noir Italo-disco beat, while France's Deux resonates a "robot pop" with female vocals. If you're a fan of record labels like Mute and Italians Do It Better, this is highly recommended.
—Malik Miko Thorne, of Boo Boo Records and mikovision.blogspot.com, where you'll find archived reviews and soundclips.