Back in 1976, five rock 'n' roll kids from working-class Cleveland started what some have called the first hardcore punk act. Originally called Frankenstein, the band eventually moved to NYC at the urging of The Ramones singer Joey Ramone, renaming themselves The Dead Boys.
Known for their profane, lewd, and raucous live shows, they were inspired by Iggy Pop & The Stooges and the New York Dolls, but they brought the music to an intense new energy level.
Photo Courtesy Of Jeff Fasano
STILL SNOTTY Legendary hardcore punk act The Dead Boys—(left to right) Jake Hout, Ricky Rat, Cheetah Chrome, Johnny Blitz, and Jason "Ginchy" Kottwitz—play Camozzi's Saloon on Nov. 11, as part of their 40th anniversary tour.
They released their debut album—Young, Loud and Snotty—in 1977, delivering "Sonic Reducer," which remains a classic anthem of the early punk genre. These guys are legendary and seminal. Original lead singer Stiv Bators—who died in 1990—would sometimes slash his stomach with his mic stand or a broken bottle, inspiring the likes of GG Allin.
To celebrate the 40th anniversary of their debut recording, their current lineup—original members Cheetah Chrome and Johnny Blitz with new members Jason "Ginchy" Kottwitz, Ricky Rat, and Jake Hout—released a re-recording of that classic record called Still Snotty: Young, Loud & Snotty at 40! on Nashville-based Plowboy Records.
To promote it, they're taking their show on the road, making a stop at ... wait for it ... Camozzi's in Atascadero!?! Seriously! On Nov. 10, they'll play Hollywood's The Viper Room, and on Nov. 12, they'll play San Francisco's DNA Lounge, but in between on Saturday, Nov. 11, The Dead Boys play Camozzi's Saloon in A-Town (8 p.m.; 21-and-older; $11 at eventbrite.com). This is a tiny venue. Buy your tickets early!
The band's had an interesting ride over the years. They followed up their debut with 1978's We Have Come for Your Children. Also in '78, Johnny Blitz and some friends got into a fight on Second Avenue in Manhattan, and Blitz ended up stabbed in the chest 17 times. As he was recovering in the hospital, the band held a benefit for him, with John Belushi filling in for Blitz on drums. Yeah, John Belushi!
The group split in 1979, reunited for a few gigs in the '80s, and after Bators' death (he was hit by a cab in Paris), they pretty much went their separate ways except for two brief reunions in 2004 and '05.
"I've had my solo band for the last 10 years," Chrome explained in press materials, "and Dead Boys songs have always been included in my shows, and over time the right mix of people came together to pull off and at times enhance the Dead Boys sound. With the 40th anniversary of the Dead Boys on the horizon and a solid band that could interpret and deliver the performance and sound needed to maintain the authenticity of the Dead Boys, I reached out to Johnny Blitz about an anniversary tour and he said yes and we began the journey of what would become Still Snotty."
They added Ginchy on guitar, Detroit punk legend Ricky Rat on bass, and vocalist Jake Hout from Dead Boys tribute band the Undead Boys, and viola!
"I've been singing the Dead Boys songs myself for 20 years because I couldn't find another singer I trusted enough to hand it to," Chrome added. "The first gig with Jake, it was like, 'You got it, man!' I think Stiv would be very proud of our choice."
Their original debut was basically cut as a demo, but it's withstood the test of time. Of the re-recording, Chrome said, "It's not better. It's just different." What's important is the fun they're having playing together and bringing back the energy of a band punk fans wish they could travel back in time and see live at CBGB.
"When Blitz and I are playing, it's like we're 20 years old again," Chrome said. "Of course, I feel a lot worse the next morning. It's still just as loud and snotty; we're just old now."
The Dead Boys will be coming to Boo Boo Records that same day for an in-store appearance and album signing (they should arrive around 4:30 or 5 p.m.), and according to Camozzi's Brad Roberts, there'll be a few rock luminaries in attendance at the club that night.
"Guests so far are Jimmy Ashurst from Buckcherry and Izzy Stradlin's Ju Ju Hounds; Mick Cripps, an LA Guns original; Nigel Moog, lead singer of London Quireboys; and God knows who else is coming up from the Viper Room show with the Boys on their way to the DNA in San Fran!" Roberts gushed. "It's looking like an all out celeb jam during the course of the night. I'm super excited!"
Opening acts include The Brutalists and Love Razors. And a happy birthday to Roberts, without whom this show would not have happened. Rock on, my man!
Superheroes of tropicalia funk and soul
Photo Courtesy Of Chicano Batman
VINTAGE-SUITED HIPSTER COOL Numbskull and Good Medicine Presents host the amazing LA quartet Chicano Batman at the Fremont Theater Nov. 14.
Numbskull and Good Medicine Presents have four shows lined up for you over the next eight days, but the one that's got me most excited is Chicano Batman and opening act Khruangbin at the Fremont Theater this Tuesday, Nov. 14 (7 p.m.; all ages; $20 presale at ticketfly.com or $25 at the door)
Sporting vintage formalwear and mashing "Brazilian Tropicalía with early '70s psychedelic soul and the romantic pop of bands like Los Ángeles Negros," Chicano Batman is crazy cool.
"We're making a particular reference that some people understand—Los Ángeles Negros, Los Pasteles Verdes," frontman Bardo Martinez explained in press materials. "In the '70s, it was a big thing where all these cats were playing romantic ballads, but they were funky as hell."
With a funky, dreamy, mesmerizing sounds, these guys are groove masters. Khruangbin hails from Houston, Texas, and plays a "homage to the Thai rock/funk that inspired the formation of the band," whose name translates to "engine fly."
Other Good Medicine shows include Portland jam rock act Fruition at The Siren this Thursday, Nov. 9 (7 p.m.; 21-and-older; $12 presale at ticketfly.com or $15 at the door), with Bear Market Riot opening. Johnny Cash tribute act Cash'd Out plays The Siren on Saturday, Nov. 11 (7 p.m.; all ages; $18 presale at ticketfly.com or $20 at the door). And next Thursday, Nov. 16, the Thankful for Life Tour comes to The Siren with reggae acts Synrgy and SensaMotion plus special guests Tripped Up (7 p.m.; 21-and-older; $8 presale at ticketfly.com or $10 at the door).
Stratotastic!
Photo Courtesy Of Joseph A. Rosen
BLUES = TRUTH Incredible guitarist and vocalist Coco Montoyo plays the Fall Fest's final show on Nov. 11, at Atascadero's Pavilion on the Lake.
Renowned blues guitarist and vocalist Coco Montoya plays the final show of the Fall Fest this Saturday, Nov. 11, at the Pavilion on the Lake in Atascadero (8 p.m.; all ages; $30 general admission at fallfest.com).
The Alligator Records recording artists and former member of John Mayall's Bluesbreakers is touring in support of his newest, Hard Truth, another worthy entry into his forcefully melodic blues oeuvre.
You may not recall, but Montoyo's first love was the drums, and he began his professional career in the mid-'70s as Albert Collins' drummer. Montoyo learned his guitar style from Collins, and after five years touring with him, Montoya joined Mayall for another 10 years before launching his solo career.
He's wicked fun to watch. The lefty plays a left-handed guitar with right-handed neck with the strings upside down! Hard Truth is his tenth studio album, so he's got a lot of material to draw from. Don't miss this ripping guitar player! Back Bay Betty will open the show starting at 6:30 p.m., so come early!
More music ...
Photo Courtesy Of The Bryan Titus Trio
PICKERS Bluegrass and Americana roots artists The Bryan Titus Trio come to Música Del Río in Atascadero on Nov. 10.
Bluegrass and Americana roots artists The Bryan Titus Trio come to Música Del Río in Atascadero this Friday, Nov. 10 (8 p.m.; all ages; $20 donation with reservations and directions at 466-6941), playing music both elegant and primitive.
Swedish rockers The Sounds, in celebration of the 10th anniversary of their breakthrough album Dying to Say This to You, play the Fremont on Friday, Nov. 10 (8 p.m.; all ages; $22 at Boo Boo's eventbrite.com) with opening acts Fitness and GGOOLLDD!
Australian electronic band Cut Copy plays Saturday, Nov. 11, at the Fremont Theater (8 p.m.; all ages; $22 at Boo Boo's and eventbrite.com), touring in support of their fifth album, Haiku From Zero.
Music news ...
Photo Courtesy Of The Sounds
SWEDE ROCK The Sounds play the Fremont Theater on Nov. 10, celebrating the 10th anniversary of their breakout album Dying to Say This to You.
There're some exciting things happening for local surf and psychedelic rock legend Merrell Fankhauser. For one, his song "Lila" from his classic 1967 album Fapardokly will be included in the new film Chappaquiddick, a biopic about Ted Kennedy (Jason Clarke) and how his career was derailed by the death of campaign strategist Mary Jo Kepechne (Kate Mara) in a fatal car accident. The film has a release date of April 6, 2018, according to IMDB, though according to Fankhauser, the film is "getting a Dec. 8 release date, The Hollywood Reporter revealed, just in time to snag an upcoming award, like an Oscar."
His Fapardokly album is highly sought after on vinyl (check your collection, you could be sitting on a $300 to $500 gold mine) and also includes the song "Supermarket," which was mentioned in Thomas Pynchon's novel Inherent Vice, and the song "Tomorrows Girl," which was included in the Grammy-nominated Rhino Records box set Where the Action Is! L.A. Nuggets 1965-1968.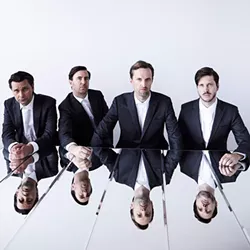 Photo Courtesy Of Cut Copy
AUSSIE EDM Electronic act Cut Copy plays the Fremont Theater on Nov. 11, in support of their fifth album, Haiku From Zero.
Fankhauser has a cable access TV show that airs on the West Coast and Hawaii, and he recently started hosting a weekly radio show on Fridays from 2 to 4 p.m. on KYXZ 1079.FM in Grover Beach, where he interviews musicians and plays rock and instrumental surf music of the '50s and '60s.
"My radio show is going very well, locally and online," Fankhauser said. "The last show had interviews and music with Mars Bonfire, Nicky Hopkins, Pete Sears, Ed Cassidy, John McEuen, and Eric Burdon."
He's apparently got more than 40,000 online listeners from all over America, the United Kingdom, New Zealand, Australia, and South Africa.
And speaking of radio stations, Cal Poly's student-run KCPR 90.1FM recently scored the No. 1 spot on Great Value Colleges' list of 30 Amazing College Radio Stations of 2017-18. Cal Poly's station beat out the likes of Georgetown University and UC Berkeley!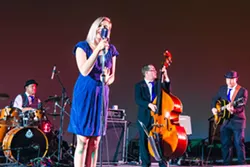 Photo By Jayson Mellom
BIG WINNERS! The Tipsy Gypsies swept the New Times Music Awards with wins for Best Live Performance, Best R&B/Blues, Best Song, and Best Album categories at the Fremont Theater.
"Our programming has moved to appeal to a larger demographic on the Cal Poly campus," journalism senior and General Manager Brian Robbins said in a press release. "We've really pushed new music in the last three years, and we've gotten a lot more structure as an organization."
And finally, if you missed the New Times Music Awards on Friday, Nov. 3, at the Fremont Theater, here are the results:
Best songwriter: 1) The Tipsy Gypsies "Drought"; 2) The Creston Line "1992"; 3) Derek Senn "Monica Lewinsky."
Best rock/alternative: 1) 33RPM "Red Black or White"; 2) The Monroe "Thunder"; 3) 555-Balls "Someone to Blame."
Best country/folk/Americana: 1) The Creston Line "No More Heroes"; 2) Mark Adams "Where's My Town"; 3) Natalie Haskins "Stand By Me."
Best R&B/blues: 1) The Tipsy Gypsies "Waiting"; 2) Mannequins By Day "Luxury Life"; 3) Ricky Montijo and The Mojitos "Baby I'll Beg."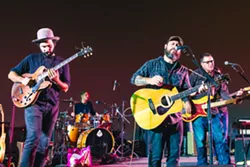 Photo By Jayson Mellom
TOEING THE LINE The Creston Line took home two awards—Best Country/Folk/Americana song and second place in Best Song—at the ninth annual NTMAs at the Fremont.
Best hip-hop/reggae/world: 1) Wordsauce "Big Skies Silent Valleys"; 2) True Zion featuring Vance Fahie "Lioness"; 3) Rogue Status "Dominos."
Best open: 1) Tyson Leonard of Tropo "Open Wings"; 2) Nataly Lola "Meet Me at Midnight"; 3) The JD Project "Long Hard Road."
Best youth: 1) Amelia Fleming "The Simplicity of Things"; 2) Issy Devor "Days in the Light"; 3) Sacha Carlson "Memories of the Past"; and honorable mentions for Rio Fleming "Take Me Back to the Mischief"; and Sophie Chamblin, Max Chalekson, David Frismont, Josh Baum, and Shane Brennan "Mutual Respect."
Best album: 1) The Tipsy Gypsies Waiting; 2) Amber Cross Savage on the Downhill; 3) Derek Senn Avuncular.
The Readers choice award went to True Zion featuring Vance Fahie "Lioness."
Best live performance went to The Tipsy Gypsies, and this year's Local Legend Award went to Bruce Howard of Otter Productions Inc.
Congratulations one and all. It was an amazing night! Δ
Keep up with New Times Senior Staff Writer Glen Starkey via Twitter at twitter.com/glenstarkey, friend him at facebook.com/glenstarkey, or contact him at gstarkey@newtimesslo.com.