"Could I interest you in a story about Tridosha Healing Center. And the man who ran it ?"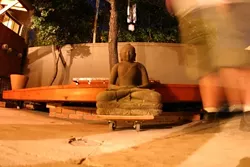 FILE PHOTO
GHOST OF ZEN : Michael Brevetz walked by a statue in the garden at Tridosha in the weeks before the healing center opened in 2006.
# So began Greg O'Kelly in an e-mail to a New Times reporter. The e-mail went on to level allegations against Tridosha founder Michael Brevetz, allegations that started with mismanagement and got more serious from there.
The yoga community was still reeling three weeks ago, when O'Kelly made his inquiry following December's sudden closure of the once-promising wellness center. O'Kelly's question was only the most recent of many that have come up since the center closed.
Students, who renewed memberships and bought class packages up until the day the gates slammed shut, were asking anyone who might know whether and how they could get their money back.
Yoga teachers, who had waited months for paychecks, were whispering about what happened. And investors, who combined lost close to $160,000, were shouting. All of them seemed to be wondering: What happened at Tridosha? And where is Brevetz?
Since the collapse of Tridosha in December of last year, Brevetz's name has been cursed on local blogs and among the very community he served. The seemingly soft-spoken businessman has fallen from grace in a very public way. His image has plunged from that of an altruistic community leader, a celebrated cook for the rich and famous, and a visionary, to that of a bad businessman at best, and someone who misled folks on the SLO path to enlightenment at worst.
Finding the truth of the matter has proven difficult in his absence.
Weeks after the yoga complex closed, Brevetz--who filed for bankruptcy last year, slogged through one lawsuit, and is currently facing two new ones--vanished, leaving his investors to take a bath in the soiled waters, and his students to find out about the closure only when they arrived at the closed gates of the studio. The swift disappearance of Brevetz and his family only added to suspicions that he was guilty of something.
Brevetz left a message on a New Times reporter's phone in response to numerous phone calls requesting an interview, saying he wanted to talk about what happened, but he didn't return calls from New Times in the week after that.
In the beginning there were three doshas
Tridosha opened in early 2006, billed as "a place where mind, body, and spirit come together to create wellness as a way of life." Brevetz, his wife, and established SLO yogi Peter Sterios ventured that their individual skills--culinary, massage, and yoga--would blend well. In Ayurvedic medicine, optimum health is achieved through harmony between the three doshas, or humors, which correspond with natural elements, such as fire and water, and combine for optimum psycho-physical balance.
The plan was that Brevetz would run the cafe --the bread and butter of the center--serving natural gourmet fare to hungry hippies, while expert massage would be offered by his wife. Sterios would head up the yoga. Tridosha was supposed to be more than a studio for self-improvement it was imagined as a place for building community.
San Luis Obispo was hungry for a place like Tridosha. Brimming with natural light and boasting high ceilings and a placid, cool courtyard, it was designed and executed by Sterios, a licensed architect, and seemed completely separate from the aesthetic desert of the commercial neighborhood it was located in. It was a community center built entirely on mortgaged good intentions. SLO ate it up. Classes filled up as public interest soared. People gave time and money liberally to try and make Tridosha live up to the dream, but the limits of the vision soon became obvious.
Promises not kept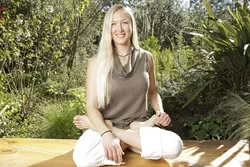 Photo by Steve E. Miller
SITTING LOTUS : Amy Swanson, owner of The Yoga Centre, entered into a lease agreement with Michael Brevetz, to share space at Tridosha. When Tridosha collapsed, she was left without a studio--or a refund for her rent and deposit.
# The cafe never opened. By early spring, emergent seeds of discontentment were growing out of control. Sterios walked away from Tridosha in May 2006 over personality conflicts, he said, and he moved to the L.A. area to teach yoga.
On Valentine's Day 2007, according to court records, Sterios filed a lawsuit, which would begin breaking down the walls of the yoga house. Yet Brevetz apparently didn't talk to his investors or teachers about the nature of the financial straights he was experiencing, even while he solicited more money to build the cafe .
His associates described him as controlling to the point of paranoia. He kept the books under lock and key, and by some accounts pushed out the people who got too close. When Brevetz seemed to stop caring, employees said, they became suspicious.
Ahmed Fahmi worked at Tridosha for almost a year, first at the front desk, and eventually teaching classes.
"As a teacher at Tridosha," Fahmi said, "it was very negative."
Fahmi said that Brevetz guarded the numbers so closely that even inquiries into his own tax information were met with hostility, leading Fahmi to conclude that something suspicious was going on.
In public, though, Brevetz put on a happy face. He was good-natured and generally easy to talk to. He could be found popping in and out of Tridosha with tired eyes, and his trademark muscle-tee and combat boots. He walked with a slow, haphazard force, and although he was seemingly soft-skinned with transparent motives, he wasn't overtly dharmatic. For someone involved with yoga, in other words, he wasn't the hippy-dippy type.
This chasm between personal and professional action resulted in a string of teacher and employee relationships forged and bankrupted at Tridosha. In less than two years, Tridosha went through no fewer than four office managers. Eventually, Brevetz would take over the post, although teachers claimed that in his absence, they would have to fill in, checking classes in and out, preparing the studio, and cleaning up after. If you looked closely, one teacher said, the signs were all there: Repairs were neglected and Brevetz was spending less and less time at the studio.
Nonetheless, he managed to attract new investors and new energy to the project.
"It's almost as if there was an unlimited supply of generous people," Sterios said. "They gave money, and time, and statues for the garden. It was really unbelievable."
Whether Brevetz was simply a poor businessman or a predator, though, depends on whom you ask. Investors who lost more than $125,000 are decidedly less forgiving than partners who lost $26,000 or $7,000. But all have sought compensation.
Tridosha comes full circle
This story began with an e-mail from one of Tridosha's most generous investors, O'Kelly--a self-styled Teslaesque inventor of electrochemical treatment to build muscle--who was clamoring for social justice, no matter the outcome of his pending lawsuit.
Photo by Ryan Miller
THANKS FOR NOTHING : Tridosha students complained that they were sold class packages and gift certificates up until days before the studio closed.
# This notice came months after Craigslist posts cried "Tridosha stole my money," after former partner Sterios quietly sued for costs associated with building the studio but came out with no money in the wake of Brevetz's bankruptcy filing, and after Amy Swanson, owner of San Luis Obispo's Yoga Centre, admitted that she lost several thousand dollars over a lease agreement at Tridosha, for which she paid the deposit and rent, but never taught a class. Swanson resigned herself to be wiser for the loss, but she filed a small claims suit against Brevetz, too. Her case hasn't yet been heard.
"You'd like to believe that in our field, you don't have to deal with this kind of thing," Swanson said in an interview last month. "I just assumed that he was being honest, and so I lost $7,000. It's been a learning experience for me, but actually, I feel bad for the collapse of the student body."
O'Kelly, a paraplegic, first invested in Tridosha because he sought a venue for his invention--which he maintains increased his quality of life exponentially, despite its failure to grab a foothold in mainstream medicine--and because Brevetz was his friend. Instead of mutual benefit, O'Kelly thinks he's been bilked of more than $125,000, and has a pending lawsuit.
"Over the course of a year," O'Kelly said, "I noticed that nothing improved there, and fewer and fewer people were coming around. I wondered what was up, and if it was just that [Brevetz] was a bad businessman."
In May 2006--around the same time that Sterios left, because, he said in court documents, he believed that Brevetz had no intention to pay him--O'Kelly made the first of several business loans to Brevetz. O'Kelly would continue his support of Tridosha until August 2007, when he said Brevetz asked him to forgive a personal loan by making it part of his Tridosha investment. For O'Kelly, this was a revelation, a sign that Brevetz perhaps maintained little separation between his personal expenses and business expenditures.
During this time, according to court records, Sterios filed the first lawsuit, suing Brevetz for the architectural work done at Tridosha. O'Kelly asserts that Brevetz made no mention of the litigation, and even that Brevetz asked for more money soon after he filed for personal bankruptcy.
"I have tried mightily," O'Kelly said, "to rationalize [Brevetz's] behavior as just a business situation gone bad, but there is too much evidence to the contrary."
In light of the bankruptcy filing, Sterios received nothing. Even so, he said that he has had the benefit of time, and, given his experience, he doubts that Brevetz was out to hurt anyone.
"I honestly think his heart was in the right place," Sterios said. "But when things started to unravel, he just didn't know where to turn, he got paranoid. He got in way over his head, and didn't have the skills to manage it."
What now?
Brevetz has left in his wake more ill-will than can possibly be mended with the reimbursement of his creditors. From a standpoint of the larger community, a former Tridosha teacher said, "it's more about what is it going to take to get the people to heal."
Since December, the community has begun to rebuild. Swanson's The Yoga Centre found a new home with the Academy of Dance, off of Migelito Court. The former Tridosha location has become Smiling Dog Yoga, owned by former Tridosha instructor Lisa Patelli. Most of the former Tridosha teachers are working for one or both of the new studios now.
"Here is a community that is struggling to establish itself," Sterios said. "It's terrible what happened, but it will rebuild. And in hindsight, it's all coming full circle. Karma is an amazing thing. It just comes around."
---
New Times staff writer Kylie Mendonca is generally broke and bending to karmic forces. Send comments to kmendonca@newtimesslo.com.