Imagine, for a moment, William Randolph Hearst arriving in the tiny hamlet of Harmony, population 18.
He slides out of his plush Duesenberg Model J, purchased after his high-profile mistress, actress Marion Davies, saw the dazzling vehicle on display at the 1930 Paris Auto Salon.

Photos Courtesy Of Harmony Cellars
HARMONIOUS FLAVORS The Harmony Wine and Beer Festival takes place Saturday, Aug. 4, from 1 to 4 p.m. in the tiny coastal town of Harmony, population 18. With unlimited beer and wine tasting from 18 regional producers, live music by Bear Market Riot, and local food trucks, this is one massive step forward for the iconic road stop.
He nods to the chauffeur, fixes his tie, and strolls into the The Harmony Valley Dairy Co-op, founded by Swiss-Italian immigrants in 1901. Hearst's opulent castle sat (and still sits) just 12 miles northwest in San Simeon, so this was not an uncommon occurrence, according to local lore.
Indeed, a constant flow of Hollywood actors—many, guests of Mr. Hearst—arrived in the tiny storybook village off Highway 1 in search of fresh milk, butter, buttermilk, and cheese made in that classic, Old World style.
In the 1960s and '70s, change was in the air. Blown glass and the promise of an idealistic artistic community beckoned a new host of arrivals. Since then, the hamlet has seen restaurants and business ventures come and go.
Still, the town is very much the same as it was back in the day, with its minuscule post office, historic creamery building, and tiny chapel still standing. The glass blower still works his magic, creating red-hot wonders before your very eyes.
However, 2018 marks a turning point in Harmony's long and rich history. These days, wine is what's dominating visitors' minds. That's thanks to the first-ever Harmony Wine and Beer Festival, kicking off Aug. 4 from 1 to 4 p.m. in "downtown" Harmony.
As homage to the unincorporated community's famed population sign, a total of 18 participating vendors will pour: Castoro Cellars, Cayucos Cellars, Harmony Cellars, Moonstone Cellars, Cass Winery, Niner Wine Estates, Still Waters Vineyard, EOS Winery, Bodega de Edgar Winery, Red Soles Winery, Chamisal Vineyards, Twin Coyotes Winery, Phantom Rivers Wine, Robert Hall Winery, Autry Cellars, Libertine Brewing, Three Stacks and a Rock Brewing, and Earth and Fire Brewing.
"These 18 vendors are basically taking over the entire town for the festival, and keeping with that tiny-town theme, we chose a charity that is helping infants. The small-town idea is carried out throughout," said Harmony Cellars Marketing Director Erin Martin.
That beneficiary, Infant Essentials, is a Cambria-based nonprofit that provides infant necessities—including diapers, baby wipes, formula, and car seats—to homeless and low-income infants 0 to 3 years old across the county.
Infant Essentials Founder Heather Markham said she was on her way to purchase party materials for her child's first birthday party when she stopped in her tracks.
Her heart ached and her stomach dropped.
"I saw a homeless family on the side of the road in Cambria and they had a stroller with them. It broke my heart. I didn't know what kind of services were needed or what was available to families and babies in this situation," she said.
After some research, Markham realized homeless and low-income parents are often caught between a rock and a hard place.
"Neither Food Stamps nor WIC programs offer diapers or even diaper discounts, and none of SLO County shelters or day centers have the ability to store or distribute goods like diapers," she said. "Diapers are a very expensive thing but they are very, very needed."
Proceeds from your ticket will go toward that important cause, and attendees can expect unlimited tastings.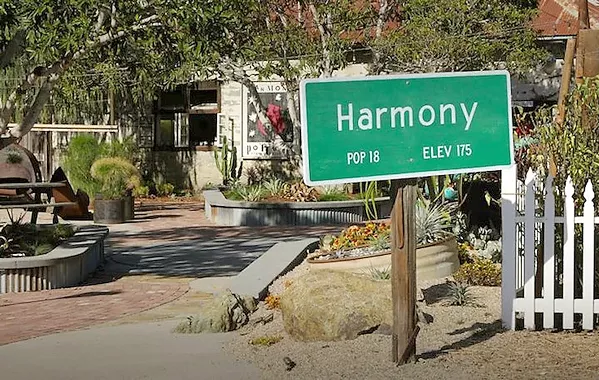 Photos Courtesy Of Harmony Cellars
Expect live music by Bear Market Riot and room to dance and drink among the scenic, hilly landscape. Parked near the Old Creamery Building, the Harmony Valley Creamery Scoop Truck, Boni's Tacos, and Hurricane Kitchen will offer plenty to nosh on.
You'll also find fresh updates to the town, thanks to current owner Alan Vander Horst, a veteran dairyman himself. If you haven't stopped by in a while, you'll likely notice revamped native landscaping; smoothed, repaved bricks; and flecks of abalone nestled within the old fashioned pathways.
If you've ever traveled to nearby Harmony Cellars, you know how that subtle ocean breeze adds a certain romantic vibe to your visit. The winery, which will be pouring at the event, harbors its own unique history connected to the town.
"James Barlogio, my great-grandfather, was one of the founding members of the Harmony Valley Creamery, established more than 100 years ago," Harmony Cellars owner Kim Mulligan said, adding that the winery produces a special tribute wine in honor of her locally famous ancestor. "Part of the original creamery building still sits in Harmony. My great-grandfather loved wine and used to make zinfandel in his basement during Prohibition. My mother has fond memories of Grandpa Barlogio taking the grandkids down to his basement for 'secret' tastes of wine."
Kim and her husband/winemaker, Chuck, established Harmony Cellars in 1989, and the winery and tasting room sits on part of Kim's great-grandfather's original landholdings in Harmony.
"I think my great grandpa would be pleased to have this wine produced as a tribute to him," Kim mused.
I agree. But the real question is ... did he ever meet William Randolph Hearst? And did Hearst ever have a little Harmony wine with his Harmony cheese? Δ
Hayley Thomas Cain is dreaming of fresh buttermilk. She can be reached at hthomas@newtimesslo.com.