I swear I seem to hear this question every day: "Which wineries should I visit in Paso Robles?" And not just from wine geeks like me, I'm hearing it from casual imbibers who don't know Pinot Noir from Pinot Gris, but they're eager to go wine tasting in Paso Robles. Paso has become the wunderkind of California's wine regions with wine critics and the San Francisco Chronicle gushing about its wineries like proud parents showing off the kid's straight-A report card. But let's not forget our South County wine regions, namely Edna and Arroyo Grande valleys, where pioneers like Baileyana, Claiborne & Churchill, Edna Valley Vineyard, and Talley deserve equal recognition for positioning SLO County on the world's map of fine wines.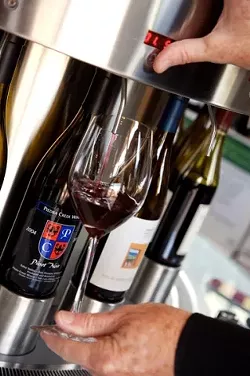 PHOTO BY JESSE ACOSTA
THE POUR HOUSE : In honor of its first anniversary and Roll Out the Barrels, Taste of SLO is offering $1 tastes.
# One of the sweetest wine events in SLO wine country needs no introduction to local wine lovers. We all love the "Roll Out the Barrels" passport weekend event that takes place along the Edna, Arroyo Grande, and Avila Valley wine trails. Winemakers offer their newest varietals and a taste of their latest vintages still aging in oak barrels. Obviously, there's a lot more competition along the wine trails these days, so vintners make their particular events extra special with tasty eats and lively music to ensure you'll visit. More importantly, they'll be offering some extraordinary new wines no wine connoisseur would dream of missing an opportunity to taste.
I highly recommend stopping by one of the region's first wineries, Edna Valley Vineyard, founded in 1980 by the Niven Family and Chalone Wine Group (the Nivens first founded their Paragon Vineyard in 1971, and Diageo recently bought out Chalone). Edna Valley Vineyard won the people's choice in this year's New Times Best Of issue for best white wine in the county, which will be offered during this event. But winemaker Harry Hansen will also be pouring his delicious array of red wines, particularly his 2005 estate Pinot Noir, which I highly recommended in Cuisine on Feb. 8. It's well worth the drive on its own.
While you're enjoying the terrific wines, food, and activities slated for this passport event, don't miss Hansen's barrel tasting where you can taste his spectacular reserve wines. Early this year I sat down with this down-to-earth winemaker to taste some of those young wines aging in oak, and he explained his philosophy. Like many of his peers who continually strive to make their best wine yet even after making many excellent wines Hansen has never lost any of the passion that motivated him to become a winemaker.
"Our reserves aren't just a selection of barrels," he said about his finest Pinot Noirs or Chardonnays while they're fermenting. "Lots are selected in the vineyard blocks that receive additional leaf-thinning passes."
That means, they get extra attention through the growing season.
"Our 2005 Reserve Pinot Noir is more of a statement," he said. "I'm trying to make a superior wine and aiming for seamlessness."
He added with a smile: "I'm proud of what I'm doing. There's more of me in these reserve wines."
Unfortunately, no one can get to every winery in two days, so highlight the ones that you don't want to miss on your passport map. After that, why not add one or two new tasting rooms to your list always enlightening. I must say I always have fun discovering which of the many producers who make ultra premium Pinot Noirs will top my list of favorites this year. It's one of the great joys of being a wine aficionado.
Roll Out the Barrels Weekend A Passport to Wine Country, runs Thursday through Sunday, May 3 through 6. Here's some of the fun:
Barrels in the Plaza
May 3, 5:30 to 7:30 p.m.,
$20 per person
Held in the beautiful, historic Mission Plaza in downtown SLO, this celebration salutes the bounty of "locally grown, locally made" produce in SLO County with more than 30 South County vintners, restaurants, and farms. It's a hit parade of great wines and foods you'll enjoy while listening to live music among wine lovers just like you. This is one of the best deals around at any wine festival, and tickets can be purchased at the gate.
Assorted happenings
There are no open house events on Friday, but don't hesitate to call or visit your favorite winery's web site to learn who's open to visitors. A few winemakers' dinners are available at restaurants: Baileyana/tangent is at Pelican Point in Pismo Beach Per Bacco is at Cafe Roma (no surprise, since co-owner Marco Rizzo runs his family's restaurant) in SLO and Wild Wood is at Palazzo Giuseppe's in SLO.
You could also check out Taste of SLO on Osos at Monterey Street for a tasting of all of the SLO Vintners' member wineries. Celebrating their first year in business, this very popular shop will offer every wine, no matter how high it's usually priced, for just $1 for a one-ounce taste on Saturday and Sunday. If you join their wine club, they'll give you a 25 percent discount on all of your wine purchases through the weekend. For
a full list of winery members and more details on their anniversary event, visit www.taste-slo.com.
Passport Weekend
May 5 and 6, 11 a.m. to 5 p.m.,
$45 per person
You'll need a passport to get into all of the participating San Luis Obispo Vintners' wineries, but this one's well worth the price. They'll be serving an array of new and current releases as well as providing samples of the latest vintages still aging in barrels. While most participants feature live entertainment, all of the wineries are offering tasty treats with their wines and many focus on special themes. For example: Claiborne & Churchill offers Asian Salisbury features a taste of the four seasons and a "hair of the dawg" pancake breakfast Sunday morning Saucelito Canyon/Ortman Family goes Hawaiian Tolosa offers a Kentucky Derby affair with mint juleps (their way) and Southern-style foods and Edna Valley Vineyard trips back to the 1940s with vintage movies, swing dancers, and "cigarette girls" offering special treats. Most wineries add an even nicer attraction: special discounts on your wine purchases.
Visit the SLO Vintners' web site at www.slowine.com for details about everything, especially "group transportation." On that link you'll find a list of shuttle, touring, and limousine services that will make your day even more fun. With drivers picking up you and your friends at your home or hotel, you'll be escorted first class from winery to winery and even more importantly be assured of a safe journey. Or hire your nephew or grandpa who's not drinking to transport you to all these great events and you're sure to travel happy trails on your wine tasting adventure.
You can reach New Time's Cuisine columnist at Kathy@GrapevineRadio.net.