Pop quiz time! Which musical artist is the son of a Church of God minister, a former professional boxer and factory worker, a recreational skydiver, and a Mississippi songwriter? Stumped? Well, meet Paul Thorn--former fighter, now a lover, who's coming to Downtown Brew on Saturday, March 29.
Thorn, a favorite of KPIG listeners, boxed Roberto "Hands of Stone" Duran on national television, made chairs for a living, skydives for fun, had his first singing gig at age 3, and is considered one of the South's finest songwriters.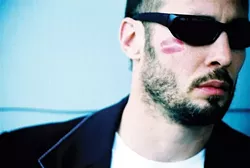 PHOTO COURTESY OF PAUL THORN
HE'S LOVER AND A FIGHTER : Mississippi singer-songwriter Paul Thorn, a former pro boxer, takes the gloves off and delivers a night of song on March 29 at Downtown Brew.
# "As a [then-3-year-old] child, I sang in churches," his website reveals. "My first paying gig was at a revival with my father when everybody came around and put money in my tambourine. After the service, there was a little girl, also about 3 years old, who I had a crush on. I stuffed the money I got all down in my pockets. After the service we sat around the back of the church and I bought her a Coke with the money I'd earned. That was my first paying gig, and I guess my first date."
Hey bub, are you sure that was a tambourine and not a collection plate? In any case, God has yet to strike Thorn down. And while music has always been a part of his life, he started taking after his uncle for a while.
"The area I come from is very rich in music tradition," he said of Tupelo, Miss., the birthplace he shares with Elvis Presley.
But with the help of his Uncle Merle, a professional fighter, Thorn was taught the art of fisticuffs.
"I was just a kid, 10 or 12 years old, [and] I bugged my uncle to teach me how to box," he wrote. "We started out in the backyard, then they had a local boxing tournament and I talked him into letting me enter. I fought and won by a knockout. I was 14 or 15 at that time, and after that, it started to snowball. I won some amateur regional fights, turned professional, and became a fairly decent fighter. The highlight of my career was in 1987 when I fought Roberto Duran in Atlantic City that was televised nationally in 1988. I didn't win the fight, but then again, few that entered the ring with Duran did."
Now instead of pugilism, Thorn fights the good fight with music--narratives tales of "good times, bad times, and everything in between."
Check out this rootsy performer when he plays an 8 p.m. show opened by local blues act Pryor Baird & the Deacons. Advance tickets are $12 at the venue or Boo Boo's, or $15 at the door. Those 18 and older are welcome.
Jah is his navigator
It seems our local audience's appetite for reggae is insatiable, and we're lucky enough to get a lot of it--perhaps because California is a favorite of touring reggae artists and because SLO Town is perched perfectly between L.A. and Frisco, where all the big artists eventually go.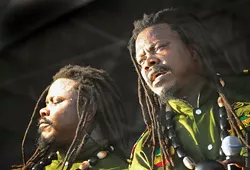 PHOTO COURTESY OF LUCIANO
JAH IS GOOD AND SO IS LUCIANO : Roots reggae artist Luciano makes a stop at the Graduate on March 30 as part of his Jah Is My Navigator tour.
# On Sunday, March 30, the next dank bowl of reggae that will burn up the Graduate's stage is Luciano, making a stop on his "Jah Is My Navigator Tour," at 9 p.m. with Mikey General & the Jah Messenjah Band, Resination, and Morning Rise Sound kicking off the show.
Not being a huge reggae fan myself, I demure to Luciano's press materials: "Luciano is undeniably an ambassador for Jah, who's always committed to the survival of roots reggae. His music is timeless and edifying. His mission is to uplift humanity with inspirational messages that demand global appeal. And since the release of his landmark CD in 1995, Where There Is Life, succeeded by more than 40 full-length albums that have garnered tremendous acclaim, Jah Is My Navigator, the Rastaman's latest release on VP, is arguably the quintessential culture album for 2008.
"Seasoned with the sing-jay's everlasting melody of spiritual salvation, repatriation, global harmony, and most importantly saving the battered souls of consciousless youth, Jah Is My Navigator embraces Luciano's powerful baritone over traditional One Drop riddims, accompanied by prophetic lyrics that are both peaceful and nourishing."
"The true navigator is the almighty," Luciano said. "People depending on all different types of navigation, even vehicles nowadays come with a navigation system. Jah Is My Navigator is an essential title that is needed right now."
Born Jepther Washington McClymont in Mandeville, Jamaica, Luciano is committed to bringing a positive message: "I've been true to the cause and true to my purpose, using my talent to glorify the almighty. Making music is one of my greatest joys. As a true roots singer, I feel satisfaction and honestly have to stay on this righteous pathway."
This is an 18-and-older show brought to you by Otter Productions, Inc. and Good Vibez Presents. Advance general admission tickets are $23, plus a ticket service charge, or $28 at the door, available at all Central Coast VALLITIX locations including Boo Boo Records in San Luis Obispo, the Mustang Ticket Office on the Cal Poly campus, and the California Mid-State Fair Box Office in Paso Robles. Charge by phone at 1-888-825-5484. Order on line at www.vallitix.com.
French toast of the town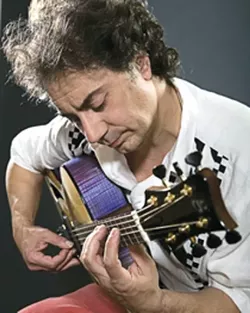 PHOTO COURTESY OF PIERRE BENSUSAN
FREEDOM GUITARIST : The world-class French guitarist Pierre Bensusan plays two upcoming SLO Folks shows: March 28 at Coalesce Bookstore and March 29 at Castoro Cellars.
# Leo Kottke is arguably one of the greatest living guitarists, so when he says the following of Pierre Bensusan, it's high praise indeed: "Pierre's music gives me the shakes. No other guitarist shares his strange gifts of sophistication, accessibility, and downright joy. Even at its most complex, Pierre's music only needs ears to be enjoyed."
The world-class guitarist plays two upcoming SLO Folks shows: Friday, March 28, at Coalesce Bookstore (7 p.m. $20 772-2880) and Saturday, March 29, at Castoro Cellars (7:30 p.m. $20 238-0725).
Not only is Bensusan a stunning guitarist, but he also sings in his native French, composes his own music, and constantly explores the depth of his own voice in a way that transcends his instrument.
Sonnie Brown will interview Pierre Bensusan on Saturday, March 29, on KCBX 90.1FM between 2 and 4 p.m. during her "Minstrel Song Show." For more info, contact slofolksmusic@sbcglobal.net or visit www.Slofolks.org.
The real McCabe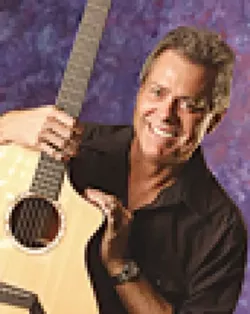 MC-COOL SONGWRITER : Award-winning singer-songwriter Chuck McCabe plays March 29 at Matt's Music Stage & School.
# Chuck McCabe's narrative songs are testimony to a life that began on the road. Born into an itinerate Navy family, McCabe's wanderings began early and continued through years of playing summers on Cape Cod, winters in Vail, and "every gin mill and Holiday Inn lounge in between." He was a five-string banjo player as part of Disneyland's Golden Horseshoe Review. As a guitarist, he's played rock, blues, jazz, and bluegrass. His song, "Minimum Wager," won the Woody Guthrie Songwriting Competition in 2001, and he's been on the festival circuit ever since, playing songs about "bums, bars, rude waiters, and hard-working heroes."
Now award-winning singer-songwriter Chuck McCabe plays on Saturday, March 29, at 7 p.m. in Matt's Music Stage & School. "He's as understated as it gets, but is well respected by musicians around the world," said Heidi and Matt Franscioni. "Rather than going for stardom, McCabe is considered more of a 'musician's musician.' His lyrics will touch you to the core, giving meaning to everyday experiences."
Cost is $15 call 237-0054 for reservations.
The band that wouldn't die
Brandon Wood couldn't leave well enough alone: "Well, what can I say? We're back," wrote the leader of the we-quit-for-good-but-now-we're-back-again SLO punk act New Tomorrow, "and knowing you, after reading that, you're probably laughing and saying, 'Fucking New Tomorrow, those guys, make up your mind,' right? But after a long talk and a lot of decision-making with our friends and family, we have decided to push on, so we are playing a show on Tuesday, April 1."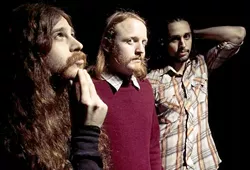 PHOTO COURTESY OF CASKET SALESMEN
I'LL TAKE ONE IN BRONZE : Casket Salesmen (pictured) plays April 1 at Downtown Brew with Inverse and local on-again-off-again punkers New Tomorrow, who broke up but are now back together, jerks!
# April 1, huh? Is this some kind of joke? Fucking New Tomorrow! Make up your minds! And I'm not laughing, jerks.
"The point of this show is to play the songs we have been writing for the new album live, so we can see people's reactions and find out what they think," Wood wrote.
I'll tell you what they'll think: Quit quitting, quitters! Or maybe quit not quitting and just quit, but stop toying with our emotions! Or maybe, who's New Tomorrow? They quit? They're back? Who cares?
"We signed to a little indie label out of New Jersey called Skeleton Crew Records," Wood added. "It's owned by Frank Iero, the guitar player of My Chemical Romance, but the label is still super indie and we're one of the three bands on the label, one being Frank's side project, so for this show we want to promote, but we don't want to use up our chances [for bigger coverage]. When we release the album and have that show, we would like to shoot for the cover of New Times. I know that's asking a lot for you and from us, but why not shoot big?"
Ha ha ha ha ha! Okay, now I'm laughing. I'm laughing my freaking ass off.
See New Tomorrow--unless they freaking quit again--when they play an all-ages, 7 p.m. show at Downtown Brew in SLO with Corona-based prog-rockers Casket Salesmen and Inverse opening. Advance tickets are $7, or $8 at the door. The cover ha ha ha ha ha ha!
More music
The San Luis Obispo Downtown Association presents the amazing acoustic stylings of Cuesta Ridge at the Main Stage during Farmers' Market on Thursday, March 27. To say they play bluegrass is a bit of a misnomer--it's more like a starting point for this ensemble, whose tight musicianship and harmonious vocals make unexpected forays into other musical terrains. See them from 7 to 8:30 p.m. at the intersection of Nipomo and Higuera streets, and bring some extra dough to buy a copy of the band's killer new live CD, recorded this past summer during a Concerts in the Plaza event.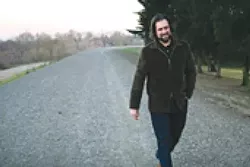 PHOTO COURTESY OF RICHARD MARCH
MARCH TO HIS BEAT : Richard March and his band play four appearances: March 27 in Frog and Peach March 28 at 5:30 p.m. in Boo Boo Records and then at 9 p.m. at O'Reilly's and finally on March 29 at Monteleone's Rock.
# Acclaimed gospel singer-songwriter and producer Kevin Prosch and his band will be in SLO County for two evening performances: Thursday, March 27, at Agape Christian Fellowship, and Friday, March 28, at the Twin Cities Vineyard in Paso Robles. Prosch blends traditional popular songs with electronic and world music elements. Local band Streetchoir will open up for Kevin on both nights. Doors open at 6 p.m., and the shows start at 7. A suggested donation of $10 is requested at the door.
Richard March, a San Francisco native who landed in Sacramento by way of Nashville, is bringing his band back to SLO County for four appearances: He plays Thursday, March 27, at 9 p.m. in Frog and Peach with J.D. Goodwin & the Peacemakers Friday, March 28, at 5:30 p.m. in Boo Boo Records, and then at 9 p.m. at O'Reilly's with Red Eye Junction and finally on Saturday, March 29, at 8:30 p.m. and 9:45 p.m. at Paso's Monteleone's Rock. Traveling with Richard will be his bass player and co-writer Tyler Ragle, and drummer Phil Speer.
Johnny Cash tribute act Cash'd Out was born in late 2004 when Douglas Benson met Kevin Manuel through an ad in The Reader. The main purpose for starting the band was to create an authentic tribute to the Man in Black, and with stand-up bass player Sean Glithero, they began learning every Cash song possible. Love will be a burning ring on Friday, March 28, at 8 p.m. at Downtown Brew in SLO. Advance $10 tickets for this 18-and-older show are available at the venue or Boo Boo's.
Mezzo-soprano Marcela Pan performs a benefit concert on Saturday, March 29, at Los Osos' St. Benedict's Episcopal Church at 4 p.m. Pan, originally from Argentina, graduated from the Col€n Opera House School of Opera in 1999. During her studies, she specialized in Baroque opera at the Catholic University in Buenos Aires. She was a member of the Mor€n Chamber Opera and the La Plata Opera House. A $20 donation is requested. For more info, call 534-1514.
Sam Shalhoub presents his second classical guitar performance as the recipient of the G. Roger Bailey Classical Guitar Foundation student scholarship. He's dedicated this second leg of his scholarship to pursuing 20th-century classical music of Spain. The scholarship promotes interest in and preserves the art of the classical guitar. Part of the proceeds from the concert will benefit the scholarship fund. The $15 concert begins at 7 p.m. in Coalesce Bookstore on Saturday, March 29. Call 772-2880 for reservations.
I don't usually cover Santa Maria, but here's just a quick note to let you know that 8Que Cosa! is playing on Saturday, March 29, at the Maverick Saloon and Grill. The Cal Poly Salsa Club gets things started at 8 p.m. with a great dance lesson and then 8Que Cosa! takes the stage at 9 p.m. Tickets are $10 at the door. You've got to be 21 or older.
Local performers--violinist Brynn Albanese (of Cafe Musique) and pianist Lynne Garrett--will perform in concert as part of contemporary chamber ensemble Colloquy, which also includes clarinetist Karen Dannessa and soprano Dorothy Maddison. They'll perform works by Stravinsky, Gian Carlo Menotti, Libby Larson, Seymore Barab, and Paquito d'Rivera on Saturday, March 29, at 3 p.m. in Los Osos' United Methodist Church ($10) and Sunday, March 30, 3 p.m. in Cambria Presbyterian Church ($10).
On Sunday, March 30, two virtuosos of "unusual" jazz instruments (Jim Self on tuba and Ron Kalina on harmonica) are the attraction at the Famous Jazz Artist Series at the Hamlet in Cambria. Self is a world-renowned tuba artist who, besides his jazz recordings, has appeared on literally hundreds of major motion picture soundtracks, such as Jaws and Star Wars. Kalina is recognized as being one of the few harmonica players to have ever achieved fame in the jazz world. Their current CD, aptly named The Odd Couple, has just been released. Bassist Dylan Johnson, drummer Darrell Voss, and concert co-producers Charlie and Sandi Shoemake (piano/vibraphone and vocals) will join them at 4 p.m. ($15) and 7:15 ($12). See both shows for $20, and call 927-0567 for reservations.
CD Reviews
Truth & Soul Presents: Fallin' Of The Reel Volume Two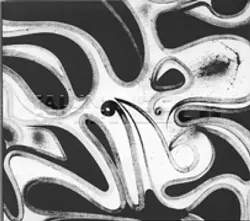 # Daptone Records and the Dap-Kings have gained a lot of prominence recently. Not only did they provide the Motown sound behind the Amy Winehouse hit album Back to Black, but the ensemble also ignites the spark plug in funkateer Sharon Jones, who's a throwback to what Otis Redding and James Brown considered a soul entertainer to be. To get lost for a second in their history, Daptone used to be Desco Records before a split that initiated the name change and a second off-shot label, Soul Fire, which unfortunately folded in 2004. But two of their house musicians--Leon Michels and Jeff Silverman--took what they learned and started their own label, Truth & Soul. Sticking to an old school business model (releasing mainly 7-inches), they are as authentic as they are scholarly in the sound of the Motor City and soul history. Now they've compiled all their 7-inches released since 2006 for the greater public with this CD release. Everything here sounds amazing, from Lee Fields' raspy soul singing to the tight backbeat laid down by the El Michels Affair. A true soul necessity.
DJ Shadow & Cut Chemist--Hard Sell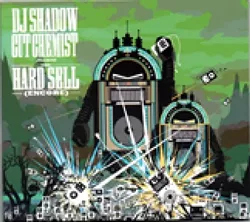 # With two previous outings together--1999's Brain Freeze and 2001's Product Placement--DJ Shadow and Cut Chemist return to their manifesto of slinging nothing but funk and soul 45s and give some cherished love to that itty bitty 7-inch record in this era of iPods and compressed MP3s. Previously, showcases happened in small clubs. Now, as a warm up to their show, The Hard Sell at the Hollywood Bowl, the dynamic DJ duo gets behind eight turntables along with an effect processor--enabling on-the-fly looping--and shows off a live set that's as flawlessly constructed as it is genre-defying. As opposed to the previous two albums that seemed to rely on ultra-obscure funk records, they freshen up the mix a bit, dropping in some recognizable samples (Billy Squier's "Beat Beat") and some early era hip-hop (Digable Planets and De La Soul) among the orgasm of extended drum breaks and scratching galore, all of it swirling together and creating a brand new sound collage. An impressive percussive showdown from two pairs of elite hands.
--Malik Miko Thorne, of Boo Boo Records and KCBX's "Night Train."
---
Glen Starkey is writing Santa to ask him to forward his list of naughty girls. Self-identify at gstarkey@newtimesslo.com.