It's Oct. 2, and I'm sitting smack dab in the middle of the Clark Center's second row—next to my mother, of course, as she is the only person I hang out with these days. She's pretty cool, I guess. (She's going to read this and be like, "I guess!?") Peppy dancers tap their little shoes on stage in extremely enthusiastic—and by enthusiastic I mean colorful and full of feathers and sequins—outfits. Singers in equally zealous costumes belt out familiar tunes, swaying in rhythm.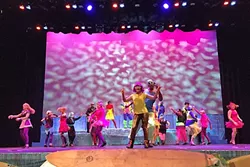 PHOTO BY REBECCA LUCAS
FUNKY PUNK: Follies get funky in neon to "Daft Punk," a mash up of his songs.
That unabashed enthusiasm coming off the Arroyo Grande stage is being presented by the Central Coast Follies for the 13th annual Benefit for Parkinson's Research. My mother and I aren't looking for some flawless, Broadway-ready theater performance. We are in the mood for some real talent smashed into heart-warming numbers, and we are in the exact right place.
The Follies pride themselves on being a multi-talented group built up of performers ranging in age from 5 to 85. If there's anything more tender than watching elderly ladies sing and dance because they love it, please let me know and I'll go there next. For my Friday night purposes, this pushes and pulls my heartstrings in all the right places.
To be real for just a second: The show isn't without mistakes, slightly out-of-tune pitches, and some missteps. They're human. As an audience member, I am also human. This show appealed to that humanity and the audience's collective ability to coo, aww, and giggle. It's very clear that to be a Follie, you need to have your heart and soul involved. And throwing in some sparkles doesn't hurt.
We sit there, nearly front row, up close and personal with the Follies ladies and men. It feels like a sort of variety show. Sometimes it gets a little chaotic—lots of people on various parts of the stage moving constantly to different places. Sometimes it's spot on, such as the perfectly costumed pink neon shorts during a ballad where the singer nails every note. There's a little bit of everything.
PHOTO BY REBECCA LUCAS
LAND OF DIXIE: Dixie Parker wears fully feathered and fabulous Central Coast Follie outfit with Jason Sumabat, director of the 13th annual Benefit for Parkinson's Research "California Dreamin" show.
We giggled as one of the more senior Follies ladies serenades Dave Hovde, infamous local weatherman and Friday's guest emcee, with pink feathers and sultry eyes, and we only feel mildly uncomfortable because the song is about "her daddy." My mother and I audibly "awwww" in unison during Judy Philbin's soulful "Stars and the Moon." Our eyes widen with astonishment and gleeful pleasure as the director, Jason Sumabat, sings "Trashy Girls," a number during which those venerable Follies ladies are all gussied up, traipsing around, fishnets and all.
Guest performers include the Ocean View Elementary Dance Troupe with some seriously impressive pint-sized dancers; Trevor Quezada, a 14-year-old superstar on the dance floor; and the GRADS (Greatly Respected Ancient Dancers)—definitely the best thing I have ever seen in color-coordinated tap shoes and bowler hats.
We look to our right before each number as Dixie Parker emcees in typical Follie Fashion: a blue sparkly dress with a feathered and sequined piece rises up and over her head. "California Dreamin'" is the theme, and all the numbers showcase love for California and the good ol' US of A.
PHOTO BY REBECCA LUCAS
WHOSE DADDY?: Dave Hovde is serenaded by feathered and bejeweled Judy, senior Follie, to "My Heart Belongs to Daddy."
It's feel-good entertainment at its best with spurts of the unexpected. Did I think I would see a bunch of proud senior Follies ladies strutting their stuff to the Beach Boy's "California Girls" (sung by Follies men) in long T-shirts that have thong bathing suits on sexy 21-year-old bodies? No. Do I love it? Yes.
At the end of the show, we get a good old-fashioned 'Merica salute with "God Bless the USA" and "Route 66" leaving many in the audience feeling patriotic and tearful, but my mom and I are still giggling about the T-shirt bikini dance, our favorite performance.
I leave the Clark Center with a big sappy smile on my face and a swelling in my heart.
The whole show is based on the personality of those dear Follies performers and it's worth it. Go see it for the outfits, for the tap dances, and for the vocal belts. Go see it for the sweet smiles. See it for when a Follie raps to Snoop Dogg's part in "California Gurls" by Katy Perry. See it for the heart, theirs and yours. See it for the soul, theirs and yours. And don't forget your sequins.

AGE AND BEAUTY: The show runs at 7 p.m. on Oct. 9 and at 3 p.m. on Oct. 10 and 11 at the Clark Center. For more information and tickets, visit

centralcoastfollies.org

.
Intern Rebecca Lucas wants to be a silver fox at beccaklucas@gmail.com.