Has anyone seen my socks? They appear to have been rocked off last Friday at SLO Brew. No, seriously. If you were wondering if North County AC/DC tribute band High Voltage can deliver the goods, the answer is hell yes!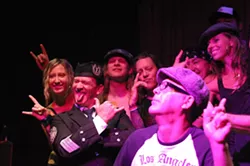 PHOTOS BY GLEN STARKEY
HELL AIN'T A BAD PLACE TO BE! : (Left to right) Concertgoer Joanne Halvorson, bagpiper Paul Dunn, lead guitarist Josh Blodgett, lead singer Kelly Atwell, contest winner and birthday boy Damon Haydu, bassist Andy Shellcross, and New Times graphic designer Dora Mountain take to the stage after the show.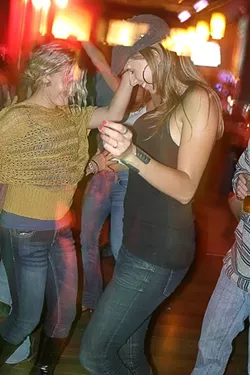 GIRLS GOT RHYTHM! : Joanne Halvorson and New Times graphic designer Dora Mountain shake their groove thangs to High Voltage.
Last week I asked AC/CD fans to write and tell me why I should take them to the show, and there were a bunch of awesome responses: Hot blondes Fara and Pam were on a budget. Several dudes wrote to say they'd been fans "forever." A gal named Jamie claimed she's "awesome … and besides my awesomeness I am a HUGE AC/DC fan for as long as I can remember! As a kid I used to sing 'dirty knees and the thunder jeep,' lol. It was kind of my ThunderCats AC/DC combo theme song (My mom actually used to blast AC/DC in her Z car. I would be riding in the back (Yes, it's a two-seater hatchback, but hey, it was the '80s—don't judge haha)."
Then there was Amber: "I'm 22 and I've loved AC/DC since I was little! I've been in LOVE with Angus Young for about ten years now. I think I'd be a great judge of this tribute band because of my appreciation for the music! I don't think anyone could compare to Angus and Bon Scott, but I guess we'll just have to wait and see."
There was also a husband and wife who "married in 1977, fresh out of high school." They couldn't afford much, but "Bose speakers and a Pioneer turntable was something we made sure was in our budget. We would play Back in Black so loud the pictures would fall off the walls. We even have the album cover hanging in our den to this day."
In the end, I had to bring Kristie and Damon Haydu after Kristie wrote this: "You should take Damon and me to see this band because we are true music connoisseurs. Damon being an archaeologist and me being a botanist, we are also pretty intelligent. We've been an integral part of various music scenes since the '80s including LA punk, the Bay Area, Sacramento, and rockabilly throughout the West Coast. But more importantly, Sunday is Damon's birthday and this would be a lovely surprise. Pick us. We're cool, but unpretentious and wicked fun!"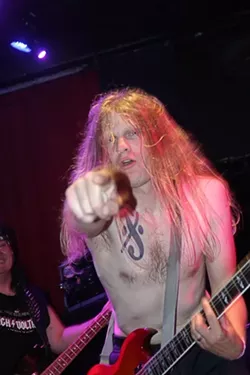 SHOOT TO THRILL! : Josh Blodgett takes on the role of Angus Young, and if you're wondering where the schoolboy uniform is, trust me, he started with it on.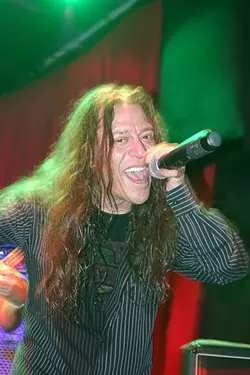 YOU SHOOK ME!: Lead singer Kelly Atwell is a force of nature, delivering screeching AC/DC hits like a banshee.
I'm a sucker for birthday wishes. Probably a deathbed Make-a-Wish foundation request is the only thing that would top it!
But then Jim Mallon sent me a freakin' manifesto!
"I believe I deserve one of your High Voltage tickets (along with the first round of drinks on you) because I have actually seen both of AC/DC's singers perform live," which he followed with a detailed recounting of his AC/DC experiences. "Given this solid history of AC/DC fanaticism, I believe I will have the best perspective to judge how well High Voltage's vocalist does at the complicated dual task of mimicking both the leering, demonic/comedic stylings of everyone's scariest uncle, Bon Scott, as well as the boozy, painful screech of his most worthy successor, Brian Johnson."

SEE 'EM ROCK MONGO'S!: High Voltage—A Tribute to AC/DC plays Mongo's Saloon in Grover on Saturday, July 28 (8 p.m.; 21-and-older; $5 at the door). Listen to this tight band blast classics like "Thunderstruck," "Dirty Deeds," and "Long Way to the Top."
For the record, according to Jim, High Voltage lead singer Kelly Atwell handled the Bon Scott songs better, but all told, Kristie, Damon, Jim, my workmate Dora Mountain, her friend Joanne Halvorson, and even my fiancée Anna Robertshaw, who doesn't even like AD/DC, think High Voltage is the real deal!
High Voltage, we salute you! You killed it!
Glen Starkey takes a beating and keeps on bleating. Keep up with him via twitter at twitter.com/glenstarkey, friend him at facebook.com/glenstarkey or myspace.com/glenstarkey, or contact him at gstarkey@newtimesslo.com.