IMAGES COURTESY OF LESLIE SUTCLIFFE
NONPAREIL TRIPTYCH : "They are all things we can't see with the naked eye," said Sutcliffe of Making the invisible, visible. "One is neutrons in a cloud chamber... the other is microscopic parts of plants ... again, representations of things, or different ways we describe something visually."
On the cutest damn street corner in Paso Robles, at 13th and Park streets, amid winetasting rooms and restaurants, is poised an airy art gallery—half fine and half craft. Firefly Gallery owner Emily Miller (along with her mom, Laurel) has been showcasing the most non-traditional art she can find in the last two and a half years.

Upstairs a clean and simple exhibit emerges.

Leslie Sutcliffe, an artist of more than 30 years (she's been exhibiting since the 1970s), and a teacher of more than two decades, is kind of mysterious—the opposite of clean and simple. She has a twin sister and the jury is still out on whether they are identical or not.

Her art isn't any less rudimentary.

Upstairs is where Sutcliffe belongs since her exhibit, titled the Galaxy Paintings, is a collection of works exploring the uber-mystifying outer space and its context—whether physically outside, up and away out there, or within an eighth grader's textbook.



FLY ME TO THE MOON: Firefly Gallery, located in Paso Robles, exhibits Leslie Sutcliffe's The Galaxy Paintings through March 29. 1301 Park St. at the corner of Park and 13th, with not one parking meter in sight. Info: 237-9265,lesliesutcliffe.info, or thefireflygallery.com.
Sutcliffe's favorite painter is Paul Cezanne, but she said he doesn't necessarily influence her work.
It's the cosmos, nostalgia, realism, the time-space continuum, tantric paintings from India, with a dash of printmaking that make up Sutcliffe's repertoire.
Printmaking, in fact, is Sutcliffe's primary discipline and even though the Galaxy series is paintings, Sutcliffe explained, "My training as a printmaker really informs the rest of my work. I paint more like a printmaker than a painter. It isn't loose brushstrokes. My whole aesthetic comes from printmaking."
So how does a printmaker end up painting a $15,000 dollar work of art?
What started out as a tiny photo from an encyclopedia was transformed by Sutcliffe into something attainable and definitely more understandable. In the process, she made a piece anyone would like on their wall—20 pieces, in fact. "They are oil paintings on 20 wood panels. They were little tiny black and white images in the book so there's a certain amount of imagination involved, but I tried to stay true to the angle of the rings," explained Sutcliffe with aplomb.
IMAGES COURTESY OF LESLIE SUTCLIFFE

ASPECTS OF OUTER SPACE : Phases of Saturn, 2006 is pictured. All of the paintings in the series have been completed over the last decade. Each panel depicts Saturn's activity from 1907-1946.
It took her about two years to complete the entire piece entitled Phases of Saturn, which depicts 20 different images of Saturn taken over a period of almost 40 years. "They were recording the phenomenon of the rings and the explosions on Saturn. What interests me is that images in books don't necessarily explain themselves, or explain the text. So sometimes, especially when taken out of context, they are particularly interesting, and the Saturn series is that. I like the repeated image. You aren't really sure why these images are so similar."
Sutcliffe describes the heavens as "an over-arching theme in my work for the last 10 to 15 years, specifically this galaxy series. It has to do with the connection of the images of the heavens and stars. In general my work has to do with images that you find in all different kinds of texts: scientific texts and even dictionaries."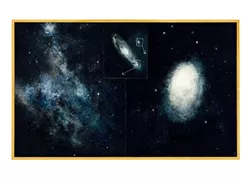 IMAGES COURTESY OF LESLIE SUTCLIFFE
STELLAR WORKS : Sutcliffe spends at least 20 hours a week in her Los Osos studio, located behind her house. Next up is a series of sculptural objects based on games with some nostalgic feel as well as a comment on political and social issues. In it she'll use Scrabble tileholder-like stands. Pictured is Baades Stellar Populations, 2008.
The Galaxy Paintings include renderings of photographs from telescopes as well.
Even though Sutcliffe's father was one of the first scientists in the early silicon/semiconductor industry, she considers herself "a Luddite" when it comes to technology, but her love of books and reading led her on a journey that began with the role of the book, or written word, in our contemporary culture. She emphasizes that today is more of a "screen culture" where everyone stares at a computer screen instead of appreciating nature.
That was why she did the Galaxy show in the first place. When asked if today's culture is a disappointment to her and her creations, or a statement against it, Sutcliffe explained, "It's more interesting to me ... in all of my work there is a sense of nostalgia and looking back ... and part of that is my love of books and reading ... and unwillingness to move completely into cyberspace."
In many of Sutcliffe's works she pairs contrasting images, and becomes bewitched by the different way art lovers look at written words and images in books, as compared to paintings on a wall.
But, how does she really do it?
"I let my mind wander and what catches my eyes in books—that is where I start." Sutcliffe wants to explain the cosmos and its origins but in the end, the finished product is her supreme goal—along with our reaction to the result of her imagination.
Christy Heron wants to live in the Galaxy Series, specifically on one of the rings. Send her to Saturn at cheron@newtimesslo.com.