Behind every famous leading man in Hollywood is a badass stuntman, making him look good (and stay good looking) by taking punches in fierce fight scenes, jumping out of sky-high planes, and running from deadly explosions.
Years ago when Ryan Gray was studying business at Cal Poly, he had no idea that he would one day be that man, a stuntman. At the time Gray was nurturing a budding passion for capoeira, a Brazilian martial arts form.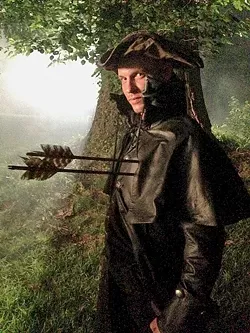 PHOTO COURTESY OF RYAN GRAY
COLD BLOODED KILLER: Ryan Gray takes a few arrows to the heart while playing an assassin on the television show Sleepy Hollow.
"I wanted to dedicate myself to capoeira and follow my dream," Gray said. "It's such a fringe martial arts form that I didn't see it as financially viable. I just wanted to do what I loved and make a living."
After graduating from Cal Poly in 2001, Gray taught martial arts in the San Luis Obispo area for several years. While a friend and fellow capoeira master from Brazil was visiting Gray, he got a call to be an extra on a film in Los Angeles. Gray tagged along and ended up working as an extra as well. It was there that he saw stuntmen up close and personal, in action for the first time.
"There were stunt guys doing capoeira, and I realized this was a real thing that I could do," Gray said. "I set my sights on that."
For the next six years, he threw himself into demanding physical training, endless rounds of auditions, and had many a night pass where he slept in his car or at a hostel. Then one day, he wasn't just another struggling artist in Hollywood trying to make it. He was there, making a full-time living as a stuntman. Today, Gray's credits include working as a stunt double for James Franco in The Great and Powerful Oz as well as Spider-Man 3. You can catch him on television shows like the fairy-tale-based Grimm, Sleepy Hollow, and Agent X. He's also been featured on CSI, True Detective, and Brooklyn 99.
"Stunts, in my opinion, is the most interdisciplinary aspect of film-making," Gray said. "Everything is asked of us."

GET IN ON THE ACTION : Ryan Gray will host a workshop during the San Luis Obispo International Film Festival. The workshop will be called Action for Directors and will be held on Saturday, March 19, at 9 a.m. at the Hollywood & Vines Festival tent (located at 1035 Higuera St. in San Luis Obispo). This workshop will focus on the thematic and technical aspects of creating an action scene. Whether creating a foot chase, a car chase, a fight scene, or a high-impact stunt, if the action isn't shot and edited properly your exciting action can seem very dull and staged on the screen. All festival passes are accepted, and admission is $5 without a pass. Visit

slofilmfest.org

for more information.
Those gnarly, intricate fight scenes you seen in any given action movie generally have these words on the page of the script: "They fight." So stuntmen like Gray often take on the role of combat choreographer, being sure to cater the moves to each director. And like the actual actors, stuntmen are required to do some character study so they can actually know the motivation behind the action they're portraying. Stuntmen will also have specialties like motorcycle riding or martial arts.
But stunting is a life fraught with peril and danger, or at least it looks like it is. On an episode of the new television series, Colony, Gray had one of his scariest looking stunts to date.
"I get engulfed in a big fireball so it looks like an explosion had knocked me back," Gray said. "To simulate that, there's this wire [attached to a harness I'm wearing] yanking me back."
But isn't being surrounded by flames not so safe?
"It's a science," Gray said. "We have the best riggers, the best fire safety. People get hurt, but no one is really a daredevil. Everything is very calculated."
Gray will return to his old college stomping grounds to share his wisdom on the art of stunts in filmmaking at the San Luis Obispo International Film Festival, which takes place around the city from March 15 through March 20.
"Stunts has allowed me really grow and develop myself," he said. "It's really allowed me to work on my craft."
Ryah Cooley is effortlessly chasing down bad guys while doing backflips at rcooley@newtimesslo.com.