Planning your wedding and looking for a local store to pick out bridesmaid dresses? Going to a wedding and need a last-minute tuxedo rental? Hey Gorgeous! Formal Wear, a new boutique shop in Grover Beach, has you covered on both of those fronts—and more.
Shop owner and fashion guru Valerie Shumaker told New Times that it was last summer when she decided to transport her beloved boutique from the streets of Orange County to 960 W. Grande Ave. in Grover Beach.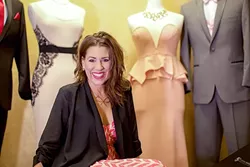 PHOTO COURTESY OF VALERIE SHUMAKER
UNIQUE, BOLD, CLASSY, SEXY: Valerie Shumaker recently opened a new boutique in Grover Beach on 960 W. Grande Ave. called Hey Gorgeous! Cocktail & Tuxedo Boutique, offering cocktail, bridesmaid, and flower girl dresses and tuxedos for rent or purchase, along with shoes and accessories catered to weddings and other special occasions. You can contact the shop at 380-3735.
"I was sort of the go-to store in that area for dresses," Shumaker said of her Southern California store. "Coming here, I noticed there was a real need for cocktail dresses and, even more so, for bridal stuff."
Shumaker is meeting that need by offering a variety of dresses for sale at her boutique—cocktail, bridesmaid, and flower girl—in addition to a plentiful selection of tuxedos starting at $75 to rent or for purchase. The shop also stocks shoes and other accessories. She has a "rent six tuxes and the groom's tux is free" deal as well.
"I cater to special events like weddings and special occasions for people like birthdays," Shumaker said. "I want to serve a local area where if someone needs a dress quickly or if they don't want to go online and count on a dress fitting, they can come here."
Hey Gorgeous! provides dresses for all age groups and budgets. From flower girls to mothers of brides, Shumaker has something for everyone. While she doesn't sell traditional wedding dresses yet, Shumaker hopes to add that to her shop's repertoire in the future.
"My goal is to do a bridal store," she said. "I'm growing this business and hope to go into that, because there really isn't anything between San Luis Obispo and Santa Maria for that need. I do carry a lot of white dresses that could be for a rehearsal dinner or a Vegas-style wedding."
In terms of style, Shumaker describes her clothes as, "unique, bold, classy, and sexy."
"I try to tap into all of it," she said.
The dresses are affordable, too. Even though boutiques are often thought of as only carrying high-end, expensive clothes, Shumaker assured that her selection is affordable for anyone. And part of the package is the top-notch customer service Shumaker promises to provide. She said her attention to her customers begins the second they walk through the door.
"I greet everyone with, "Hey Gorgeous!'" she said. "It either gets a laugh, or it puts them at ease walking into my small little boutique. I am hands-on in styling the ladies with belts, shoes, purses, and jewelry when they are trying on dresses. For brides and grooms, I have a little lounge area in here where I can consult with them. We go through the book and choose styles and help pick colors of ties and anything else."
Working with her customers to help them find the right choice is the reason she fell in the love with her work in the first place.
"I enjoy making everyone's experience something that makes them want to come back," she said. "I love to see them feel beautiful and find a look that makes them even more confident."
For your burning questions about the boutique, call Shumaker at Hey Gorgeous! Formal Wear at 380-3735.
Fast Fact
Grab your tickets to the fifth annual Central Coast Oyster & Music Festival at the Avila Beach Golf Resort on Saturday, July 9, 2016. Tickets are $22 and can be found at centralcoastoysterfestival.com.
Staff Writer Peter Johnson wrote this week's Strokes. Contact him at pjohnson@newtimesslo.com.