It's a beautiful 75 degrees in the city of SLO in early January, and I've hiked the trails that the city area has to offer a number of times. I want to go on a small adventure in nature without traveling for more than an hour—is that too much to ask for? Turns out my request could be met by a state park just outside of Los Osos.
Photo By Karen Garcia
DIFFERENT VIEWS I'm trying to get back into the habit of using film cameras. I used my fisheye camera from Lomography.
So my boyfriend and I pack our backpacks full of snacks, along with our hammocks, and take a trip to Montaña de Oro State Park. Just 5 miles south of Los Osos is a diverse landscape of cliffs, beaches, and canyons that altogether make about 8,000 acres.
The added plus of this state park is that admission and parking is completely free. While I enjoy this perk, I definitely support having to pay an entry or parking fee when I visit a state or national park—it keeps the land beautiful, people!
We're only going for the day, but there is a campground for visitors who wish to extend their stay. This is the perfect distance to drive as well; from SLO it's just about 25 minutes. We could have opted to go farther into the park, but after driving a couple minutes we found a parking lot that has a short trail leading to a beach.
Photo By Karen Garcia
EXPLORING Montaña de Oro is "mountain of gold" in Spanish; the name comes from the golden wildflowers that make an appearance on the land.
When I think of visiting a park I usually go for the hiking trails. I've heard great things about the Valencia Peak trail, but I've also heard that it is a little strenuous. We're looking to relax on this gorgeous day, not work out, so instead we embark on the Bluff Trail.
Every time I go to a new place that I know has hiking trails but I'm not sure where to find them, I tend to consult an app called AllTrails. The Bluff Trail is about 3 miles of taking in the beaches as well as some busy tide pools. The water looks so clear as we take a break to watch surfers ride the waves.
Photo By Karen Garcia
SEARCHING FOR GOLD Looking within the many tide pools on the beach, there are so many little creatures to examine and rocks to collect.
What I love most about our day at the park is that it isn't very busy. Maybe it was the time of day or the section of the park. We take a walk on the trail and stopped on the beach to have a small lunch. The sun isn't beating down on us, and I'm not afraid of sand blowing on my food from the wind. Every spot we walk or stop at to take in the scenery is so relaxing.
Before we leave the beach we have to stop and examine the tide pools as well as all the rocks on the shore. I used to be a huge rock collector back in the day, and this place is a veritable gold mine. There are so many different shapes, sizes, and textures. I felt like a 10-year-old again searching for the smoothest rock to add to my collection.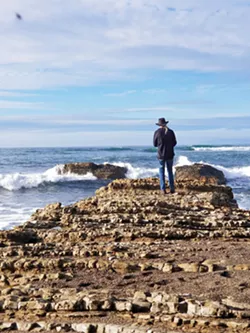 Photo By Karen Garcia
TAKING IT IN Sitting on the beach, we saw many people walking toward the edge of the rocks taking photos and selfies of their day.
Driving through the park, the first section of the trip is surrounded by trees on either side of the road. We thought if we walked around in the sea of trees we would be able to snag a spot to hang up our hammocks. Just far enough from the main road and paths and people, we end up finding the perfect spot to listen to some soothing jams and talk.
Most visitors make the drive to Spooner Ranch House, the building that has overlooked a scenic cove in Montaña de Oro since the late 1800s. The historic home was renovated in 2015 and serves as a visitor's station to get information about the park. We don't make it there but we'll definitely mark it on our things to do for the next visit.
If you're looking for a getaway on a budget or a small day trip, Montaña de Oro is the perfect place for solitude. Δ
Staff Writer Karen Garcia is examining her new rock collection at kgarcia@newtimesslo.com.