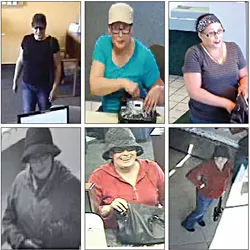 PHOTOS COURTESY OF THE FBI
BUSY: Each of these stills shows the suspected Central Coast Bandit, who has robbed five financial institutions since December, three of them in San Luis Obispo County.
It was a pretty rotten Valentine's Day in Atascadero this year, as the local Citibank was "cased" by thieves and the Pacific Western Bank was robbed. Little did everyone know that amid the hearts and flowers, a tidal wave of robberies was just beginning.
In all of 2012, typically sleepy SLO County saw only two bank and credit union robberies. This year, there have already been eight robberies, with seven happening in the past two months: The Chase Bank in San Luis Obispo on May 25. The Bank of America in Atascadero on June 7. The Wells Fargo in Paso Robles on June 18. The Citibank in Atascadero on June 25. The Coast Hills Federal Credit Union in Nipomo on June 27. The Golden 1 Credit Union in Paso on July 16. The Bank of America in SLO on July 24.
Local law enforcement is puzzled as to why the Highway 101 corridor has unexpectedly turned into a veritable Depression-era robber's paradise. In lieu of John Dillinger or Bonnie and Clyde, SLO County has been plagued by a ragtag assortment of robbers—none more enigmatic or prolific than the mysterious figure known as the "Central Coast Bandit."
According to FBI public affairs specialist Laura Eimiller, the Central Coast Bandit is described as a Hispanic or white female between 5-foot-5 and 5-foot-6, between 150 and 160 pounds, and between 35 and 45 years old. Security cameras at various banks have captured clear images of the suspect's face and person, but she remains in the wind.
The Bandit has been deemed responsible for three of SLO County's eight robberies thus far in 2013. Of the eight robberies, suspects have been apprehended in only three cases.
"This is the biggest number of robberies we've had in a year—ever," said Atascadero PD Sgt. Gregg Meyer. "It's highly unusual."
In general, law enforcement agents were at a loss to explain the precise cause of the surge in bank heists beyond bad luck and economic malaise. That said, all the SLO County jurisdictions that have been affected by the crime spree are beefing up their robbery prevention and protection mechanisms.
"With bank robberies, it's difficult to predict anything," said Paso Robles PD Lt. Ty Lewis. "It's an awareness situation. That means we perform a lot of community outreach, encourage people to call in any and all suspicious activity, make a lot of contacts, and increase patrols."
Lewis also noted that several Paso Robles banks have hired armed security guards in the past few weeks as a response to the robbery outbreak.
Aside from a bungling amateur and another robber who turned himself in, police have had very little success in nabbing the recent wave of thieves.
On June 11, Steven Daniel Celaya, 32, turned himself in at SLOPD headquarters. According to police, Celaya copped to robbing the Chase Bank in SLO on May 25, as well as the Bank of America in Atascadero in June 7. He remains in custody at the SLO County Jail.
On July 24, Andrew Gilbertson, 38, was arrested on suspicion of robbing the Bank of America in SLO. Gilbertson was arrested in Atascadero, less than three hours after the robbery. He's also in custody at the SLO County jail.
"With bank robberies, people generally want to get in and out as fast as possible," said SLO PD Cpt. Christopher Staley. "In my opinion, [Gilbertson] was like that to the extreme—he was not polished in his abilities."
Despite a concerted effort from local law enforcement and the FBI, the three Central Coast Bandit robberies in the county remain open cases, and two additional robberies—the Wells Fargo in Paso Robles (June 18) and the Citibank in Atascadero (June 25)—are similarly unsolved.
According to the FBI, the Bandit—who's been active for roughly seven months—has robbed banks in Monterey and Stanislaus counties, making five thefts total.
"She seems to be robbing in a pretty wide geographic range," Eimiller said. "With five robberies, that's definitely indicative of some kind of desperation—that she needs the money repeatedly."
Eimiller said the FBI has received a number of tips on the Central Coast Bandit, but nothing has panned out or led to her capture yet.
According to Eimiller, it's usually standard policy not to release the amount of money robbed from a bank, but straight "stick 'em up" robberies like the ones observed this year in SLO County generally yield "a few hundred bucks, maybe a thousand dollars if the robber gets lucky."
"It's rarely higher than that, and most bank robbers get caught eventually," Eimiller said.
Almost everything about this robbery surge seems ersatz: the relatively small-time takes, relatively small-time institutions and branches, and relatively small-time crooks. Nonetheless, the robberies represent a disturbing trend, and the implied or real presence of weapons at the robberies is a threat.
"As a law enforcement officer, I'd like to see banks do a lot more to combat robbers, because it helps us catch them," Meyer said. "In the meantime, our officers are more vigilant than ever."
Staff Writer Rhys Heyden can be reached at rheyden@newtimesslo.com.