PHOTO COURTESY OF ELVIS COSTELLO
AN INTIMATE EVENING WITH ELVIS : The legendary Elvis Costello will appear solo for an evening of music from his past, present, and future on April 12 at the PAC.
I actually don't remember the exact year Elvis Costello came to Poly. Maybe it was 1983? Anyway, it was the New Wave era and I think Flock of Seagulls and I had the same hairstylist.
Over the years I've grown up with Costello. His music served as the soundtrack to my life, and as his music moved from the recklessness of youth, so did I. He started playing with the Brodsky Quartet at the exact moment I was ready to embrace classical music. He made country music edgy and fun for me. His lyrics demonstrated that pop music could have untold depths and explode into poetry. He taught me to respect Burt Bacharach. Other than Tom Waits, I can't think of another artist I've loved this long—he never disappoints!
His most recent release, Secret, Profane & Sugarcane, which was produced by T Bone Burnett, returns him to his mid-career country-esque greatness, and nine months after its release it still hasn't been tossed into the stacks, instead enjoying regular rotation in the sliding piles of CDs by my stereo.
On Monday, April 12, Grammy Award-winning superstar Elvis Costello returns to Cal Poly for a solo 8 p.m. show at the Performing Arts Center's Cohan Center for an evening of "guitars, songs, and stories in an incredible night of entertainment with music from the present, past, and future." For Costello fans, this is a must-see event.
Tickets range from $56 to $74. Call 756-2787 and order yours now. As of last Tuesday, the show was a few dozen seats from being sold out.
PHOTO COURTESY OF YOUR ROYAL FUNKYNESS
THEY'LL FUNK YOU UP! : (Left to right) Sean Phillips, James Balseiro, and Raphael Imboden Balseiro are Your Royal Funkyness, playing April 8 at Creekside Brewing.
Get funkified
Who knew the congas were so dangerous?
"I've been playing congas for 30 years, and what I learned both inspired me and upset me," explained James Balseiro of conga act Your Royal Funkyness. "I learned that one of the reasons the conga drum was outlawed—not to be made or played under penalty of death—is because the conga drum communicated long distances. It helped defeat Napoleon's army in Haiti: General Toussaint L'Ouverture and the Haitian people gained their independence. That was in 1791. The word got back to the States that there was a free Black Nation in the western hemisphere. Afraid that this could inspire enslaved blacks inside the United States, the conga drum was outlawed.
"Out of the outlawing of the drum, the heel-toe technique of hand-drumming went from the conga head of the drum to the heel-toe of the feet, and tap dance is born around the 1920s," continued Balseiro. "This was a way to keep the stories and the rhythms and culture alive and hiding in plain sight. But there was one place in the United States where the conga drum was allowed to be played: That was in Congo Square, the French Quarter, New Orleans, Louisiana, only on Sunday."
Today, of course, we're all free to thump away, which Balseiro and his group will do this Thursday, April 8 at Creekside Brewing at 8:30 p.m.
"Here is the inspiring part," said Balseiro. The rhythms are prayers for healing of the mind, body, and soul. We use sacred ceremonial rada drums and Bataa drums. The sacred rhythms we play are Bembe, Nanigo, Yemaya, and Chongo (God of the drum) for celebrating life from birth to death and beyond. Congo Africa is the heart and soul of American music: From ragtime to jazz to R&B, swing, funk, soul, rock, and hip-hop. The Conga drum was central in the creation and innovation of American music through the rhythm section. Your Royal Funkyness prides itself on having a most powerful and funky rhythm section. We love having fun and being over the top, but in a good and funky way. We also do workshops on conga drumming and perform at schools, showing the value of rhythms.
We teach drum classes on a weekly basis." For info, call James at 541-3889.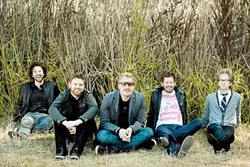 PHOTO COURTESY OF SHERWOOD
HOMETOWN BOYS RETURN : Downtown Brew starts your week off right with former SLO Town act and now national sensation Sherwood, who return to their old stomping grounds on April 8.
Downtown Brew happens!
Holy music explosion, Batman! Downtown Brew starts your week off right with former SLO Town act and now national sensation Sherwood, who return to their old stomping grounds with Black Gold in tow, this Thursday, April 8 (6:30 p.m.; all ages; $13 presale or $14 at the door). Sherwood is a Beach Boys-inspired power pop band that still calls SLO Town home. Black Gold has been called "Breathlessly experimental."
Led Zeppelin tribute act Led Zebagain hits the Brew on Friday, April 9 (8 p.m.; all ages; $13 presale or $15 at the door). It's like being at the 1977 Zep world tour (BYOP—bring your own psychedelics).
One Drop and Killa Gorilla play a benefit for Spencer Wood on Saturday, April 10 (7:30 p.m.; all ages; $10 presale or $12 at the door). One Drop is influenced by Steel Pulse and the Police.
Hip-hop fav Andre Nikatina returns to the club on Sunday, April 11 (7:30 p.m.; all ages; $25 presale or $28 at the door). Smoothly aggressive and smirking, he's a rappin' bad boy.
On Tuesday, April 13, see indie act Rocco Deluca with opening act Travis Warren (8 p.m.; all ages; $10 presale or $12 at the door). Think of Deluca as an alt-blues explosion.
PHOTO BY ALI SMITH

THE QUEEN OF PUNK : Exene Cervenka, an essential part of the seminal punk act X, appears April 9 at a free in-store at Boo Boo Records.
The X-Woman
Exene Cervenka can do no wrong. She's a freaking underground hero, an essential part of the seminal punk act X, an amazing solo performer, a woman so crafty and smart that she had a successful clothing store called You've Got Bad Taste. Awesome!
This Friday, April 9 at 5:30 p.m., this quintessential Los Angeles punkstress will perform a free in-store at Boo Boo Records.
Her most recent CD, 2009's Somewhere Gone, proves she's still got the edge and chops to wow new fans and satisfy old ones."She'll take over our intimate stage and perform a free, all-ages concert," said Boo Boo's dude and New Times record reviewer Malik Miko Thorne. "This should be nothing short of phenomenal! Cal Poly Professor Dr. James B. Cushing will introduce Exene Cervenka, and we're currently working on having a secondary act open for her. We suggest you come early. After the performance, she'll be doing a meet and greet, autographing her books and albums, so bring X memorabilia or anything you would love to get signed."
Said Cervenka, "The reason I am touring independent record stores from San Diego to Seattle this April is that I want to play for free, to people of all ages, at a reasonable hour, in a place we love to be. I'm touring at my own expense, because I don't want the economy to stand between my music and people who might want to hear it. Yes, I hope I sell some aprons and a few CDs, but bring your X records, the kids, shop independent, and let's have a party!"
Hat-trick at Steynberg
The Steynberg Gallery is a real chameleon. It began as a first-class art gallery of African artifacts, then morphed into a contemporary art gallery, then added an American café with fine coffees, teas, and pastries. Somewhere in there it began hosting musical performance. Now it's added beer and wine to the menu, plus a vegan curry and soup of the day, plus salads. Think of it as a European-style café. Food and drink, and this week three worthy musical events in a row.
This Thursday, April 8 at 7:30 p.m., see Walsh Set Trio, an experimental/jazz/classical act featuring Brian Walsh (clarinet/bass clarinet), Colin Burgess (bass), and Trevor Anderies (drums). The show costs $10.
On Friday, April 9 (8 p.m.; $10), see jazz, flamenco, and classical guitar master Robert Earl Longley. Diaspora, his ninth and most recent release came out in 2007, and he's also responsible for two soundtracks for films that screened at the Sundance Film Festival.
PHOTO COURTESY OF JODY MULGREW
TWENTIES-STYLE CROONER : On April 10, the fantastic local singer-songwriter Jody Mulgrew will be one of two performers at the Steynberg Gallery.
Finally, on Saturday, April 10
(7:30 p.m.; $8), check out local favorite singer-songwriters Gary Garrett
and Jody Mulgrew
. Garrett grew up in Seattle and began writing songs at 19, recording his first album, Lifeline
, in 1985. He also spent countless hours singing a cappella with The Dickens Carolers, and he's a founding member of Seattle band The Killer Beets. He's lived in SLO County since 1994. Mulgrew fronted the popular Johnny Starlings, but he now performs his heart-on-his sleeves, '20s-era crooners as a solo artist.
More music …
San Diego-based multi-instrumentalist/singer-songwriter Jon Ji continues planting the seeds of his jazz-alt-folk and 21st-century blues up and down the coast, including Thursday, April 8 at the Frog and Peach in San Luis Obispo (7:30 p.m.; free) and Saturday, April 10 at the Gather Wine Bar in Arroyo Grande (7 p.m.; free). Ji says his music "Goes well with jazz, blues, folk, and artists like Jason Mraz, Jeff Buckley, Squirrel Nut Zippers, and Billie Holiday."
PHOTO COURTESY OF JACK TEMPCHIN
YOU'VE HEARD HIS SONGS : Jack Tempchin, who wrote or co-wrote some of the Eagles biggest hits, plays Coalesce Bookstore on April 9 during a Cambria Hoot Roadshow concert.
Jack Tempchin
, one of San Diego's pioneering singer-songwriters, brings his songs and his wonderful stories to Coalesce Bookstore this Friday, April 9
during a 7 p.m. Cambria Hoot Roadshow concert. Tempchin has penned and co-penned numerous top 10 hits, including "Already Gone," "Peaceful, Easy Feeling," "Slow Dancing," "Smuggler's Blues," "True Love," and "You Belong to the City." Tickets are $20 (772-2880).
Acoustic Eidolon appears at a Música Del Río House Concert in Atascadero on Friday, April 9, at 8 p.m. Featuring cellist Hannah Alkire and double-neck guitjoist Joe Scott, this eclectic duo blends Celtic, folk, and world music. Call 466-6941 for reservations ($15).
On Saturday, April 10, SLO Down Pub will present an awareness raiser and benefit concert for HUGS (Healing Us Garden Sanctuary), a multi-service retreat for cancer patients, soon to open in Nipomo. Hosted by the Jim Townsend Blues Band and Stephendipity, the lineup also includes Stimulus Bill, Mike Gerber, Acoustico, JJ Ford, Jicay, Kim Froelicher, Mark Lancaster, Casey MacDonald, Erin Teran, Bill Vicent, Rob Hutchings, Jackie Morris, and more ($10; 7 to 10:30 p.m.)
The G. Roger Bailey Scholarship Fund presents Stuart Green in concert at Coalesce Bookstore this Sunday, April 11 at 2 p.m. ($20; 772-2880). Green studied with Terry Graves, a founding member of the internationally acclaimed Falla Guitar Trio, as well as with Kenton Youngstrom and classes with Dusan Bogdanovic, Juan Serrano, Christopher Parkening, and John Holmquist. He appeared locally in 2001 and 2003 at La Guitarra California.
The SLO County Band will perform its Annual Spring Concert, Sunday, April 11, at 3 p.m. at the First United Methodist Church (275 N. Halcyon, Arroyo Grande). The band will be under the direction of Conductor Leonard Lutz, and though there is no admission charge, a $7 donation is suggested to support various County Band expenses including advertising, new music, and uniforms. Concert fans are welcome to participate in a special barbecue, which will be offered earlier that afternoon to benefit the United Methodist Children's Center.
This Sunday, April 11, check out Tim Armacost, one of NYC's leading tenor saxophonists, when he plays the next Famous Jazz Artist Series concert at the Hamlet. Armacost, a Concord Record artist, will be joined by an all-star New York band including Bruce Barth (piano), Kenny Davis (bass), and legendary Billy Hart (drums). Series co-producers Charlie and Sandi Shoemake will also be on hand. There's a 4 p.m. show for $15, a 7:15 p.m. show for $12, or see both for $20. Reservations are recommended (927-0567).
Five-man a cappella powerhouse Rockapella brings its awe-inspiring vocal prowess to the Performing Arts Center's Cohan Center on Wednesday, April 14, at 7 p.m. in the Performing Arts Center's Cohan Center. This worldwide phenomenon has released 20 albums in as many years, blending soul, rock, and R&B. You simply won't believe your ears when you hear technically trained vocalists Scott Leonard (high tenor), Steven Dorian (tenor), Jeff Thacher (vocal percussionist), George Baldi (bassist), and John K. Brown (tenor). Student and adult tickets range from $20 to $44. Call 756-2787.

Glen Starkey wants a glass of warm milk and to be tucked in. Sing him a lullaby at gstarkey@newtimesslo.com.
CD Reviews
The Bird & The Bee—Interpreting The Masters Volume 1: A Tribute To Daryl Hall And John Oates
As The Bird & The Bee, singer Inara George and producer Greg Kurstin have a tendency of undercutting their sweet jazz-pop with a palatable dose of the space-age schmaltz, the recline-oriented swing that is celebrated in faux-wooden lounge quarters where Esquivel and Denny Martin are still king. So maybe it isn't all that surprising to hear their latest recording, Interpreting The Masters, focuses on the blue-eyed soul of Hall & Oates, and not such legendary heavyweights of song craft as Dylan or Gershwin. Yes, you may sniff an ironic hipster joke in the play, but looking past the often-milquetoast bop of Hall & Oates, their sound is imprinted in our musical DNA, and like Journey, it's been adopted and enjoyed by a whole new generation. And The Bird & The Bee negotiate it perfectly. Picking out the hits, they overlay an electro-pop sheen to everything, accented with warm key-tar plinks and George's innocent doe-eyed voice. Instantly familiar and playful, this is a pleasurable spring listen.

She & Him—Volume Two
Returning to the AM Gold on their debut, M. Ward and Zooey Deschanel soak their heartbreak odes in sunny arrangements and a stylized nostalgic sound that recalls the golden-era of Roy Orbison and Bobbie Gentry. As the producer, M. Ward executes a perfect mixture of country twang and swelling pop orchestrations, underscored by his dusty reverb guitar and backing vocal accompaniment. Which leave Deschanel's irresistibly charming voice to glue it all together. While her vocal range may be limited, her infectious cuteness is captured and transmitted through the speaker. Her delivery on "Brand New Shoes" is downright plaintive as she registers sorrow with dropped, shrugged shoulders rather than emotional wailing. Opener "Thieves" clones Orbison's country pop exceptionally, down to the crying in the chorus. She & Him's Volume Two is an inviting retreat into wistful lullabies, a sound that clings to a sentimental allusion of yesteryear, though it's still an emotional necessity today.
—Malik Miko Thorne, of Boo Boo Records and mikovision.blogspot.com, where you'll find archived reviews and soundclips.