Jim's Campus Camera has been servicing and selling camera equipment in San Luis Obispo for more than 30 years. Located in the heart of downtown with a spacious shop, well-stocked glass displays, and walls adorned with stunning images, the business looks clean and professional. But they don't have a second-hand dealer's license, making any handling of used items illegal, according to Lt. Jeff Smith of the San Luis Obispo Police Department.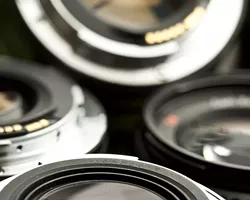 PHOTO BY STEVE E. MILLER
TRACKING NUMBER : Warranty cards with serial numbers helped Diana Clarke trace two stolen camera lenses to Jim's Campus Camera in late January. One had already been re-sold. A SLOPD detective said he would return the other lens to Clarke on March 14.
"A lot of businesses just aren't aware of this requirement," Smith said. "They think their regular business license covers everything."
Unfortunately for Diana Clarke, Jim's Campus Camera learned of the license rule a little too late.
On Jan. 29, it had been about a week since the single mother had the time to indulge her photography hobby, a pastime that strengthened the bond with her teenage daughter and helped her to recognize the beautiful moments in life after a drawn out, messy divorce.
"I picked up my camera bag, and it was too light," Clarke said.
Two expensive Canon lenses were missing. Clarke had kept her warranty cards, and the next day, she was able to match serial numbers to lenses that Jim's Campus Camera had on record. When she arrived at the shop in person, she learned that one of the lenses had already been resold. Clarke said the manager was helpful and sympathetic, and that he told her the name of the person who had sold the stolen equipment to the camera store.
It was a name Clarke instantly recognized. Because he's a minor, New Times won't reveal his identity.
Clarke said that while discussing the young man, one of the clerks at the camera shop popped into the conversation, saying that the suspect frequented the store, selling used goods on a regular basis.
Later that day, a police officer met Clarke at the business to assess the situation. Clarke said the officer told her she would have to reimburse Jim's Campus Camera for the cost of the lens if she wanted it back right away.
"I struggle to pay the bills every month," she said. "Replacing these lenses isn't even part of the equation."
On Canon's website, the lenses in question sell for $480 and $650.
Clarke was upset, but she left with the understanding that at least one lens was safe, that it wouldn't be sold until the police figured everything out, and that she'd get it back eventually.
"Since they're not licensed as a second-hand dealer, they're not applicable to the paperwork that would require a 90-day hold on questionable items," Smith said.
The lieutenant explained that special fail-safes are in place for second-hand dealers to address the possibility that gently used items might be stolen goods. Receipts are registered with the police department, waiting periods are established before re-sale is allowed, and a freeze can be placed on any disputed items, giving the police time to determine ownership.
None of that happens when a business fails to acquire the $100-to-$200 license to be a registered second-hand dealer. Such license requests pass through Smith's desk on their way to the California Department of Justice.
He said that Jim's Campus Camera has since been told it couldn't buy or sell used equipment until he sees a license.
"They know they need to stop," Smith told New Times on March 8.
The following day, New Times called the store asking if they bought used cameras. The clerk who answered said they did. The store's website also features a list of used equipment last updated on March 10.
Management at Jim's Campus Camera wouldn't comment on the particulars of this incident or the status of the remaining lens, but owner Dennis Johansen did say that they have since applied for a second-hand dealers license and that any sales and purchases of used equipment have been suspended.
"That clerk was incorrect," Johansen said.
The juvenile suspect in the case has also been linked to the burglary of a Nipomo High School yearbook classroom in December. A window was broken, and more than $8,500 worth of camera equipment was taken. Most of the items were stashed at various locations and later recovered, though one lens was allegedly sold online, according to a Sheriff's Department press release. The 16-year-old male suspect was arrested on Feb. 10.
"It's all been rolled into one case at the District Attorney's office," said Commander Aaron Nix of the Sheriff's Department.
The District Attorney didn't return calls for comment, and records concerning the case are sealed since the suspect is underage.
Smith said police are currently focusing on the thefts and aren't pursuing a case against Jim's Campus Camera for possession or sale of stolen goods, though the business' involvement is being documented.
California penal code section 496 says that vendors and their employees are subject to felony charges and up to a year in jail if courts find that they were in possession of stolen material "without making a reasonable inquiry" into proper ownership.
"Reasonableness is defined by judges and juries," Smith said. "The law is vague, leaving it to a case-by-case basis."
He said that people who don't know an item's true value and those that somehow have something new to sell every month should seem suspicious to business owners.
"It all depends on the circumstance, but some businesses are better than others," Nix said. "If there's any doubt, they will require further documentation or they'll call us."

Calendar Editor Nick Powell can be reached at npowell@newtimesslo.com.