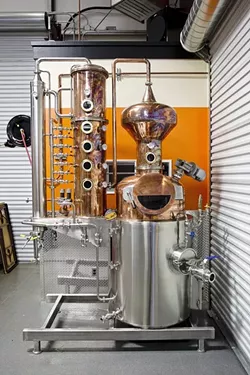 PHOTO BY STEVE E. MILLER
THE LITTLE DISTILLERY THAT COULD : Tap It Brewing in San Luis Obispo is poised to become the 22nd registered micro-distillery in California.

JOIN THE WORLD:

World of Pinot Noir runs March 4 and 5, Friday through Sunday.


Each year, when the World of Pinot Noir begins, people call to ask my help getting tickets, even though I'm not employed by the event. But, as luck would have it, this is the odd year when some tickets are still available. If you wait until the event starts to try to get into this popular Pinot fest, you may find the gate locked.

Friday's events provide an excellent excuse for taking the day off, as two educational seminars remain open: the international roundtable with winemakers from eight countries, and a tasting/discussion of alcohol vs. balance; or choose an exploration of Hirsh Vineyard made by several winemakers, and a comparative tasting of California vs. Oregon Pinots. Both packages include transportation and lunch, $195 each. If you can only do one Friday event, Pinot by the Sea features more than 90 domestic and international Pinots for just $95. Dinner Friday night promises a Pinot-friendly feast prepared by several local chefs at Chamisal Vineyards in Edna Valley. With live music and dancing, it's $180. On Saturday, the only tickets available are for the Paulee-style dinner at Au Bon Climat where everyone brings Pinots to share and enjoy with foods prepared on site by celebrity chefs. Transportation included, it's $180.

The last event, Sunday brunch, features more than 50 wineries and a buffet of delicious morning foods for only $75. Go to WOPN's website at wopn.com for tickets and more information.
It's difficult to open a new business during a recession. Add in minimal professional experience for even more of a challenge.
When faced with such obstacles, however, boldness, verve, and ego can step into the breach and help get a product or new business noticed in a big way. And that's just what I discovered at Tap It Brewing in SLO's industrial district. Despite its hidden-away location on Clarion Court, accessible via oddly angled roads between industrial buildings along Santa Fe and Buckley streets, beer lovers are quickly discovering Tap It Brewing. There, a highly motivated brew crew led by two passionate entrepreneurs has hit the sky like the proverbial bat out of hell.
Tap It Brewing is owned and operated by SLO locals who have been home brewers for many years. They started commercial production a couple of months ago and opened a tasting room at roughly the beginning of February. They've become an instant attraction as more and more people are finding their way to Tap It Brewing to taste unique new beers. In fact, their sales rep and marketer, Emily "M" Burgess, said, "People who work around the airport jump across the creek between the airport and Tap It to come over for a fresh pint."
PHOTO BY STEVE E. MILLER
LIQUID MANNA :
The Tap It "brew crew" consists of a team of four men who are passionate about brewing beer, yet had no professional experience: John Gordon, Miles Gordon (father and son, respectively), Westin Joy, and John Huggins. The three young men grew up together in SLO, from elementary school to Cal Poly. The brewery is owned by John Gordon and his longtime business partner, Scott Whipple. Sixteen years ago, the duo started Canidae All Natural Holistic Pet Foods. Unlike Gordon, Whipple isn't involved with the production side, but he's fully involved, according to Burgess, in marketing their beers.
Gordon explained the building was originally a distribution center for Canidae, but he and his son and their friends began making their home brews there.
"It was nice to be pumping from A to B," he said, referencing their state-of-the-art facility. "Our wives threw us out of the house and said, 'You're ruining my kitchen.' We decided if we're going to do it, let's do it right."
They moved their dune buggies and bikes out and made it a commercial brewery. The set-up standards equal those required for a restaurant license.
PHOTO BY STEVE E. MILLER
THEY ARE FOUR : Brewmaster and co-owner John Gordon is part of a four-man team brewing ale in an industrial part of San Luis Obispo.
"We started this at its purest form possible," Gordon said.
Currently, Tap It offers two beers: an APA—American pale ale—that's light, crisp, and well-balanced with a bitter snap on the finish; and an IPA—India pale ale—that's hopped several times throughout the brewing process and is unfiltered, which makes it maltier and thicker than the APA. The first seemed preferable to me for pairing with spicy foods, while I found the IPA a delicious quaffer. The IPA would provide an excellent pairing with richer foods
"We're involved in everything that's SLO. We bought a still because we're planning to make vodka and brandy, and should have our license by the end of March," Gordon explained.
He believes they can follow Edinburgh, Scotland's example in creating a "real fine SLO single malt whiskey." He pointed out there are only 21 registered micro-distilleries in California.
"We'll be the 22nd, and we're going to try to build synergy with the wineries," Gordon said. "We can make grappa or brandy for them."
That's not all he has planned for the near future. Although they've been purchasing hops from Yakima, Wash., he believes hops can be grown in Edna Valley as successfully as wine grapes.
"Edna Valley has good climates and soils, which have a lot of similarities with Yakima," Gordon said. "We don't have the rain, but we can irrigate."

TAP IN: Tap It Brewing is at 675 Clarion Court in San Luis Obispo. For more information, call 545-7702 or visit tapitbrewing.com
The tasting room is only open Thursday through Saturday, noon to 6 p.m., and tastes of their two beers are free. They're planning to add two more beers before the year's end. Pints cost $5, and growlers cost $20. If you bring the growler back for a refill, it's only $15. As business warrants it, they'll start opening to the public more often. If you're interested in a full tour, it's best to call ahead as they can't take visitors into the production area if they are brewing or bottling. That said, it's well worth booking a tour to learn more about this complicated, ancient craft.
Contact New Times' Cuisine columnist at khardesty@newtimesslo.com.