PHOTO BY STEVE E. MILLER
WHAT TO PACK? : The 15 wolves and wolf-hybrids at the W.H.A.R. Wolf Rescue center in Paso Robles will have to move soon thanks to work on Highway 46 East.
A chorus of primal howls is the first sign a visitor gets that things are not exactly as they appear at this modest ranch home outside of Paso Robles. On the one hand, there are plenty of kennels with dog houses. On the other, those are definitely howls or yowls one hears, not barks.

The next clue is the size of the enclosures—several feet higher than your usual dog fence, and some covered with razor wire. Finally, there's the girth of the beasts themselves; some stand taller than waist high and weigh as much as 150 pounds.

If you didn't know it already, it wouldn't take long to realize these kennels are occupied by wolves and dog-wolf hybrids. There were 15 of them in all on this recent visit, and when their caretaker, center president Kristi Bluhm-Krutsinger approached, they each seemed to have a special performance for her, from leaping to pacing to prancing or howling. In turn, she communicated with graceful hand signals.

This is the Wolf Hybrid Adoption and Rescue compound, a home for wolves and part-wolves that were in need of more appropriate homes. At its peak, the rescue has taken in as many as 25 animals, drawing from seven western states. Its numbers have been down lately, however, because now the center itself is in a fight over its home.

CalTrans is widening Highway 46 East, purchasing land through an eminent-domain process along a stretch of the road in an effort officials say will make the road safer. The wolf rescue site is in the path of a second phase of the project, one that will go from Geneseo Road to Whitley Gardens. A bridge will someday go directly over the wolf compound.

But lately, negotiations have stalled. Bluhm-Krutsinger says she's grown frustrated by dealing with a bureaucracy that, while it may do just fine at purchasing agricultural land or homes, seems to fall apart at the prospect of paying to relocate 15 rescued wolves into similar circumstances.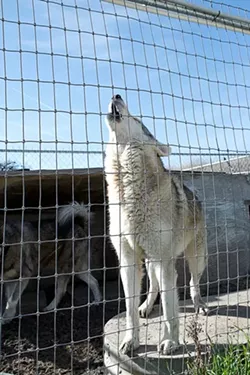 PHOTO BY STEVE E. MILLER
I'VE SEEN THE BEST MINDS OF MY GENERATION: … Howl
The problem isn't as great as it once seemed. In recent months, the wolf rescue has found a new home. They will be among the other animals at the Conservation Ambassador's Zoo to You 40-acre facility, also in Paso Robles.
Now it's largely come down to money. She said that while CalTrans has offered an adequate sum to purchase the home and two acres of land, they haven't been able to come to terms on the cost of relocating the center, and the wolves.
CalTrans officials say they've been more than fair.
"We are willing to replace a new in-kind facility like the one they occupy right now," said Spokesman Jim Shivers. "We are not willing to pay for a much larger and improved facility for which they have solicited bids."
In other words, he says CalTrans is willing to pay for a new building, but not a dramatically improved facility.
He noted that engineers have gone out of their way to make changes to accommodate the center, even agreeing to bypass an old oak tree near which Tundra, the center's founding wolf, is buried.
"We granted this request from the owners of this facility out of respect for their passion in caring for these animals," Shivers said.
Most importantly, Shivers said, he wants people to know that, while they care about the wolves, the project is designed to make the road safer for people.
Bluhm-Krutsinger said CalTrans made an offer of $370,000 for the house and land—slightly below its market value, she thinks—but that deal fell through in a battle over who would keep the fencing on the property. Bluhm-Krutsinger said it's been a frustrating experience.
"I'm getting my ass royally kicked and they're saying: 'I don't know why you're getting stressed out.'"
In all, the center is seeking roughly another $200,000 to help with moving the facility and the animals.
One of the things that can't be replaced but only compensated for, according to Bluhm-Krutsinger, is the loss of visibility that is sure to come with the move. The attention isn't always welcome, but, after a consistent drumbeat of media attention, it's almost always present. She laughed as she recalled a visit from a busload of Japanese tourists who greeted her, cameras ready, while she was in her bathrobe early one weekend morning.
PHOTO BY STEVE E. MILLER
COMPANIONS : W.H.A.R-Wolf Rescue President Kristi Bluhm-Krutsinger, here with a full-breed wolf Kiowa, says a key to caring for wolves is letting them know you're part of their community.
And, sure enough, an interview with a reporter was interrupted by the uninvited appearance of a man with a Texas accent and an impressive belly who, without a word of greeting to the humans, approached the cages and began calling to the wolves in an attempt to get them to appear more aggressive for his camera. (He was clearly used to wide open spaces; when he finally left, his pickup nicked the only other car in the area, the reporter's).
The challenges of the wolf rescue aren't always as they seem. Bluhm-Krutsinger noted that it can be the wolf-dog hybrids, those that look most dog-like, that are the least adaptable.
In a pen with Kiowa, a full-breed wolf, and Lilly, who could pass for a dog, it was the 150-pound Kiowa who was calm and open to human interaction and Lilly who remained skittish and wild-seeming.
Lilly, Bluhm-Krutsinger noted, is among those who are "not fit to live in our society under any circumstances; no one could handle her."
She said the same applies to some 40 percent of the wolf hybrids the center sees. And all of them, when placed, must end up in homes with owners who understand these animals will always remain wild.
"Letting them be who they are, that's the key. They're not dogs … these animals are for people who are willing to go on the wild side of life."
However the CalTrans battle ends, the center is looking for help with their relocation. From volunteers to money to vans to use to transport animals, the rescue is looking for assistance. Information can be found at wharwolves.org. But if you're going to drop by, make an appointment. And be careful in the parking lot. ∆
Managing Editor Patrick Howe can be reached at phowe@newtimesslo.com