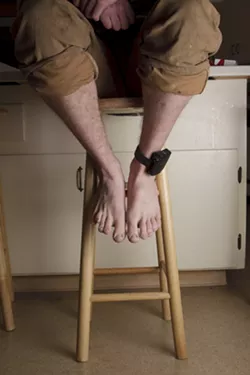 PHOTO BY STEVE E. MILLER
STRAPPED : Rather than serve a sentence in jail and risk losing his house and job, Jim opted for house arrest where he's tethered by an electronic ankle bracelet.
Jim plopped a heavy boot onto the kitchen table, his foot landing with a thud. He peeled back one of his work-stained pant legs to reveal a small, plastic box cinched tightly around his ankle. Held in place by a thick rubber band just above his sock, the device was matte black and about the size of a pack of gum.
"Boring as hell," is how he described his 34 days on house arrest.
Jim's a 23-year-old welder and it shows. His placid face was shrouded by a beard of tan whiskers that would have matched his workpants if not for the black smears on the outside of his pockets. Most of his friends and coworkers know he's on house arrest, and he seems comfortable talking about it, but nonetheless he asked to have his name changed to avoid the few people to whom he hadn't mentioned it. The path that led to Jim's anklet started with your typical 20-something-year-old screw-up.
"One night, just got off work, got whiskey drunk on an empty stomach," he said in a tone that blended mild embarrassment with even milder regret.
That night, he climbed into his car and got a DUI. It was his second in four years; the first happened in another county. Jim was sentenced to 70 days in jail, which likely meant eviction and unemployment for him. Instead, he applied for and was granted an alternative sentencing, allowing him to serve half his sentence at home—with good behavior.
He revealed all this to a reporter while beaming at the prospect of the following morning: day 35. Freedom.
One of Jim's roommates walked past on his way to the living room couch, where his two other roommates were blasting video-game zombies in the face with machine gun fire.
"Hey," Jim called to him. "Are you busy in the morning?"
"I don't think so."
"You think you can take me out and get me unhooked?"
House arrest was a learning experience for Jim. He motioned to a list of rules he'd thumbtacked on the kitchen wall. Under those terms, he wasn't allowed to do things you'd expect would be prohibited—drink or break any laws—along with a few surprises. For instance, he wasn't allowed to have friends stay past 8 p.m. Neither could he offer any visitor food or drink. And he couldn't have any parties. He was specifically told not to "open any presents in the company of my visitors at any time."
It may sound arbitrary, or even inane to prohibit Jim from, say, offering a buddy a handful of Cheetos. If nothing else, some of the more frivolous-sounding rules are merely in place to make house arrest feel as close to punishment as it can, even if it's a cakewalk compared to jail.
Jim can shower with the anklet, but can't submerge it in water. And he had to learn the new electronic boundaries of his house. If he leaves at any time or flirts too closely with the invisible boundary—besides during times pre-approved by the Sheriff's Department—a receiver on his living room mantle will belch out a cry of warning beeps.
"The first time I ever heard about it, I was out in the garage working, and these guys came running out, freaking out," Jim said, motioning at his roommates.
He gets three hours per week to leave for grocery shopping, and has to be back from work by 5:30 p.m. Other than that, he's locked in. With his ill-gotten spare time, he beat every one of his roommate's video games, cleaned the house a lot, and organized his garage. He said the 34 days without a drink have been a bit of a head-clearer, too—though he added with a relieved sigh that he was pumped to hit the bars over the weekend.
His supervising sheriff's deputy did allow a few mercy trips. Jim was allowed to go shopping briefly on Black Friday, and he got a four-hour reprieve on Thanksgiving. But he wasn't allowed to leave the county to visit his family.
"They were definitely disappointed in what I'd done," Jim said with a self-deprecating expression.
He ended up sharing a holiday dinner at Marie Callender's with some friends who were still in town.
He's also had to shell out $1,050 to pay for the initial application cost and daily fines for each day of his sentence. But it could have been worse. Jim might have gone to jail, which would surely have interfered with his job. He knows this, and though he'll be the first one to say the past month or so has sucked, he's clearly grateful for the breather he was allotted.
"It's definitely a lot better doing it at home than jail where you gotta deal with methheads and gangsters and douchebags," he said.
For someone like Jim, it's hard to make the case that he really learned a lesson—or even that he was a hardened criminal deserving of jail in the first place. But while his punishment may seem like getting slapped on the wrist with a wet noodle compared to a full-blown jail sentence, similar punishments are gaining more acceptance.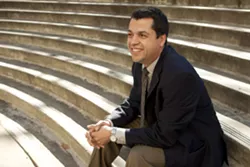 PHOTO BY STEVE E. MILLER
AT YOUR DEFENSE : Matt Guerrero, a SLO County public defender, has a lot of clients who apply for alternative sentencing, but high demand and high cost for programs like home detention make it difficult to avoid jail for some.
In San Luis Obispo County, Jim is one of 30 people allowed to take house arrest in lieu of jail on any given day, with about 1,020 individuals going through the program each year. Since SLO County's program began about five years ago, the number of participants has doubled. It continues to be in high demand.
The question ultimately boils down to a philosophical stance. How badly do we want to punish low-level offenders? And, maybe, in the end, the real question is: Who really ends up getting punished when a dopey guy like Jim gets sent to jail?
"If you look at our jail system—whether it's the county jail or if you look at our state prison or federal system—incarceration has been a complete and utter failure," said Christopher Bickel, a professor of sociology at Cal Poly.
To jail or not to jail
And the California psychosis goes on.
In an ongoing ploy to alleviate California's problems by shoveling piles of bureaucratic baggage down to counties, the state has taken its prison problem and attempted to turn it into a county problem over the past few years.
In his May revision of the yet-to-be-passed 2011 state budget, Gov. Arnold Schwarzenegger included a proposal to send those sentenced to three years or less in prison to a county jail instead. For the state, it's a great plan: It would relieve pressure from overcrowded state prisons, and California could reap a cool $244 million in savings—less than 1 percent of the projected $28 billion budget gap.
If the state pulls the trigger, the result could be another 110 inmates per day in the county jail, which is already crowded.
According to SLO County Chief Sheriff's Deputy Martin Basti, the county jail has a "rated capacity" of 519 beds. That's the intended population. From January through August of this year, however, the jail has been housing an average daily population of 568. About 547 inmates filled its cells as of press time. Though these numbers indicate inmates aren't bursting through the seams of the jail's concrete walls, there isn't much room left, with 609 total beds available.
But the jail's always been overcrowded. Asked when it reached capacity, Basti chuckled.
"Oh, let's see," he said. "Probably right after the jail was built."
On Jan. 25 of this year, the California attorney general began a game of judicial peek-a-boo and tweaked the sentencing criteria for low-level offenders. Before the switch, county inmates could get 30 percent time off for work and good behavior, or "good time, good work credits." (Almost every SLO County offender gets the automatic sentence reduction.) At the state level, however, prisoners get 50 percent time off. Attorney General Jerry Brown at the time altered the penal code so county offenders' sentences would match those of the state.
The situation stayed that way until Sept. 29, when Brown switched it back.
"So from January through October, it was the glory days," said SLO County public defender Matt Guerrero.
California's prison population continues to teeter in limbo. The state is still fighting with a federal panel of judges who threatened to release tens of thousands of inmates from state prisons due to overcrowding.
The state does have a plan, however, which is to build more jails, and bigger ones. In fact, SLO County is slated to receive $25.1 million under Assembly Bill 900, a $7 billion package for counties to build new jails with the stipulation that they also build rehabilitative facilities.
On Sept. 22, however, county supervisors decided to hold off on plans to build a new women's jail—the current jail houses almost double its 48-bed capacity. It was a "holy crap" kind of moment to see local officials shy away from piles of money that could go toward a public-safety project. But on a 4-1 vote, the board sent the project back for more review and should be re-evaluating it early next year.
Supervisor Adam Hill was one of the more vocal dissenters, saying he wasn't comfortable addressing overcrowding issues by simply building more places to stick people.
"From the point of view at the Board of Supervisors, what we understand is space is needed at the women's jail," Hill told New Times. "But are we just going to build more cells and bunks, or are we going to do something that's going to address the problem?"
So what is the problem? Murder? Rape? Drugs? According to arrest statistics compiled by the Federal Bureau of Investigation between 1994 and 2007, DUIs dwarfed every other type of arrest in SLO County. In '07, for example, there were 1,147 DUI arrests as compared to the next biggest crime of "drunkenness." Drug abuse crimes came in third, followed by "other assaults" and property crimes.
"If you look at the crimes people get arrested for in our county, a lot of it's non-violent offenses," said Bickel, the Cal Poly professor.
When non-violent offenders get thrown into a jail environment, Bickel thinks chronic criminal patterns are effectively manufactured.
"Those very same survival mechanisms they needed to learn in jail are the exact same kind of behaviors that will get them put back," he said.
PAY UP: SLO County's alternative work program is limited to people considered minimum security risks with 20 days or less to serve. It costs $65 to apply, plus $14 per day. Home detention is for an individual sentenced to more than 10 days. It costs $85 to apply, and $30 per day.
If you had Bickel lay the modern jail system out, he might put it like this:
• Someone is arrested—probably poor and probably a minority—for a drug charge or other low-level offense.
• They get churned through the judicial system and ultimately dumped into the jail.
• They can't pay rent, they lose their job, and their family ends up on welfare after losing the income.
• In jail, their mind is warped by the environment.
• Once out, on top of everything else, they're now homeless and jobless, doomed to end up back behind bars.
The high cost of house arrest
"Most of our jail system is used for managing the poor," Bickel said.
Once in jail, it's hard to get out. California's recidivism rate is 70 percent, the highest in the country, according to the Office of the Governor.
Though the SLO County Sheriff's Department doesn't track the economic status of inmates in the jail, the ethnic spread tends to illuminate some oddities. SLO County is predominantly white, with almost twice the state average of Caucasians, according to 2009 statistics from the U.S. Census Bureau. Countywide, 72.6 percent of the population is non-Hispanic white, for example. In the jail, according to a recent sample population, white people made up 69 percent of the population. Hispanics, on the other hand, accounted for 30 percent of the jail population during the sample day, but only 19.6 percent of the county. Black residents, though only 2.1 percent of the county population, were 5.5 percent of the jail's demographic.
"You'd be hard-pressed to find a judge who disrobes and puts on a clan uniform, but it happens on an institutional level," Bickel said of a system that often hammers poor people and minorities more than middle-class whites.
Even programs such as house arrest and alternative work programs have an almost ingrained elitism to them.
In theory, anyone sentenced to more than 10 days—excluding sex crimes, high-risk offenders, and illegal immigrants—can enter SLO County's home detention program if they live and work in the county. But in reality, the program requires an $85 application fee, and another $30 per day if you're accepted.
Jarred was arrested on drug charges in mid-2009. Soft-spoken and sardonic during a phone conversation, he said he was arrested, went to court, pleaded guilty, and waited another six months before he was sentenced and told when to report to jail.
"I definitely saw overcrowding in there," he said.
He applied for the home-detention program, but couldn't afford it. Nor could he afford to install a landline so the device would work at his rural home outside SLO. On top of the cost, his job working at a restaurant came with inconsistent hours, and he didn't have a car, so sticking to a strict schedule wasn't always an option.
Fortunately for Jarred, who asked for his full name not to be used in this story, he was friends with his manager, and his job allowed him to take a 90-day leave of absence. He was able to serve his sentence and keep his job.
Not all are so lucky. Guerrero said many of his clients simply can't afford it. With looming jail sentences, they essentially have to clear out their lives to serve time: giving landlords 30 days notice, telling their bosses, and putting their things in storage. In a way, he said, it's sometimes about "how much justice can you afford?"
"There's not a lot of public-defender clients that can afford that," he said of home detention.
The program is so impacted, Guerrero said many of his clients have to go back to the court to ask for more time while their applications are processed due to a backlog at the department. Overall, he said, about half of his clients qualify for house arrest, and about half of those actually get in.
Other programs can get tricky, too. The Sheriff's Department has effectively weeded out a program that allowed people to serve their sentences on weekends because it wasn't cost effective. And the county's alternative work program requires the "ability to communicate in English."
Basti said the qualifier was probably "from the safety aspect from those agencies that utilize our folks to make sure they clearly understand so they don't get hurt."
But the court offers translators, Guerrero said, and so does the jail. Perhaps the only thing keeping the policy on the books is that no one's challenged it.
"Alternative sentencing doesn't work for people who are poor," one SLO defense attorney said. "Indigents need not apply."
What no one in local law enforcement seems to question is the effectiveness of house arrest and other alternative sentencing. At the end of the day, it works. Families stay together. People stay employed and keep their homes. And rather than spending an average $85.71 per day to house someone in an overcrowded jail, the county pulls in money.
"That enables him to keep his job, meet his rehab goals," said SLO County Department of Social Services Director Lee Collins. "That sounds better to me all around: better for the taxpayers, better for the kids, better for everybody."
HOME IS WHERE THE PUNISHMENT IS
Sheriff-elect Ian Parkinson said the county saves about $1 million per year by keeping people out of jail through alternative sentences. The program's costs are further offset by the fees charged.
In fact, the department is set to expand its program early next year. If approved by county supervisors, the department will move forward with plans to shift around personnel and make room for another 15 house arrest inmates per day, a 50 percent increase over what the department can currently handle. That change will probably happen in late January
"The challenge is not falling into the state trap of building bigger prisons," Parkinson said. "Let's do what we can to keep people out of jail through a variety of means."
He said he'd be willing to address the prohibitive costs, perhaps changing the system to allow for tiered fees based on income, though he didn't have anything solid on the table.
"There's still value to it, and you don't want to defeat the purpose," he said.
Ultimately, alternative sentencing works. Maybe it's a question of "Are we doing enough?" As cities, counties, and the state re-evaluate spending in the new economy, such sentencing may in a roundabout way inspire changes to the political-no-man's-land of prison reform.
"It's very dangerous to advocate a smarter criminal-justice system," Bickel said.
With more pressure, he added, people may stop looking at incarceration as "the panacea to all of our social ills."
And Jim can go back to work.
News Editor Colin Rigley can be reached at crigley@newtimesslo.com.