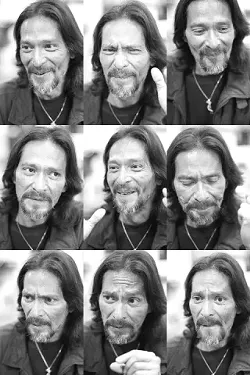 PHOTO BY STEVE E. MILLER
MUGS OF MICHAEL : After getting hit by a car in 2005, Michael Ian found himself in a downward spiral that cost him his job and home. The spotlight from an independent film, and the generosity of strangers, helped him start to work his way back but he remains an articulate voice for the homeless through his blog, www.slohomeless.wordpress.com.
# "Homelessness can afflict anyone," read the hand-lettered cardboard sign Michael Ian used to hold as he stood at the edge of a San Luis Obispo supermarket parking lot.
He should know. A former Marine and homeowner with a master's degree from M.I.T. and a successful computer consulting business, he ended up homeless and penniless after he was hit by a car in a similar parking lot more than two years ago.
Laid up during eight months of recovery, his rainy-day nest egg disappeared in the deluge of bills. He lost his crucial Microsoft certification and had to sell his house and his car because he couldn't make the payments.
"There's no way to hit the brakes when you're spiraling down like that," Ian said.
But a few spontaneous acts of generosity by individuals helped turn the tide, and today he's "transitionally homeless," as he terms it, with at least a temporary roof over his head. He remains, however, a passionate and articulate advocate for people without any roof to call their own.
It was Ian's handmade sign that caught the attention of SLO architect-turned-filmmaker Jose Lemus, who turned the camera on and let him talk.
"It was the first time I'd vented all the frustration that was built up," Ian recalled.
Lemus' documentary on homelessness, Suckerfish, screened at the SLO International Film Festival last March, and a star was born. At the library the next day, Ian read a blog about the film by New Times Arts Editor Ashley Schwellenbach and started to write his response.
"But there was so much more I wanted to say. So right there at the library, I started my own blog," he said.
The next weekend when the film screened again, Ian was in the audience to answer questions. A visitor from Southern California, John Kelly, approached him afterward and asked him how to help.
"I said, 'I need a laptop with wi-fi,' and he said he had a broken one he'd give me," Ian said. "A week later, we met at the library and he pulled out a laptop."
Other people offered software and a wireless modem. Local musician Billy Foppiano--who often bought Ian fresh fruit when he was outside the supermarket with his sign--bought him a needed computer part in exchange for Ian's expertise on a website.
With his laptop up and running, Ian has become a familiar face at local coffeehouses as he types out his well-researched daily blog on homelessness (www.slohomeless.wordpress.com).
Peppered with links to statistical data, the blog now has an average daily readership of 7,800 people from around the world, Ian said.
Pulling out his thrift-store Palm Pilot during an interview over a cup of hot chocolate, he noted, "I've made 239 posts over nine months and four days of my blog, with a total of 148,359 words. That's the equivalent of three small novels."
The facts Ian has uncovered about homelessness in America have stunned him: Many homeless people are military veterans, often with untreated post-traumatic stress disorder. Quite a few are senior citizens. Many others are young--a third of SLO County's official count of 2,408 homeless are children. In San Luis Obispo alone, there are 300 homeless people and just 49 shelter beds.
"American compassion is second to none, but we're not living up to our own standards," he said.
"I used the phrase in my blog, 'Compassion is a verb.' An Israeli person replied, 'By what you're doing, you're making compassion a verb.' That hits you right here," said Ian, thumping his heart.
"The way to rid this community of homelessness is not to pass laws or ordinances that penalize people because they don't have a place to live, like ordinances to restrict where you can panhandle or sit," he continued. "Help them acquire skills and reintegrate them back into the community. Make them productive, contributing members of the community."
He called for local businesses to hire homeless people and for shelters and support services to provide retraining.
"As a homeless person, you find your human dignity stolen. Your self-worth goes down the tubes," he said. "You find yourself pulling away from people, and getting treated even more like trash."
When he started getting some paying "nickel and dime projects" through his blog, he said, his outlook changed: "It feels so doggone good to feel like I'm doing something useful."
Still, even having enough money to pay rent doesn't necessarily end homelessness. He said he was turned down for a rental because he couldn't account for where he'd been living for the last six months, adding, "That's why more and more people are becoming long-term homeless."
His expressive chocolate-brown eyes brimmed with tears as he described how people have helped him. He fished an old quarter out of the folds of his wallet, explaining that it was given to him by an elderly arthritic woman--even though it was the only thing in her coin purse. He also treasures three $1 bills donated by a young boy who, according to his mother, had earned the money himself.
"Despite my circumstances, I consider myself very blessed," Ian said. "I've met so many people who could see beyond the veneer and see the person underneath.
"I'd like our community to understand that homeless people are simply that--they're people."
New Times contributor Kathy Johnston may be reached at kjohnston@newtimesslo.com.