For hundreds of SLO County children, the desks where they'll sit on the first day of school may represent the greatest stability in their young lives.
From kindergartners to high-school seniors, these are the local students who manage to attend school despite being officially classified as homeless. They sleep in homeless shelters with their families, or in cars, in campgrounds and motels, or doubled and tripled up with other families. Many are teens who are "couch surfing," as John Elfers of the SLO County Office of Education describes them, living with no parental supervision.
PHOTO BY STEVE E. MILLER
HELP WITH HOMEWORK : Volunteers from Cal Poly show up at the SLO shelter to help students who are homeless do their schoolwork. Nearly 700 children and teens in SLO County attend local schools in spite of being homeless.
Their numbers are staggering—nearly 700 at the official count by county school districts last school year. More than 200 of those are "unaccompanied youth." And with the tightening economy, those numbers are widely expected to be even higher this year, as more and more local families find themselves without a home to call their own.
"People don't realize how many homeless students are in their child's school or class. There's been the attitude that San Luis Obispo County doesn't have a homeless problem," says Melissa Musgrave, family resource coordinator for San Luis Coastal Unified School District.
The school districts and community volunteers do everything they can to help, but life isn't easy for children and teens who slide from having a home into homelessness through no fault of their own. With no place to study, disrupted sleep, and a mobile lifestyle that can lead to absenteeism, they're at high risk for falling behind in school, according to the National Coalition for the Homeless.
"If there's even one homeless child, there's a child left behind," says formerly homeless San Luis Obispo resident Michael Ian, prolific author of the widely read "SLO Homeless" blog, which includes links to national reports and statistics about homelessness (see "Homeless and wireless," New Times, Dec. 13, 2007).
"The children at the shelter in San Luis do their homework at picnic tables on the back patio. It's dark out there. It's not like they're having a great time," Ian notes.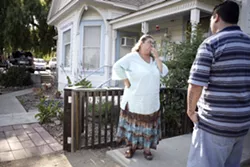 PHOTO BY STEVE E. MILLER
SHELTER FROM THE STORM : SLO shelter manager Shawn Ison (left) and assistant Adrien Salgado (right) do their best to help homeless children have the same chances as other kids.
"Homelessness has a terrible effect on children," says Kathy Hannemann, assistant superintendent for Atascadero Unified School District, where 270 students are counted on the rolls as homeless. "There's no family play time, no reading with their parent in the evening, no way to take a bath. They come to school day after day in the same clothes.
"For high school students, they don't have the clothes and things to look the same as other students. They don't have the opportunity to develop peer groups. It's hard to participate in activities," she adds.
There's "no doubt," she says, that this school year will see an increase in the number of schoolchildren who are experiencing homelessness, as finances become more and more difficult for families.
"Families are making a decision about whether to keep their home or keep the car they need to get to work. In Atascadero, there are very few homeless children whose parents are not employed. They're often working two or three minimum-wage jobs. Our homeless are the working poor.
"Frankly," Hannemann points out, "most of us are one paycheck away from homelessness."
An injury on the job, a partner who leaves, or an illness in the family can cause people to lose their home. One Atascadero student who had to be hospitalized for tonsillitis blames himself for his family's homelessness, Hannemann says.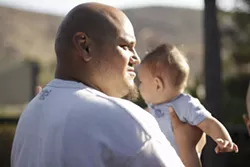 PHOTO BY STEVE E. MILLER
DAD ON HIS OWN : Shelter staff members say an increasing number of homeless fathers are looking after their kids.
A landlord has the legal right to ask renters to vacate their home if he wants to turn it over to a friend or family member, with just 30 days notice. Often a deposit isn't returned until weeks later, leaving families who live paycheck to paycheck in a situation where they can't afford to move into another rental right away.
In addition, many families are becoming homeless after losing their homes to foreclosure.
California's homeless liaison in Sacramento, Leanne Wheeler, predicts that with the current economic situation, "Our homeless population is going to skyrocket."
Increasing numbers of homeless students are "unaccompanied youth," she says, 15- to 18-year-olds who are difficult to identify in official homeless counts. They're not allowed to stay in a shelter without a parent, and instead sleep in cars or tents or on friends' couches.
According to Elfers at the SLO County Office of Education, "We're seeing more youth who are couch surfing. They're not necessarily runaways. Families who are homeless may keep their youngest children with them and send the older ones to live with friends."
Other homeless teens have deceased parents or come from broken homes. Some have fled from abusive situations, including gays or lesbians who have been kicked out of their homes and are doing their best to make it on their own. Some are Latin American immigrants whose parents may have been deported, or who were left behind.
"I worked with a 17-year-old girl whose parents went back to Mexico. She was trying to graduate from high school and not get deported," Elfers says.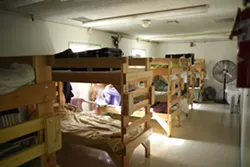 PHOTO BY STEVE E. MILLER
NO HOME OF THEIR OWN : Some SLO schoolchildren who are experiencing homelessness do some homework and eat their dinner at the Maxine Lewis Shelter, then move to a local church to sleep.
These young people have to work a lot harder to succeed at school, he adds. "They don't have someone asking if their homework is done. They may not have a place to do homework. They might be teased at school because of their clothes, or because they can't bathe as much."
Still, officials say, most children and teens who are in homeless situations are looking forward to the beginning of the school year.
"They know what's expected at school. Their friends are there. It's a safe environment, with people they can trust," says Wheeler, the state homeless liaison.
One young homeless student, she says, wrote a poem, "a real tearjerker," in praise of her desk:
"At school, you will always have a roof. And you have your own desk. It is yours all year, even if it gets moved around the classroom, it is yours. … At school, you always have a desk, and you know that your brother has one too."
"The one constant in their life is their teacher and their classmates," Atascadero's Hannemann explains.
At the Maxine Lewis Memorial Shelter on Orcutt Road in San Luis Obispo, two school-age brothers are happy that the first day of school is around the corner. "Tom Smith," who's entering 6th grade, and first-grader "Dick Smith" have been staying at the shelter for two months with their father "Robert Smith" and baby brother "Harry" (not their real names).
PHOTO BY STEVE E. MILLER
EXTRA CHALLENGES : More and more families in SLO County are living in homeless situations, which can make it more difficult for children to do well in school.
"They always do well in school," their father says with obvious pride as the family gathers outside before dinnertime at the shelter. He's been looking after his three sons for the past four months, waiting for their mother to be paroled from county jail. They stayed with the boys' grandmother in Oceano for a month, then with an uncle in Guadalupe, before ending up at the SLO shelter.
Even while experiencing homelessness, Robert makes sure his boys are clean and well groomed. Their first order of business after arriving at the shelter by bus from the Prado Day Center is washing up, changing into clean clothes, and combing their hair. Robert carefully arranges Dick's mohawk into a neat row of gel-covered spikes, which puts a smile on the first-grader's face.
Seated at the picnic table in the children's play area next to the parking lot, the two boys explore the contents of donated backpacks stuffed with school supplies. Robert patiently helps young Dick arrange a stack of lined paper in a 3-ring binder.
"This whole ordeal, it takes a toll on you," Robert tells a visitor. "You can't tell anybody about it. You gotta live it. It ain't easy."
They all miss the boys' mother. "We need her support," Robert explains simply.
He's looking into taking welding classes at Cuesta College, but worries about his baby, whom he recently removed from day care after just one day because of a case of diaper rash. "I want to keep him with me," Robert says quietly.
Inside the building, shelter manager Shawn Ison says, "It's a growing trend. We're seeing our shelter filled with families, not just single people. Here's your working class. Plus we've seen a lot of single dads through here. They struggle, since parenting doesn't always come naturally."
Her office in an adjoining trailer was once the shelter's "home for runaways," she says, before funding for the teens dried up. Now any "unaccompanied youth" are turned away.
"Homeless children are very shortchanged," says Jody Smith, director of homeless services for EOC, the SLO County Economic Opportunity Commission, which runs the Maxine Lewis shelter and the Prado Day Center.
PHOTO BY STEVE E. MILLER
PRIMARY NIGHTTIME RESIDENCE : Nearly 700 SLO County students, from kindergartners to high-school seniors, don't have a home of their own. The "unknown" category represents more than 200 "unaccompanied youth" who wouldn't say where they sleep.
"It really, really is difficult for children, putting them in an unfamiliar situation where they lose their regular routine. Children like consistency. They like knowing where their things are and where they're going to sleep.
"At the shelter, your routine is completely disrupted. You can't take a shower when you want to. You've got to pack all your books with you. It causes a lot of emotional problems," Smith points out.
It's hard for the younger children too, she says. "Imagine trying to potty-train a 2-year-old without a set place and a set potty. A lot of the young children aren't potty-trained. Bedtime is very difficult, because the children are cranky and tired. A 2-year-old might not be getting to bed till 9 o'clock, when he needed to go to sleep at 6:30."
The instability creates what's known as an "adverse childhood experience," according to the EOC's manager of case management, Peggy Fowler, who adds, "It can affect how your life will turn out."
The shelter is crowded, with no space available for "time out" and little area for playing, shelter manager Ison notes, adding, "It's a big whirlwind every night." After a "very bland" dinner of beans, rice, or pasta, with little meat and very few fruits and vegetables (total cost: 34 cents per meal, she says), the children and their parents pile into vans to move to a church or synagogue where they can spend the night, courtesy of the Interfaith Coalition for the Homeless.
"They have to get up earlier than everybody else. They don't have their own bathroom or dresser, and they have to carry their own toiletries. We only wish we could do more," Ison says.
"Some of these kids are such troopers. They're more resourceful and more dedicated than average. These guys are really survivors. I've seen a lot of these kids make such a turnaround in their lives."
She credits the volunteers from Cal Poly who come to the shelter to help the children with homework or arts and crafts activities, saying, "They're kind and playful."
Staff and volunteers at the Maxine Lewis shelter "go out of our way to get the kids supplies, shoes, clothes, so they don't look any different from the other kids," Ison says, adding, "We want to give them the same chances as other kids."
By federal law, children and youth in homeless situations must be provided with equal access to education.
"Our job is to make sure homelessness does not interfere with getting a free and equal education," explains Elfers of the County Office of Education.
The McKinney-Vento Act of 1987 provides mandates and some federal funding for state and local agencies to help students who are experiencing homelessness. It requires each school district to designate a liaison to ensure that "homeless children and youths are identified by school personnel and through coordination with other entities and agencies," so the family or child can be offered appropriate services.
The federal law also requires states and school districts to eliminate barriers to school enrollment, defined as attending classes and participating fully in school activities, including enrichment programs, sports, and other extracurricular activities.
"Any homeless child, without paper-work, gets access to free lunch and free breakfast at school. They bypass the long application. It's an instant benefit," says Atascadero's Hannemann.
"Sometimes they need fees paid or waived to participate in school activities. We don't want the children to have to move from school to school, so we provide transport to and from their 'school of origin.' We provide bus vouchers, or send a driver and a car to pick them up, or a school bus. It's very expensive, and it's our biggest challenge. It comes out of the general budget.
"Vaccinations? We're required to enroll them immediately, and then pursue that. Just get the child in school," Hannemann adds.
The Lucia Mar school district receives an extra $70,000 grant to pay for a homeless liaison staff member. Those funds also cover backpacks, groceries, and after-school homework clubs "so kids have somewhere to go so they don't have to sit around and wait for the shelter to open," she says.
Some school districts offer vouchers for clothing for children and teens who are in homeless situations. A local nonprofit group, the Assistance League, donates clothes and vouchers through Operation Schoolbell for children in kindergarten through sixth grade.
A few clothing stores donate new clothes, according to Musgrave at San Luis Coastal. "The high school and junior high girls just love that," she says, adding that she's looking for a local store that's willing to donate, after the former supplier started sending its unsold clothing to an outlet store instead of the school district.
She emphasizes that donations from the community are always welcome.
"I'm always looking for donations—socks, clothes, supplies for homework clubs after school. Instead of going to Goodwill with your used clothes, see if you can drop them off at your neighborhood school. Or you can sponsor an after-school program for a kid.
"People don't think San Luis needs help. But last year the district had 165 homeless students," Musgrave says, adding that she's "excited" that PTA groups all over the county are now asking what they can do to help.
"There are wonderful things going on to support homeless families," says Hannemann in Atascadero. "We do a backpack program with nonperishable food from the Food Bank for kids to take with them over the weekend. It doesn't make their life rosy, but it makes it more bearable.
"At the very least," she adds, "we have a moral obligation to take care of our fellow man. Certainly children don't ask for that situation. From the school district perspective, we have a moral obligation to meet the needs of all children.
"We can't find housing for them. But we can make life at school a level playing field. We should care about that because these children are the future of our community."
As "SLO Homeless" blogger Ian points out, compassion and generosity at the individual level is very valuable. That's what helped him get off the street and obtain what he calls "a steady roof over my head."
He says, "Public awareness is so important. Homelessness is a community issue. It takes the community to combat it. We all have a role.
"We have to stop stigmatizing our homeless. I'm still trying to figure out why people hang on to stereotypes. Everybody who's homeless once had a home. And families are the fastest-growing segment of the homeless population."
In SLO County, a one-day count carried out by the Homeless Services Coordinating Council using Cal Poly students in October 2005 revealed that one-third of the county's homeless people are younger than age 21. In the North County, children and teens make up nearly 50 percent of those counted.
Over at the County Office of Education, Elfers says part of his work is "reframing homelessness" away from connotations of drunks pushing a cart on the street.
"Students who are living with a friend or in a garage don't think of themselves as homeless. They tend to avoid that label, and instead choose their own label: 'in transition,' 'staying with friends,' 'on the run,' 'traveling.'"
Or, as first-grader "Dick Smith" at the shelter describes his family, "We're hoping to get housing."
And getting housing is exactly what it takes. As EOC case management manager Fowler says, "Until we have enough housing for our population, we'll have a really hard time. There used to be a constant pool of affordable housing, as people moved up in the housing market. But we don't have enough housing now."
Elfers concludes, "It takes a community to tackle such a big issue."
How you can help
Local school districts and shelters are struggling to help the hundreds of local children and teens who are experiencing homelessness, and they're always looking for donations.
Clothes, socks, shoes, school supplies, food, and funding are always welcome.
Sponsorships for children to attend after-school programs are also needed. Phone your neighborhood school or the homeless liaison staff at your school district for more information.
Maxine Lewis Memorial Shelter
541-6351
San Luis Coastal Unified School District
Melissa Musgrave, 549-1219
Lucia Mar School District
Pam Glen, 474-3000, Ext. 4200
Atascadero Unified School District
Kathy Hannemann, 462-4200
Paso Robles Unified School District
Paulette Pahler, 238-2222
Templeton Unified School District
John Calandro, 434-5813
Coast Unified School District
Susan Dever, 927-0582
San Miguel School District
Marshall Dennis, 467-3216, Ext. 208
Shandon Joint Unified School District
John Svinth, 238-0286
County Office of Education
John Elfers, 782-7209
www.sloecoe.org
---
Contributor Kathy Johnston may be reached at kjohnston@newtimesslo.com.