Writer-director Scott Cooper (Crazy Heart, Out of the Furnace) helms this Western set in 1892. Army Capt. Joseph J. Blocker (Christian Bale) is tasked with one final, unsavory assignment before retirement: He and a detail must escort Cheyenne Chief Yellow Hawk (Wes Studi) and his family from a New Mexican military prison—where they've languished for seven years—through hostile territory back to their Montana homeland. (134 min.)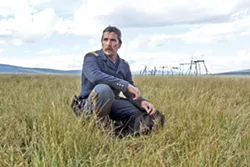 Photo Courtesy Of Grisbi Productions
A HARD MAN Army Capt. Joseph J. Blocker (Christian Bale) adopts an evolving view of the U.S. conquests of the West when he's tasked with returning a group of Cheyenne to their Montana homeland.
Glen Hostiles opens with a brutal Indian raid on an unprotected homestead, setting up the idea that the Indians are ruthless killers. Cut to Capt. Blocker and his men taking an Indian family in custody and bringing them to prison. Hostiles quickly makes clear that in the colonization of the U.S., both the colonized and the colonizer are left damaged. Blocker's second in command, Master Sgt. Thomas Metz (Rory Cochrane), is clearly struggling with how the U.S. has been handling the Indian "problem," and he tells Blocker he's reached his limits. Blocker, on the other hand, isn't yet that evolved, but this is ultimately his story, and he learns to see the U.S. conquest from his enemy's point of view. As the story begins, having seen too many good men butchered, Blocker hates the "natives," yet he's become a butcher in return. He fought Chief Yellow Hawk at Wounded Knee, so his animosity is personal. When Blocker's commanding officer Col. Abraham Biggs (Stephen Lang) threatens Blocker's pension if he refuses to see the chief; his daughter, Living Woman (Tanaya Beatty); son, Black Hawk (Adam Beach); daughter-in-law, Elk Woman (Q'orinaka Kilcher); and grandson, Little Bear (Xavier Horsechief) back to Montana, Blocker reluctantly agrees, and his squad sets off through hostile territory populated by murderous groups of the last remaining wild Indians, unscrupulous fur trappers, and the settlers at their mercy. It's a dark, brooding story about the psychological damage of warfare and subjugation and the violent clash of civilizations. As Blocker says, "When we lay our heads down here, we're all prisoners."
Anna Within the first few minutes, we go from a snippet of happy rural family life—Rosalie (Rosamund Pike) teaching her two daughters (Ava and Stella Cooper) what an adverb is while her baby boy squirms happily on the floor and her husband (Scott Shepherd) works outside—to her desperately clinging to her dead baby, covered in blood and hiding under a tree stump as the Indians who killed her family search for her. It's terrifying and brutal, and quickly sets the steady feeling of fear and unrest that permeates the group headed north. The soldiers range in rank from corporal to captain, and many have seen battle together. Those relationships are incredibly important to Blocker, and the grudge he holds against Chief Yellow Hawk seems insurmountable. Bale gives a fantastic performance, one that keeps this lengthy and sometimes slow-moving film from monotony. He's intense and brooding, a deeply flawed man who justifies his haunted past behind the duties of his position. The group eventually discovers Rosalie and her burnt-out homestead, and she joins them. After a stop in Colorado, Blocker is tasked with transporting a military criminal—Sgt. Charles Wills (Ben Foster)—along his way. Soon it becomes evident that the two have a past together in arms, and what separates their current positions isn't good and evil, just circumstance and timing. Group dynamics play a big part in this film. It's some of the most fascinating stuff. Taking that journey he so desperately hated may have been the best thing to happen to Blocker.
Glen The dynamics between the various members definitely sizzle, and Blocker eventually grows close to Rosalie, who also develops a respect for their Indian companions. Soon they're all joined together to fight common enemies: the Comanche war party that killed Rosalie's family and a trio of fur trappers—played by Scott Anderson, Boots Southerland, and Dicky Eklund Jr.—who think they can take what they want without consequence. They're wrong. The action episodes are surprising and brutal but also somewhat underplayed, with the quiet moments of character interaction making the biggest impact. Overall, the film's bleak, and it's clearly influenced by classic Westerns such as John Ford's The Searchers (1956). The character arcs of the two principal players make the film rise above boilerplate Westerns. Rosalie goes from traumatized victim to strong and resilient survivor. Blocker is a closet intellectual reading Shakespeare's Julius Caesar in Latin, and though he seems at first wholly hardened, he reveals deep wells of emotion as the story unfolds. It's also worth noting that Masanobu Takayanagi's cinematography is stunning and worthy of a classic Western. Studi is a study in dignity. Foster is as engaging as ever. Cochrane is as good as I've ever seen him. Hostiles doesn't quite rise to the level of the greatest Western films. It's no Unforgiven (1992), Red River (1948), or Shane (1953), but it's a worthy offering that approaches its subject with a lot more subtly and sensitivity that many recent period Westerns. If you're a fan of Old West tales, this is worth a trip to the theater.
Photo Courtesy Of Grisbi Productions
PROUD PEOPLE Elk Woman (Q'orinaka Kilcher, left) Chief Yellow Hawk (Wes Studi, center), and Black Hawk (Adam Beach, right) eventually form an alliance with their U.S. Army captors as they traverse lands filled with murderous Comanche warriors and ruthless fur trappers.
Anna The cinematography is fantastic. Takayanagi creates both beautiful and cruel worlds living hand in hand. I've got to give a shout out to Pike's performance as well. Her transformation from frightened and bereaved victim to strong and almost vengeful advocate is fantastic. The nuanced relationship between her and Blocker burns deeply and quietly from the start—he allows her time to grieve her lost family, and then she asks to continue on the journey with him instead of staying in Colorado. It has plenty of action and some tough-to-watch gory moments, but this is the kind of Western I can get behind. Beyond reasons to have shoot-ups, there's a grounded story here—one that feels complicated in a true-to-life way. There were fantastic performances all around, and I agree that Cochrane shone brightly. Writer-director Cooper wrote many of the characters specifically for the actors portraying them, and that attention to detail doesn't go unnoticed. As much as it's a Western, it's also a film about inner demons, PTSD, the futility of racial inequality and tensions, and grief. It may be a little long and a little slow moving for some, but I found it captivating, albeit bleak and depressing; yet a small glimmer of hope still manages to shine through. Go for the performances and stay for the story; it pays off in the end. Δ
Split Screen is written by Senior Staff Writer Glen Starkey and his wife, Anna. Comment at gstarkey@newtimesslo.com.