"Standin' by your window in pain/ A pistol in your hand/ And I beg you, dear Molly, girl/ Try and understand your man the best you can," Robbie Robertson sang on "Across the Great Divide," the lead track to The Band's classic 1969 self-titled second album. Selections from that album as well as The Band's debut, Music from Big Pink (1968), will be given the Hot Club of Cowtown and Dustbowl Revival treatment when both bands team up to play a Cal Poly Arts show at the Fremont Theater on Wednesday, March 20 (7:30 p.m.; all ages; $42 at Boo Boo's and eventbrite.com).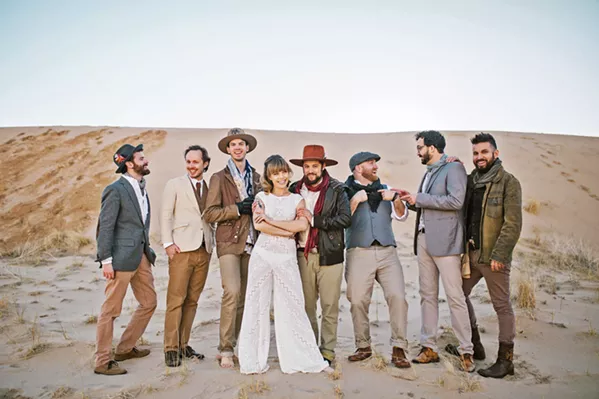 Photo Courtesy Of Dustbowl Revival
TEAM-UP With a horn section, The Dustbowl Revival will mix covers from The Band with their originals at the Fremont on March 20.
Dustbowl Revival, an eight-piece Americana roots orchestra, has been through the county a few times now, and they're quite remarkable, with a great horn section, wily band leader Zach Lupetin, and super sultry lead singer Liz Beebe, who I've interviewed before, which is why I jumped at the chance to talk to Hot Club of Cowtown fiddler and singer Elana James this time around. Her hot jazz and Western swing trio got its start in San Diego, but this will be their SLO Town debut—surprising since they've played together for 20 years and are now the de facto house band of Austin, Texas' Continental Club.
Growing up in Kansas City, James trained as a classical violinist: "I grew up playing Suzuki [method] violin," she explained. "My mom is a classical violinist so that's what I got exposed to as a little person."
Photo Courtesy Of Hot Club Of Cowtown
CELEBRATE 'THE BAND' Playing songs from roots rock act The Band's first two albums as well as originals, Hot Club of Cowtown (left) will join The Dustbowl Revival at the Fremont on March 20.
She transitioned to "fiddle" playing after she "got into Western [horse] riding and worked in Colorado at a ranch," where she started "playing in the owner's cowboy band. Eventually, I realized that was going to be a better direction for me than trying to play classical music."
She joined forces with bandmate Whit Smith (guitar) in 1994 after they met through a classified ad in NYC's The Village Voice, playing around New York together until moving to San Diego in 1997.
"We started in San Diego when the swing scene was going on, like the Squirrel Nut Zippers and the Cherry Poppin' Daddies—that Southern California scene," James recalled.
In 1998, James and Smith moved to Austin, where they eventually added upright bassist Jake Erwin to the mix, and soon they were playing regularly at the famed Continental Club.
"The owner, Steve Wertheimer, has given us carte blanche to play happy hour somewhat consistently over the 20 years we've been there, and that's an amazing mash-up of different kinds of people and different age groups, especially now that Austin is getting bigger," James noted.
"When we tour, I'm always surprised we've just continued to attract people older than we in the band are. When we started this band, I was in my mid-20s. I just thought we'd have an audience made up of people my age—this music is so incredible! People are just going to go crazy, you know? We decided we're going to do what we do and people who are meant to find us will find us."
All three members are fantastic players, and they sing well together, playing genres that include bluegrass and various kinds of folk, roots rock, and Americana, as well as Gypsy sounds.
"I've always been interested in other cultures, especially cultures with dance and music—rustic cultures like nomads, Central Asia, things like that," James added. "Folk music always attracted me."
After moving away from classical, James immersed herself in American Western culture.
"To me, it does lend a certain authenticity to the playing. I love Western culture, horses, and mountains," she said. "Just ask Whit and Jake—they're sick of hearing me talk about it."
James is so into it, she competed for and secured a mule-packing internship this upcoming summer in the Bob Marshall Wilderness in Montana, though she'll continue to play dates between trips.
She and Whit have also started writing originals for their trio, but it took a while because she says there are so many great songs to cover already.
"Hot jazz itself or Western swing—they're such improvised styles! Sure, you can play the melody, but everything inside the song you're essentially writing onstage that very moment, so there's so much creativity available that the idea of sitting down and saying, 'I'm going to write a song'—that was not foremost in my own mind," James said.
The upcoming concert with Dustbowl will feature both bands playing together and separately, playing material from The Band's first two albums, as well as Dustbowl and Cowtown originals.
"This tour that we're doing, we've done in two parts," James explained. "One was in January when we did a bunch of shows in the Pacific Northwest and up in Vancouver and Alaska, which was so fun. This is the second half of these dates, which is very rarefied—we're not doing a lot of these shows. This is special. It's not something you'll likely ever see the Hot Club of Cowtown do again. We each play these various songs from The Band's first two albums and then we do some songs together, so it's like music The Band did, rearranged our way, and then both bands intersperse our own songwriting. Our original material fits interestingly well with their songs that we learned that we're doing."
This is going to be amazing, and after watching so many videos online, I can't wait to see Cowtown live!
"We're really looking forward to the tour," James said. "No one's going to leave there unhappy. Between us and Dustbowl, there are so many different kinds of sounds, so much music, and between the two of us we do at least 12 Band songs mixed between those two albums. And we have an EP out that we created just for this tour with seven songs. It's a cool intersection between two bands and not a show that'll be on the road forever.
"And Dustbowl? They're such a dynamic ensemble. They have almost three times the people in their band that we do. The sounds that they're capable of making—and then when we all blend together—it's just so cool. We never get the luxury of being on tour where we can blend into this greater good. It's neat."
Still Springfield!
Photo Courtesy Of Rick Springfield
STRIPPED-DOWN On March 16, Rick Springfield will play an intimate, stripped-down show in the Rava Winery amphitheater, featuring his hit songs and storytelling.
When I was in high school and just out of it, the eternally young Rick Springfield was every girl's heartthrob. The handsome Australian was a pop music sensation and actor with a regular role in Battlestar Galactica, as well as guest roles in hit TV shows such as The Six Million Dollar Man, The Rockford Files, and Wonder Woman.
He's now 69 years old, and there'd better be a Dorian Gray-style portrait in a closet somewhere because he still looks like he's in his 40s!
This Saturday, March 16, Rick Springfield will play an intimate, stripped-down show in the Rava Winery amphitheater (6 to 9:30 p.m.; 21-and-older; $45 general to $300 VIP at my805tix.com), filled with acoustic versions of classic hits like "Jessie's Girl," "I've Done Everything for You," "Don't Talk to Strangers," "Affair of the Heart," and "Love Somebody," as well as storytelling from a guy with plenty to tell!
Don't miss your chance to see this Grammy-winning singer-songwriter, who's sold 25 million albums and scored 17 U.S. Top 40 hits, in Rick Springfield: Stripped Down.
Chris Robinson's next super group!
Photo Courtesy Of Green Leaf Rustlers
COSMIC CALI Green Leaf Rustlers, former Black Crowes member Chris Robinson's newest super group, plays The Siren on March 19.
Numbskull and Good Medicine Presents' really big show this week is former Black Crowes member Chris Robinson's Green Leaf Rustlers, which plays The Siren on Tuesday, March 19 (7 p.m.; 21-and-older; $30 presale at Boo Boo's and ticketfly.com or $35 at the door).
Multi-instrumentalist Barry Sless (David Nelson Band), bassist Pete Sears (Jefferson Starship, David Nelson Band), drummer John Molo (Phil Lesh Quintet, Bruce Hornsby & The Range), and guitarist Greg Loiacono (The Mother Hips) will join Robinson.
Get ready for some cosmic California country rock!
Numbskull and Good Medicine Presents will also host the return of AC/DC tribute band High Voltage at The Siren on Saturday, March 16 (8 p.m.; 21-and-older; $13 presale at Boo Boo's and ticketfly.com or $15 at the door).
"High Voltage is in its ninth year," drummer Ray Rocha said. "We've had 10 lineup changes, including five Anguses and four Brian/Bons. On the 16th at The Siren, we debut our newest Angus, RJ Silvas from Fresno. Brian Brown, a relatively new member, will be handling all vocals. Alex Lacerda on guitar, Andy Shellcross on bass, and I are founding members and still holding down the rhythm section. Paul Dunn will again be on bagpipes for 'Long Way to the Top.' We'll be playing two concert-style sets."
This is a great show for AC/DC fans!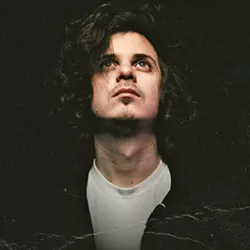 Photo Courtesy Of Watsky
SLAM POET Hip-hop artist and slam poet Watsky plays the SLO Brew Rock Event Center on March 20.
The Complaint Tour
SLO Brew Rock Event Center host hip-hop artist and slam poet Watsky on Wednesday, March 20 (7 p.m.; 18-and-older; $20 general or $87 VIP meet-and-greet at Boo Boo's), with Grieves and Beau Young Prince opening. Watsky's fifth full-length album, Complaint, was released in January, along with the killer track, "Mean Ass Drunk." If you like "whip-smart lyricism, acrobatic rapping, and a bent for balancing intellect and poignancy with whimsy and wit," this is it!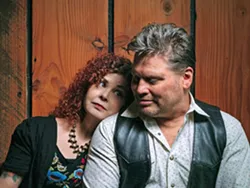 Photo Courtesy Of Silver Lake 66
TWO FOLK Portland duo Silver Lake 66 plays Morro Bay's Stax Wine Bar and Bistro on March 19.
Americana twosome
Portland's folk duo Silver Lake 66 plays Morro Bay's Stax Wine Bar and Bistro on Tuesday, March 19 (6 p.m.), touring in support of their upcoming new album, Ragged Heart, due April 5. Featuring Maria Francis and Jeff Overbo, the former Midwesterners have traveled the West Coast playing their amalgamation of classic country, folk, and blues. Δ
Keep up with New Times Senior Staff Writer Glen Starkey via Twitter at twitter.com/glenstarkey, friend him at facebook.com/glenstarkey, or contact him at gstarkey@newtimesslo.com.