IMAGES COURTESY OF LYNN KISHIYAMA
INTOXICATING : Corkstop Studios presents an encaustic workshop with Lynn Kishiyama, titled Hot Wax/Cool Art 2, a two-day event taking place March 14-15. Encaustic wax was used over 2,500 years ago by the Greeks and is experiencing a revival in contemporary art. Beeswax, tree resin, and pigment is applied hot and fused to a substrate creating a beautiful, translucent effect that can't be achieved by paint alone. Highlights will include safety, mixing colors, melting wax, individual work time, a 3-D demo, problem solving, critique and more. The workshop is held at CorkStop Studios in Arroyo Grande. $275. Info: 550-6399, Info@CorkStopStudios.com or o-washiart.com.
New Times You have an interesting background.

Lynn Kishiyama I was born in the Philippines but grew up outside of San Francisco. And I've lived all over the East Coast. Then I went to Japan and that is really when I started to do my artwork.

New Times You were a ranch hand, an actress in NYC, and you studied spiritual psychology?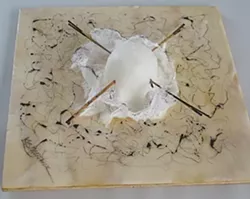 Kishiyama
I have a masters in spiritual psychology.
New Times
How do those play a part in 
your art?
Kishiyama
I believe that everything you do brings you to where you are today. All of my training, my experiences, working for a Fortune 500 company in sales and marketing taught me how to sell my artwork. How to market it.
New Times
So how did you find this medium?
Kishiyama
I went to Tokyo kicking and screaming in 2000 ... and I learned about paper and how important paper was in their culture. It brought me to study the art of papermaking. I had been trying to be an artist my whole life but didn't have the focus. Everything I've done is self-taught. I wouldn't recommend it because it gets expensive. But that is how I started doing the Japanese kimonos.
New Times
But what about encaustic? Tell 
me about this workshop.
Kishiyama
Encaustic is pigment in wax. What I was looking for with my paperwork was an alternative to showcasing them in glass (the glass wouldn't be gentle on the art). I started reading about encaustic, and encaustic and paper love each other. They go together really well. I went to New York in 2005 and studied papermaking and encaustic. The pigments are oil based and they are mixed with beeswax and varnish (which makes it hard). You can use a heat brush, a dry brush. You can inscribe and put different coloring in, scratching it out. You can put dried flowers under it. And they will stay like this forever. It has a wonderful luster that you can't get with oil.
New Times
What do you want prospective workshop participants to know?
Kishiyama
If they work in oils, and are frustrated because they can't achieve a textural quality to the oil, mixing the oil with wax may be what they are looking for.
New Times
Are you going to give them the freedom to do the encaustic work on any type of surface?
Kishiyama
Just flat ... (on a square piece of wood) and we will do press molds. We'll make a mold out of clay and we will press an object into it and you pour in the wax and pop it out ... and you have a perfect mold. You can have repeated patterns. It's great fun. Barn boards are nice to work on. I will work on some pieces that are sticks, like bamboo sticks with wire, and I will dry brush this on the wire and it will become a free- standing sculpture. You can get everything from really textural pieces to quite controlled. I'll do a slideshow of the history and what people are doing with it now.
New Times
What do artists need to bring?
Kishiyama
The only thing they would have to bring are some boards. I'll provide everything else. It's an opportunity for someone to experiment and have it be cost effective. It's an opportunity for them to learn the tools, safety, learn the colors, see what it can do, and see if it's appropriate for where they want to take their artwork.
Christy Heron can be reached at cheron@newtimesslo.com.