PHOTO BY GLEN STARKEY
DANCING DJ : Cal Poly Salsa Club member and DJ Chance Siri shows off his dance skills.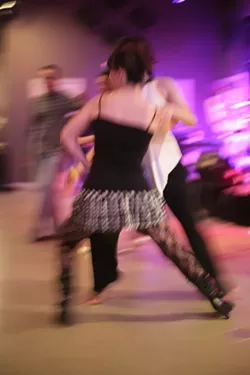 PHOTO BY GLEN STARKEY
MALE SHORTAGE : A couple gals take to the dance floor when male partners aren't available.
I'm at D'Anbino Vineyards & Cellars' downtown Paso Robles tasting room, transfixed by the sweeping Latin jazz sounds emanating from De La Bahia and the whirling figures tearing up the expansive dance floor when a pretty and incredibly fit blonde walks up to me and asks if I've molested anyone yet.
"Whaaaat?"
It takes me a moment to remember that feeling-up salsa dance partners was my closing joke in last week's column, but Jeanne "Bean" Murdock, proprietor of BeanFit Health and Fitness Services, doesn't skip a beat when I ask her if she's a good salsa dancer.
"All I have to know is the basic stuff, and then I follow where I'm led," Bean says.
That's what's so great about social dancing like salsa—you only have to be willing to enjoy yourself, and good dancers can make mediocre ones look better.
Take Chance Siri, part of Cal Poly's salsa club. He didn't know much about dance when he joined up in 2003, right about the time he graduated with a computer engineering degree, but he's turned into a great dancer. He's also still deeply committed to the club, acting as DJ during weekly lessons and social dances every Friday at 8 p.m. in Building 5 (architecture) Room 225.
"Anybody can come," Chance says. "You don't have to be a student. And obviously there's no alcohol. It's just $5 a lesson, and the social dance is free."
PHOTO BY GLEN STARKEY
CHA CHA CHA : De La Bahia members Karl Welz and Mike Raynor keep the rhythm going.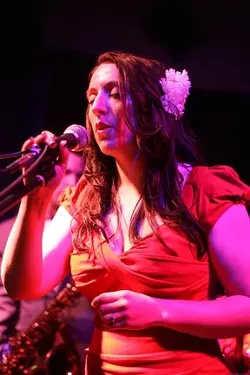 PHOTO BY GLEN STARKEY
KISS ME A LOT : Sarah Cardinalia offers up a sultry rendition of Consuelo Velázquez's classic, "Bésame Mucho."
He explains that they get between 50 and 150 people a week, and that the club is about to celebrate its 10th anniversary. We also chat briefly about the controversy of past CPSalsa posters, specifically one with a topless woman in an open fire coat and helmet, who's showing off her cleavage. The club was asked to remove the posters as "sexist."
"Of course, you see more on the newsstand in Albertson's," Chance says, dismissing the controversy as a typical Cal Poly overreaction. "We're trying to get the public more aware of our club."
Then the band takes a break, and composer and saxophonist Karl Welz comes over. He grew up in the Bay Area, playing with pro jazz groups as a high school student before studying jazz at New York's New School.
"I lived in New York for 13 years," he
says, and that's where he delved more deeply into Latin jazz. Surveying the dancers, he adds, "It's definitely fun [playing salsa music], but without the dancers we wouldn't be doing this."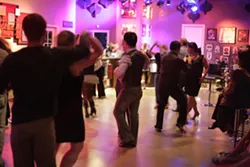 PHOTO BY GLEN STARKEY
MAKE THE SCENE : D'Anbino Vineyards & Cellars' downtown Paso Robles tasting room was the perfect venue for salsa dancing.

YOUR HOT SALSA CONNECTION!: Learn more about local Latin jazz band De La Bahia at delabahiamusic.com. Learn more about Cal Poly's salsa club, CPSalsa, at cpsalsa.com.
When the band starts up again, vocalist Sarah Cardinali sits in to deliver a sultry rendition of Consuelo Velázquez's classic "Bésame Mucho." She's dressed in a stunning, formfitting red dress, and this place suddenly feels like an underground Cuban dance club—dangerous and sexy!
Pairs hit the dance floor, and it's clear most dancers are here solo, interested in interacting with new people, switching partners from song to song. I don't witness any actual groping, but I can't help but think all this dancing feels like foreplay.
Glen Starkey takes a beating and keeps on bleating. Keep up with him via twitter at twitter.com/glenstarkey, friend him at Myspace.com/glenstarkey, or contact him at gstarkey@newtimesslo.com.