Although $27 million is nothing to sneeze at, Arts Obispo Executive Director Angela Tahti thinks it's looking a little small.
That number ($27,722,589 to be exact) accounts for the money that nonprofit arts organizations and their audiences put into the economy in San Luis Obispo County, according to the most recent Arts and Economic Prosperity 5 Survey released by Americans for the Arts in June. The survey looked at 28 local nonprofit arts groups and even more audiences, marking the first time SLO County has ever formally quantified the economic impact of the arts.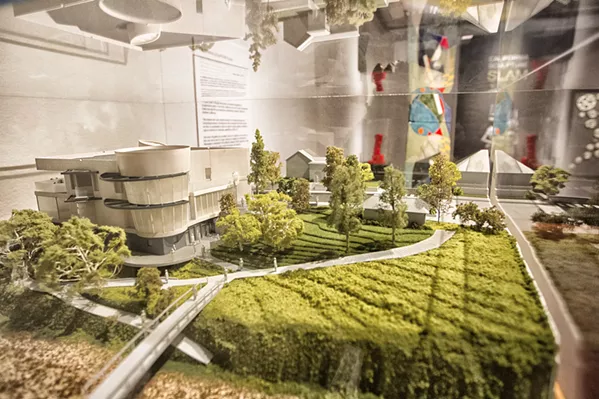 Photo By Jayson Mellom
MODEL MUSEUM In January, the San Luis Obispo Museum of Art launched its capital campaign to raise funds for a new $15 million building. In September, the museum secured a $400,000 donation from the county, after submitting the results from the recent Arts and Economic Prosperity 5 Survey.
"I wasn't surprised," said Tahti, whose organization was one of the driving forces behind the survey. "The numbers seem in line, and they can only go up."
The survey specifically tracked nonprofit arts groups that hold live events the public can attend—think the musical Bye Bye Birdie at San Luis Obispo Repertory Theatre, Art after Dark at the San Luis Obispo Museum of Art, or The Nutcracker ballet at the Cal Poly Performing Arts Center. The survey looked at these groups' 2015 fiscal data and asked audiences at events in 2016 questions like, "Did you go to dinner before the show?" or, "Did you have to pay for a babysitter tonight to be here?"
Tahti said the perception many have of the arts is that it takes in local dollars, but doesn't necessarily give anything back.
"I think the survey can help dispel that notion that we must choose between human services and the arts," Tahti said. "The arts both increase quality of life and economic vitality."
Let's talk money
So how do you get to $27 million spent on, by, and around the arts? And why bother tracking it at all?
"We've been trying for three years to create a survey so we can understand our impact on the community," Tahti said. "It was time."
Before coming to SLO to serve as executive director for Arts Obispo about two years ago, Tahti worked with Americans for the Arts twice to produce surveys for Placer County while working in the nonprofit arts sector there.
"The arts are more than just nice, they're necessary," said Randy Cohen, vice president of research and policy for Americans for the Arts. "The arts aren't some black hole."
His organization produces a survey every five years that has tracked nonprofit arts groups across the country since 1994. The most recent survey followed 341 regions, including SLO County, where arts groups and audiences together supported 916 full-time equivalent positions and generated about $1 million each for local and state government. On average, SLO County arts audiences spend $14 million a year when they go to an event, excluding the cost of admission. For county residents, that's an average of $23.37 per person and event for things like meals and refreshments, souvenirs, transportation, and lodging. Meanwhile, their out-of-town counterparts spent an average of $67.48 per event. Keep in mind that while data from 28 groups was included in the survey, Arts Obispo found that 61 total were eligible to participate, but didn't for one reason or another—meaning, the numbers could be much higher. Especially, since Hearst Castle was one of the nonprofits that didn't participate.
"Hearst Castle is our Disneyland," Tahti said. "Thousands of people go there monthly."
Bettina Swigger, executive director for Festival Mozaic, worked on the task force for the survey and said she thinks the numbers could have doubled if Hearst Castle submitted data. In her former life, working in nonprofit arts in Colorado, Swigger saw numbers in the Arts and Economic Prosperity Survey double for Colorado Springs from 2006 to present. She thinks the same could happen for SLO.
"It's like planting the seed," Swigger said. "And we're going to see what grows."
Investing in the arts
Just to the south, in Santa Barbara County, the arts and their audiences spent a whopping $198 million during the survey period. While our neighbor has a much larger population (444,769 people to SLO County's 281,401), Tahti thinks there's another reason for such a big difference: public investment in the arts.
Photo Courtesy Of Katy Barnard
A NIGHT OUT Scott Yoo conducts the Festival Mozaic Orchestra earlier this year at Cuesta College's Cultural and Performing Arts Center. The festival was one of 28 organizations to participate in the Arts and Economic Prosperity 5 Survey, which revealed that nonprofit arts are a $27 million industry in SLO County.
In the 2015-16 fiscal year, SLO County gave $21,000 to Arts Obispo. While SLO city also gives to the arts, it's primarily through public art projects, which in the 2015-16 year totaled $116,394 (think all those creatively painted utility boxes around town), or by leasing buildings to organizations like the SLO Repertory Theatre or the SLO Museum of Art for the low, low price of $1 a year.
SLO Mayor Heidi Harmon thinks other creative solutions should be on the table for local governments investing in the arts. In a recent trip to Denver and Boulder, Harmon became aware that both cities have programs where part of their sales tax goes to arts and sciences. That funding helps enable the government to consistently invest in the arts, while also keeping its own budgets in check.
"I thought it was a positive way for the community to really invest in those two things," Harmon said. "You can see that has a huge impact on the amount of support that all the arts get to enjoy. It's a really positive economic circle they've created there."
In Santa Barbara County, the numbers for government investment in the arts are also higher than in SLO, but that's in part because the government has a more active hand in the arts.
Sarah York Rubin is the executive director for the Santa Barbara County Office of Arts and Culture, which was founded more than 30 years ago to create support for local arts and culture institutions, programs, initiatives, and projects. Rubin told New Times that the county gives $165,000 a year in staff support for the arts, and the city of Santa Barbara partners to match that investment for arts and culture salaries and benefits. The county also has a Percent for the Arts program, where 1 percent of the funds for capital building projects is invested in the arts. It only works out to a few thousand dollars a year on average, but it's still something.
The city of Santa Maria is currently enmeshed in a contentious process of figuring out if and when it will establish a similar program to fund public art.
Before working for the county, Rubin worked in the nonprofit arts sector in Pennsylvania.
"There are pros and cons in terms of what the office is able to achieve," Rubin said. "But ultimately it's the ideal because you want local government to be invested in the arts."
And it seems like an investment that's paying off. Last year, the National Endowment for the Arts ranked Santa Barbara ninth out of 367 metropolitan cities for having more working artists per capita than the national average. That could be in part due to Rubin and her colleagues, who host workshops and one-on-one sessions with artists, teaching them how to turn their work into a business.
But just like in SLO County, Rubin thinks that Santa Barbara County's numbers are looking a little low since they also only had about half of their eligible organizations participating in the survey. While Rubin concedes that $198 million isn't bad at all, she's concerned that out of context, it could give people the wrong idea.
"I worry that people will see it and not know it's likely double that," Rubin said. "People often perceive the arts to be some kind of drain on the economy. It's obviously worth their while to do this. Arts are not only not a drain on the economy, but also an incredible boon."
Incalculable
In September, Karen Kile, executive director for the SLO Museum of Art went to the SLO County Board of Supervisors with a big ask. She wanted $400,000 for the museum's proposed $15 million new building that they hope to break ground on in a few years.
Photo Courtesy Of Slo Repertory Theatre
SHOW TIME The San Luis Obispo Repertory Theatre opened its first season as a professional theater with The All Night Strut in August and is looking to officially launch a capital campaign for a new $5 million to $10 million building in the near future.
Naturally, Kile submitted the results from the Americans for the Arts survey when making her case to the board. And the board unanimously voted to give the museum the money. Anyone who's sat in on a board meeting or two knows that getting all five of its members in agreement is something of a rarity.
Kile knows that numbers can convince people that the arts are worth investing in—that's partly why the museum participated in the survey—but she also doesn't think the arts were any less valid before the survey results came out.
"This study is good, but it's emphasizing the what," Kile said. "It's almost like it's justifying the arts. It might almost be taking a defensive mode of, 'We're so valuable to the economy.' We know we're valuable to our culture, but that's intangible."
On a crisp October day as Kile opened up the museum to let New Times in, a little girl and her grandma walked toward the entrance for an art class. Kile stopped to hold the door open, but the child shook her head no, saying that she always used the other door to go to art class. Kile pointed to moments like that and what art class means to that child as she grappled with the incalculable benefits of the arts.
"I'd like there to be some thoughtful discussion not of the what, but the why and that why is very hard to describe," Kile said. "It's actually something different to everyone."
While the numbers from the survey might have helped to persuade the board to support the new museum building, Kile said the first words out of 3rd District Supervisor Adam Hill's mouth were, "I grew up going to museums."
Hill was raised in New Jersey, and his mom often took him to places like the Metropolitan Museum of Art in New York. At Cal Poly, he studied art and literature.
"We had an opportunity to enjoy some of the great art of mankind," Hill said. "No one could think that making such a gift to the museum is frivolous. The arts help to sustain the economy in a way that people sometimes overlook."
While SLOMA officially launched its capital campaign in January, another nonprofit is also looking to fundraise for a new building. The SLO Repertory Theatre (formerly SLO Little Theatre) has yet to formerly launch its $5 million to $10 million capital campaign, but when it does, Patty Thayer, communications director for the theater, said she knows the numbers from the Arts and Economic Prosperity 5 Survey will come in handy when talking to prospective donors.
The idea of an even bigger arts scene in SLO excited Kile. After all, she knows there's enough money here to support all of the arts.
"There's always room for even more," Kile said. "I think this museum belongs on a street full of galleries. The more creative outlets we have, the better; the ship rises faster." Δ
Arts Editor Ryah Cooley hopes you enjoyed reading this free article (cough, cough). Send comments to rcooley@newtimesslo.com.