What can I say about Los Lobos that fans don't already know? You know they formed way back in 1973 in East L.A. and managed to make biculturalism hip as they moved between their Chicano roots and American rock. Over their four-decade career, they've played norteño, blues, country, Tex-Mex, ballads, folk, rock, and world music.
PHOTO COURTESY OF LOS LOBOS
JUST ANOTHER BAND FROM EAST L.A. : The amazing Los Lobos plays SLO Brew on March 8.
For those who hadn't already been clued into the band, the 1987 Ritchie Valens bio-pic La Bamba, for which they provided the music, cemented their commercial viability and allowed them to explore more nuanced sounds like 1992's Kiko, an album deserving of the title of "high art."
Most recently they released 2010's Tin Can Trust, at the time their first album of new material in four years. They returned to their roots, recording in a rundown East L.A. studio, where they all played together in the same room.
"This was a no frills studio," David Hidalgo said on the band's website. "We didn't even have a couch to sit on; we had to bring one in."
The album developed organically, with the five bandmates throwing out ideas and working collaboratively to create the songs, many of which reflect the hard times of the recession and the survivors who are living through them.
On Friday, March 8, the multiple Grammy Award-winning band will play an intimate show in SLO Brew (doors at 7 p.m.; 21-and-older; $55 presale or $60 at the door).
They've come a long way from being the house band at an Orange County Mexican restaurant. If you're one of the rare few who have never seen Los Lobos live, do yourself a favor.
Also this week at SLO Brew, on Saturday, March 8 (doors at 8 p.m.; 21-and-older; $6 presale or $8 at the door), prepare yourself for the return of Zakk Magnum, Rikki Styles, Nikki Faith, and Troy Thunders, also known as Glam Cobra. If you like your neon bright, your spandex tight, and your hair big, you'll dig these dudes' awesome '80s show. Scissor kick!
Kick your old school punk on when The Adicts with opening act Channel 3 play the Brew on Tuesday, March 12 (8 p.m. doors; all ages; $20 presale or $22 at the door). Formed in 1976 and taking visual cues from A Clockwork Orange, the high-energy act known for anthem-like songs and its members' Droog appearance puts on an unparalleled live performance that feels like a kid's birthday party hosted by madmen.
A touch of the Irish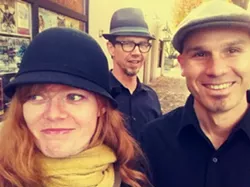 PHOTO COURTESY OF STORY ROAD
CELTIC CLASS : Get into the Saint Paddy's Day spirit with Story Road—(left to right) Colleen Raney, Stuart Mason, and John Weed—playing March 12 in Painted Sky Studios.
Get into the Saint Paddy's Day spirit with Story Road, playing Tuesday, March 12, at 8 p.m. in Painted Sky Studios. The newly named Celtic trio plays a lively selection of "pure-drop dance tunes and songs from Ireland and Scotland, from rip-roaring reels and jaunty jigs to heart-tugging ballads," according to press materials. "Story Road features three of the West Coast's most talented and best-loved Celtic music performers: Colleen Raney, John Weed, and Stuart Mason.
"Among the finest interpreters of traditional songs of her generation, Raney grew up inspired by the Irish and Scottish songs and tunes in the rich Irish community in Seattle. Her three solo CDs have staked her claim as a serious presence in Celtic music today."
John and Stuart are also members of Molly's Revenge, the popular powerhouse Celtic band. Joining Story Road for the concert is button accordionist Johnny B. Connolly.
Tickets are $20, available at Cambria Music Box Shoppe, Boo Boo's Records, or by calling 927-8330.
All hail the king!
If there were such a thing as jazz royalty, Wynton Marsalis would be in it. The master trumpet player comes from a family of well-known jazz artists, and he rules over the amazing Jazz at Lincoln Center Orchestra (JLCO), which returns to the Performing Arts Center's Cohan Center on Wednesday, March 13, at 7:30 p.m.
PHOTO COURTESY OF WYNTON MARSALIS
JAZZ MASTER : Wynton Marsalis leads the Jazz at Lincoln Center Orchestra at the PAC on March 13.
Marsalis and company will perform an "expansive program that will include classic Blue Note Records selections and tunes made famous by John Coltrane, Duke Ellington, Gerry Mulligan, John Lewis, and more," according to Cal Poly Arts.
Comprised of 15 of the finest jazz soloists and ensemble players today, JLCO formed in 1988 and has continued to elevate and educate regarding all things jazz related.
Student and adult tickets range from $30 to $75 (756-4849 or order online at calpolyarts.org).
More music …
Seattle's folk and Americana quintet The Horde and the Harem will make a stop at Linnaea's Café on its way to SXSW on Thursday, March 7, at 8 p.m. Formed in 2009 by singer Ryan Barber, they've since released three EPs, and in 2012 released their successful debut full-length, A Long Midwinter, to rave reviews. Check out this hot up-and-coming act!
PHOTO COURTESY OF THE HORDE AND THE HAREM
SEATLE HIPSTERS : Seattle's folk and Americana quintet The Horde and the Harem will make a stop at Linnaea's Café on their way to SXSW on March 7.
Alegria Wine & Ware, in conjunction with the San Luis Obispo International Film Festival, is host to two singer-songwriter showcases for the week, starting Thursday, March 7, with Bob & Wendy, Craig Louis Dingman, Ted Waterhouse, and Jane & Michael Banks; and continuing on Friday, March 8, with Tim Jackson, Kate Graves, Cliff Stepp, and Dulcie Taylor. Both shows run from 9 to 11 p.m. and are free.
You can check out BanjerDan playing in a few shows, including Thursday, March 7, at 6:30 p.m. in the SLO Down Pub; Friday, March 8, at 7 p.m. in the Old Creek Ale House; Sunday, March 10, at 8:30 p.m. in the Paso Robles Brewing Company; and Wednesday, March 13, at 2:30 p.m. at Tognazzini's Dockside Too. Go get 'em, BanjerDan!
Local folk-punk singer-songwriter Ryan Dishen jumped ship for Berkeley about five years ago, but now he's back on the Central Coast and will play Paso Brewing Company on Thursday, March 7 (7 p.m.; 21-and-older), and Linnaea's Café on Friday, March 15 (8 p.m.; all ages). Both shows are free. "I've been busy writing and recording, and bringing my melodic, lyrically conscious music to the live stage," he said. "I've played many shows in various locations, including the East Coast, the Southwest, and even spent some time in Europe performing in over seven different countries. I plan to venture through the south of the U.S. this summer to promote my latest album, New Windows, which is available for free on my website (ryandishen.com)."
The Doo Wop Project, featuring cast members of Broadway's Jersey Boys, is coming to the Clark Center on Friday, March 8, at 7 p.m. If you're fans of the Tony Award-winning Jersey Boys or just love doo wop music, you'll dig this evening of "songs mixed with individual stories and references to [the cast members'] upbringings and experiences in the business, particularly backstage at The August Wilson Theatre, home of Jersey Boys, where the idea for the group was conceived," said concert organizers. Expect an homage to classic doo wop and songs by Randy & The Rainbow ("Denise"), Thurston Harris ("Little Bitty Pretty One"), The Skyliners ("Since I Don't Have You"), The Capris ("Morse Code of Love"), as well as contemporary songs such as Michael Jackson's "The Way You Make Me Feel" and "Valerie." Tickets cost $36 to $40 (489-9444).
Música Del Río House Concerts proudly presents the return of Steve Gillette & Cindy Mangsen on Friday, March 8, at 8 p.m. (call 466-6941 to reserve your $15 ticket and get directions). The duo has performed together for more than 20 years, "bringing together their love of traditional music and their wealth of original songs," said concert organizer Fred Munroe. "Accompanying themselves with guitars and concertinas, their live performances are known for rich harmony, compelling songs, and a good dose of humor." Gillette's songs have been recorded by Nanci Griffith, Garth Brooks, Linda Ronstadt, Tammy Wynette, and many others. Mangsen is a fine singer-songwriter as well and plays guitar, banjo, concertina, and mountain dulcimer.
Roots reggae and ska act Souls of Love returns to Frog and Peach on Friday, March 8, at 10 p.m. Assembled by ILocks, longtime keyboardist for Eek-A-Mouse, the ensemble plays socially positive songs. Their newest album is g.o.d. (an acronym for gold, oil, and diamonds).
Congregation Beth David's concert season continues with a very special performance by Alisa Fineman & Kimball Hurd on Sunday, March 10, at 3 p.m. ($15; call 544-0769). This nationally renowned duo has earned widespread acclaim for its songwriting and world music repertoire, having toured around the nation as well as the Jacob's Ladder Folk Festival in Israel. Since they create beautiful vocal harmonies and perform on guitars, mandolin, mandola, dobro, banjo, and slide guitar, this promises to be a musically rich afternoon! "Alisa and Kimball will be joined by Ricki Weintraub, the former cantor of the temple, and Linda Bertenthal, our new rabbi, who is also a singer," said concert organizer Stanley Stern. "During intermission, the audience will not only get to taste some Israeli food, but also get a chance to see the CBD Israeli and the Los Osos Folk Dancers demonstrate their skills."
It's once again time for The SLO County Jazz Federation's Young Jazz Showcase, featuring six of the finest jazz musicians from our local high schools, Cuesta College, and Cal Poly, on Sunday, March 10, at 4 p.m. in the Steynberg Gallery (donations accepted at the door). This year's musicians include Alex Winfield, Gracelyn Hedrick, James Gallardo, Josh Collins, Trent Braswell, and Justin Pecot, who'll be backed up by Gary Drysdale (guitar), Dylan Johnson (bass), and Daryl Vanduff (drums).
Ready for a really big shoe? Well, this one would make Ed Sullivan proud because check out this line up: The Dentures, Tim Jackson, Steve Kindel, Ted Waterhouse and Dan Wolf, Holly Ann Phillips, J Street Slim and the Leisurenaut, Bob & Wendy, Peter Yelda, Dulcie Taylor, Randall Lamb, Ray Duncan, Don Lampson, Erin Inglish, Amber Cross, and Ranchers for Peace! Yep, this Sunday, March 10, it's time again for Big Variety Night from 6 to 10 p.m. at Linnaea's Café. With Ted Waterhouse as host for 20 years now, these shows are a hoot and feature the finest local musicians playing "short, sweet sets" for the love of it!
Jody Mulgrew & the Skeleton Crew play "Spaghetti Western Mondays" at Del's Pizzeria on Monday, March 11, and Jody wrote to tell me all about it: "There's a hip little music thing happening on Monday nights at Del's Pizzeria. It's called 'Spaghetti Western Mondays.' Some of the area's enduring groups as well as up-and-coming artists have been dropping in to play a Monday night set in what looks like a location straight out of The Godfather films." It starts at 8:30 p.m., and it's an offer you can't refuse, because it's free, Fredo.
Acoustic pirate-themed Celtic, metal, prog rock act The Dread Crew of Oddwood plays Frog and Peach on Monday, March 11. Calling their sound "Heavy Mahogany," the San Diego-based hoard for bloodthirsty acoustic musicians has released three albums: 2009's Reign the Helm, 2010's Rocktopus, and 2012's Heavy Mahogany. Get your yo-ho-ho on starting at 9:30 p.m.
Here's a quick heads-up for a show happening next Thursday, March 14, when The HayDudes play Shine Café in Morro Bay for a $25 concert and dinner package! Seating will be limited, so call 771-8344 if you want to see this incredible blue grass and beyond trio!
Keep up with Glen Starkey via twitter at twitter.com/glenstarkey, friend him at facebook.com/glenstarkey or myspace.com/glenstarkey, or contact him at gstarkey@newtimesslo.com.