The SLO International Film Festival is in full swing, but how many freakin' movies can a person take, eh? That's why Steve Key and his Songwriters at Play showcases have come up with something special this week.
"I just added a special three-night event, which we're doing in conjunction with the film festival," said Key, best knows for his song "33, 45, 78 (Record Time)," recorded by country music star Kathy Mattea.
The showcase is called "The Krush 92.5 presents SLO Film Fest Afterhours with Steve Key," which will be held at the new Alegria Wine bar, right around the corner from the Palm Theatre.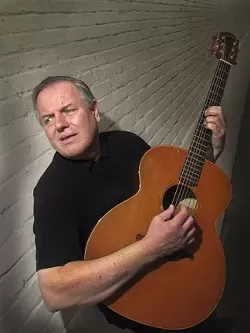 PHOTO COURTESY OF STEVE KEY
EL QUESO GRANDE : Songwriters at Play big cheese Steve Key holds three nights in conjunction with the SLOIFF at Alegria Wine bar March 8 to 10.
Performers include Shannon Savage, Craig Louis Dingman, and BanjerDan on Thursday, March 8; Bob Rea, Stephen Styles, Cliff Stepp, and Tim Jackson on Friday, March 9; and Ranchers for Peace, Dorian Michael, Martin Paris, and Pat Hull on Saturday, March 10.
Alegria serves wine by the glass ($6 special for film festival ticket holders), or they will open any bottle of wine in the store (no corkage fee). Tapas are available for noshing in the $4 to $9 price range.
And while we're on the subject, here's what's happening with Key's showcases.
Colorado troubadour Bob Rea is the featured performer at The Porch on Thursday, March 8 (6:30 p.m.; all ages; tips appreciated). Rea (pronounced Ray) has been a homeless wanderer and pool hall hustler who sings songs of tribulations and triumphs. Other performers that night include Bob's friend and co-writer Stephen Styles, plus Ted Waterhouse & Ynana Rose of The Swingin' Doors, and Brent Dannells of the Doctor Danger blues band.
Then, on Saturday, March 10, Katie Boeck will share a feature bill with Pat Hull and Martin Paris at Laetitia Winery (1 p.m.; all ages; tips appreciated). Arroyo Grande's Boeck returns home after spending months traveling in India and Thailand.
On Sunday, March 11, Sculpterra will hold "Spring Forward! Sleepless in Sculpterra," with performances by Ryan McBride, Luis Lapostol, Ralph Goff, Katie Edmiston, Dan Daniel, and Alice Wallace from So Cal (1 p.m.; all ages; tips appreciated). On a side note, Wallace, who's traveling with her guitarist Tom Bremer, will also play at Linnaea's Café on Saturday, March 10, from 8 to 10 p.m.
PHOTO COURTESY OF ALICE WALLACE
FRESH FROM INDIA : Arroyo Grande's Katie Boeck, back from travels in India and Thailand, plays March 10 at Laetitia Winery.
The Spot holds the showcase on Monday, March 12 (7 p.m.; all ages; $10), with Karen Savoca and Pete Heitzman. According to press materials, "Savoca puts her heart into a song the way a great actor throws herself into a role, charming audiences with a supple alto and a boundless range of expression. A gifted songwriter, she draws you into her world of humor and compassion, telling stories with grace and ease, as though you've been invited to her table for supper."
Then, on Tuesday, March 13, head to Kreuzberg when bluesman Luis Oliart returns to town (6:30 p.m.; all ages; tips appreciated). The title track of Luis Oliart's latest CD, Broken Chains, has been getting steady airplay on The Krush 92.5 FM.
Young lions
Thanks to Cuesta College, Cal Poly, local independent youth music programs, and a surprisingly rich K-12 public school music system (despite budget woes), SLO County is home to a lot of very talented young jazz artists who've received the instruction and nurturing needed to develop.
PHOTO COURTESY OF THE SLO COUNTY JAZZ FEDERATION
LAST YEAR'S MODELS: On March 8 at Steynberg, check out the crop of new jazz lions. Here're last year's winners: (left to right) Justin Au, Nic Garrison, Jillian Gibson, Josh Collins, and Justin Pecot.
What these young performers also need is recognition, which is where the SLO County Jazz Federation comes in. Every year they host the Young Jazz Artist Showcase, giving the next generation of jazz talent a chance to shine while being backed by a professional rhythm section.
On Thursday, March 8, the Steynberg Gallery is host to this year's showcase featuring performers from local schools, Cuesta, and Cal Poly starting at 7:30 p.m. The Jazz Fed is soliciting donations at the door, and the concert is sponsored by the Matt Taylor Scholarship Fund. Taylor, for those who don't remember, was a very talented young jazz bassist who succumbed to cancer in 2002 while a member of Damon Castillo's band.
Come out and see these kids shine and support local jazz!
Go Green!
Hawaiian reggae band The Green returns to SLO Brew, one of 39 stops on the band's massive North American tour. Still buzzing from their critically acclaimed sophomore release Ways & Means, which spent four weeks at No. 1 on Billboard's Reggae Chart, the band was also awarded "Artist of the Year" by The DubSide and their album was nominated for "Album of the Year" at The Pier.
National Public Radio recently featured the band as part of its story on the growing popularity of non-Jamaican reggae, and the band continues to blend late-'70s dub-heavy roots with strands of contemporary rock, pop, and R&B. You'll hear lovers' rock, lush ballads, skankers, sufferers, and socially conscious protest songs.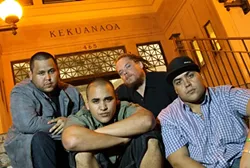 PHOTO BY TAMMY MONIZ; COURTESY OF THE GREEN
GREEN MACHINE : Hawaiian reggae act The Green plays SLO Brew on March 8.
See The Green at SLO Brew on Thursday, March 8 (7:30 p.m.; all ages; $13 presale or $15 at the door). Passafire opens the show.
Then, on Friday, March 9, SLO Brew is host to Eligh and Amp Live, who just appeared on the cover of CMJ to promote their No. 1-charting album Therapy at 3. Eligh, an MC and producer, "was an important contributor to the development of Cali's hip-hop underground in the mid- to late '90s as he helped construct the sound of his crew, the Living Legends." Amp, a producer and DJ, delivered the "dreamy soulful beats for the hip hop group Zion I," according to the performers' bios. (7:30 p.m.; all ages; $15 presale or $16 at the door).
Finally, SLO Brew rounds out its weekend with High Voltage—A Tribute to AC/DC on Saturday, March 10 (7 p.m.; 21-and-older; $10), with Hateshop opening.
Hipocalypse!
Looking for a hipster evening of extremely sensitive singer-songwriter fare? Then head to the Steynberg Gallery on Friday, March 9, for Lamb's Ear, John Hearts Jackie, and The Diatoms (all ages; 8 p.m.; $5).
Lamb's Ear is the current music project of local singer-songwriter Meredith Hobbs, who's putting the final touches on a new album that showcases her "heartfelt and poetic lyrics and fills out her compositions with full band arrangements including bass, guitar, drums, flute, harmonies, and more."
PHOTO COURTESY OF JOHN HEART JACKIE
INDIE LOVE : Portland-based John Hearts Jackie is one of three indie folk acts playing Steynberg on March 9.
Portland-based John Hearts Jackie, which incongruously features performers named Jennie Wayne and Peter Murray, is a sweet, bell-clear duo whose music will break your heart right in two. There's something about the sound of one male and one female voice, sparingly backed, that just feels like magic. "We hope to create songs that are universally beautiful; songs that may find their home in the space where people dream, where people fall in love, where people grieve, where people get lost," said the duo.
The Diatoms are a brand new local indie folk band that formed in SLO last summer, and who are currently at work on their debut, about-to-be-released record.
BYOSL (Bring Your Own Sullen Look).
More music …
Cal Poly Student Opera Theatre and OperaSLO will join forces for three days of opera performances being billed as "Classic Scenes from Opera and Musical Theatre." The performances happen Thursday and Friday, March 8 and 9, at 7:30 p.m., and Saturday, March 10, at 3 p.m., in the Pavilion of the Performing Arts Center. Puccini's one-act opera "Suor Angelica" will be included in the performances, along with scenes from Strauss' "Der Rosenkavalier," Mozart's "Così fan tutte," the mad scene from Donizetti's "Lucia di Lammermoor," and a medley from Rodgers and Hammerstein's "Oklahoma." The repertoire for the event was selected to enable all music majors studying voice to participate. Tickets are $6 for students and senior citizens and $10 for the public (756-2787).
Cal Poly will be host to UC Davis' Gamelan Ensemble for a free concert Friday, March 9, at 3 p.m., in Room 218 of the Davidson Music Center at Cal Poly. "The ensemble will perform a selection of pieces on its West Javanese gamelan salendro as part of an exchange of ethnomusicology ensembles with Cal Poly," according to press info. "The ensemble will be joined by dancer Ben Arcangel, who will perform classical West Javanese dance."
PHOTO BY MATT THAYER; COURTESY OF GEORGE KAHUMOKU JR.
SLACK KEY MASTER! : On March 9 in Cal Poly's Spanos Theatre, slack key guitar master George Kahumoku, Jr. will headline an evening of Hawaiian music and culture.
Multiple Grammy Award and Hoku Award-winning master slack key guitarist, songwriter, world-traveling performer, high school and college teacher, artist and sculptor, storyteller and writer, farmer, and entrepreneur George Kahumoku, Jr. has been called "Hawaii's Renaissance Man." On Friday, March 9, at 8 p.m. in the Alex & Faye Spanos Theatre, he'll be joined by fellow award-winning musicians Dennis Kamakahi, Richard Ho'opi'i, and Bobby Ingano in the world music showcase, "Masters of Hawaiian Music," presented by Cal Poly Arts, which will be a celebration of the Hawaii's culture and song. The evening's festivities will also include local dancers of Nā Mele o ke Kai and Hoapili Pōmaika'i Aloha, who have been providing Hawaiian entertainment on the Central Coast since 1994, preserving the culture and traditions of the native Hawaiian people. Student and adult tickets are $30 and $38 (756-2787). Go Hawaiian!
PHOTO COURTESY OF CAL POLY ARTS
HULA! : On March 9 on Cal Poly's Spanos Theatre, local dancers of Nā Mele o ke Kai and Hoapili Pōmaika'i Aloha will perform during an evening of Hawaiian music and culture.
Alasdair Fraser and Natalie Haas will appear in concert on Saturday, March 10, at 7 p.m. (doors at 6:30) at La Bellasera Hotel & Suites (206 Alexa Court, Paso Robles), and tickets are $20 presale (237-0054) or $25 at the door. This intimate evening (no seat is farther than 25 feet from the stage) with these two internationally renowned string players should be a night to remember. Fraser's fiddle and Haas' cello create a musical playground that's sure to surprise. And if you're feeling flush, make reservations at the five-star Enoteca restaurant before the concert and enjoy dinner with a 10 percent discount and get reserved, preferred seating at no additional cost.
According to the Cal Poly Music Department, "The Cal Poly Arab Music Ensemble will perform traditional and contemporary music and dance from the Eastern Mediterranean, North Africa, and the larger Middle East with special guest artists at 8 p.m. on Saturday, March 10, in the Spanos Theatre on campus. Renowned guest artists on the program will include Adel Iskander Guirguis, a master violinist from Egypt; Ishmael, a distinguished qanun player of Assyrian heritage who hails from the Bay Area; and Amel Tafsout, an acclaimed dancer, choreographer, and vocalist from Algeria. The program will also feature local percussionist and dancer Keeth CrowHawk Hershman and San Luis Obispo dance instructors Jenna Mitchell and Saundra Sarrouf leading their troupe in a variety of folkdances." Tickets are $10 for the public and $8 for seniors and students (756-2787).
Help a brother out! Local musician Big Al Olivera has been diagnosed with a terminal condition, so fellow musicians have joined forces to put on a fundraiser to help him and his family in their time of need. On Sunday, March 11, Ralph & Duane's in Old Town Arroyo Grande will host a barbecue and concert featuring members of local bands: Juan Marquez, Ben Segura, Rick De la Rosa, Ronnie Sainz, Johnny Punches, Kevin Simmons, Mike Dean, Terry Lawless, Brian Herman, Evan and Steve Phillips, Dave Aguallo, and others. Big Al toured with several bands in the Midwest, including The Castaways, and was inducted into the Minnesota Rock 'n' Roll Hall of Fame. Come support him and family! For $10 ticket info, call Juan at 878-7800 or Big Al's daughter Victoria at 904-5696. There'll be another "fun-ction" for Big Al on Saturday, March 17, from noon to 6 p.m. at Rancho Nipomo featuring Terry Lawless and Mike Dean.
PHOTO COURTESY OF ALASDAIR FRASER AND NATALIE HAAS
STRINGERS : Alasdair Fraser and Natalie Haas will appear in concert on March 10 at La Bellasera Hotel & Suites.
Want to feel groovy?
I've been spinning Everything Happens for a Reason, the new CD by Shameless, a local band whose music seems to have escaped from the feel-good late-'60s and early-'70s. The opening track, "Life is a Two Way Street," sounds like the sort of positive, self-esteem-raising, message songs that could have been played on The Electric Company: "Life is a two way street, where everyone is equal." Add in some flute and backing vocals, and I can almost see a then-young Morgan Freeman, Rita Moreno, and Bill Cosby smiling along.
Things turn Bob Denver-esque on "Mountain King," a soaring anthem about special memories. The world beat band moves through 11 spirited originals on its new album, ending with a breezy version of Van Morrison's classic "Moondance."
This local band features multi-instrumentalist John Wessel, Evan Hiney (bass and vocals), Bill Tompkins (guitar), and Karen Garmen (drums), and together they play upward of 150 shows a year, delivering classic rock covers as well as originals. Amazon calls the band Jethro Tull meets Marshall Tucker.
Signed to Rhombus Records, the band's new album is available on Amazon, iTunes, and E Music.
Hear them live on Saturday, March 10, at Harry's from 3 to 8 p.m. and at the Fuel Dock from 9 p.m. until closing. They'll do an acoustic show under the name Shepard's Pie at the Creeky Tiki Friday, March 16, from 9 until 11:30 p.m.; a St. Pat's show on Saturday, March 17, at Merrimaker from 9 till closing; another show on Monday, March 19, at Harry's from 3 to 8 p.m.; and more to come! ∆
Keep up with Glen Starkey via twitter at twitter.com/glenstarkey, friend him at facebook.com/glenstarkey or myspace.com/glenstarkey, or contact him at gstarkey@newtimesslo.com.