Vocalist and guitarist Susan Tedeschi and shredding slide guitarist Derek Trucks both had successful but separate careers going when they decided in the summer of 2010 to put together a touring band so they could spend more time together with their young family. Drawing players from both their respective bands as well as a few others, they formed Soul Stew Revival and hit the road.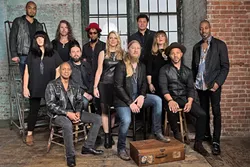 PHOTO COURTESY OF THE TEDESCHI TRUCKS BAND
COOL DOZEN : The Tedeschi Trucks Band brings its rootsy blues, soul, funk, and gospel sounds to Avila Beach Resort on Sept. 4.
When they returned home, they decided to build a home studio, renamed themselves the Tedeschi Trucks Band, soon found their side project signed to Sony's Masterworks imprint, and released their debut album Revelator in 2011. The recording scored a Grammy nomination, and in 2012, they followed it up with Live: Everybody's Talkin', a sprawling double-disc set. In 2013, they released their next studio album, Made Up Mind. Earlier this year they released Let Me Get By.
The band has turned into a live tour de force, with a dozen members including dual drummers, a three-piece horn section, and a multi-instrumentalist that has further expanded the band's sound. Tedeschi's vocals can move from wailing R&B to tender ballads, and Trucks' guitar work is fantastic—almost hard to believe! Rolling Stone ranked him as 16 on their "Top 100 Guitarists of All Time" list. He's turned his full attention to his family band after the final tour of the Allman Brothers—for whom he played guitar—ended in 2015.
This Sunday, Sept. 4, Otter Productions Inc. is bringing the Tedeschi Trucks Band to Avila Beach Resort (doors at 3:30 p.m., concert at 4:30; all ages; tickets at (888) 825-5484, vallitix.com, or Boo Boo Records).
Special guest Nicki Bluhm & The Gramblers will open the show with their breezy '60s-style California sounds. This ought to be an amazing beach concert!
Tunes, brews, and the beach
The place to be this Labor Day is kicking back on the bluff at the Cliffs Resort, where Good Medicine Presents will bring The Mother Hips for a free, all ages, outdoor concert on Monday, Sept. 5, from 1 to 5 p.m.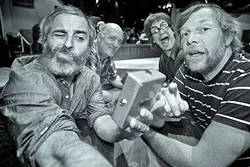 PHOTO BY RIC D. RUDGERS
HIPS BY THE SEA: Good Medicine brings The Mother Hips to the Cliffs Resort for a free Labor Day concert on Sept. 5.
This rock act was formed in Chico and has—since its inception in 1990—grown into a really engaging act whose music has made forays into psychedelica, country, pop, and hippy folk. With nine albums under their microphones, they have a deep catalog of songs to draw on. Texas act The Shinyribs will open. Barrelhouse Brewing Company will be slinging beers, and the Cliffs will have food and drinks as well.
Bring low back chairs, friends, and sunscreen and spend Labor Day in style!
Good Medicine Presents will also host a concert featuring exceptional local jazz, pop, and rock artist Damon Castillo on Friday, Sept. 2, at Tooth & Nail Winery (5:30 p.m.; free). He's one smooth dude with a great band behind him.
On Saturday, Sept. 3, Good Medicine Presents teams with Numbskull and Twang N Bang to host the Shawn Clark Family Band and opening acts The Turkey Buzzards and Matt Woods at the SLO Guild Hall (formerly the Grange Hall; 7 p.m.; all ages; $12 presale on ticketfly.com or $15 at the door).
The show is an album release party: "Shawn wrote the album Tumbleweed back in April of 2015 to remember the amazing people and places he encountered in his travels over the last seven years of his life," according to press materials. "Over several months, this group of amazingly talented musicians and friends has come together to bring these songs to life. It started with Shawn simply sharing his music with them, and one by one friends added their voice, talent, and skill to the mix."
Say yes to Yes
Yes is one of the most storied bands in rock history. Formed in 1968 in London, they were international stars by the '70s, creating albums with sweeping, complex arrangements.
PHOTO BY GLENN GOTTLIEB
DRAMA AND TOPO TALES: Yes—(left to right) Billy Sherwood, Jon Davison, Steve Howe, Alan White, and Geoff Downes—will play Drama in its entirety and two sides from Tales of Topographic Oceans at Vina Robles Amphitheatre on Sept. 3.
This Saturday, Sept. 3, Yes plays Vina Robles Amphitheatre (doors at 6:30 p.m., show at 8 p.m.; all ages; $45 to $65 at vinaroblesamphitheatre.com), where they'll perform their 1980 album Drama in its entirety as well as sides one and four of their 1973 double album Tales from Topographic Oceans, not to mention a few of their greatest hits.
When founding member Chris Squire passed in 2015, the band lost its final original member, but the current lineup—Billy Sherwood, Jon Davison, Steve Howe, Alan White, and Geoff Downes—have had long associations with the band save Davison, who joined as lead vocalist in 2012.
"We're proud to present the American public with forward-looking albums from the past," guitarist Steve Howe, who first joined the band in 1970, said in press materials. "Promoting Drama at Madison Square Garden on multi-nights was a career milestone in 1980, and we're especially looking forward to performing both the opening and closing sides to Topographic Oceans."
Added drummer Alan White, "We really hit the ground running with Topographic Oceans, my first recorded album with Yes. It pushed boundaries of music and went to No. 1 in the UK."
This show ought to be a stunner!
Defying categories
Singer-songwriter Raul Midón is freaky good. If you like Stevie Wonder, Richie Havens, George Benson, or Bobby McFerrin, you'll dig this dude and his percussive guitar sound and ability to make his voice soar, scat, or sound like a trumpet or French horn solo. Sometimes he plays guitar with one hand, bongos with the other, and it sounds like there's a looping machine on stage, but there's not!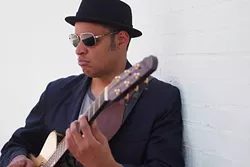 PHOTO COURTESY OF RAUL MIDÓN
MAGIC MAN: Blind one-man-band Raul Midón will bring his amazing musicianship and incredible voice to SLO Brew on Sept. 3 as well as KCBX for an on-air performance and interview.
Born in New Mexico to an African-American mother and Argentinian father, he eventually moved to New York City, where he's made a name for himself as a category defying, singular musical force. He's collaborated with Herbie Hancock and Stevie Wonder and played on recordings by Jason Mraz, Queen Latifah, and Snoop Dogg, as well as the soundtrack to Spike Lee's She Hate Me.
Did I mention Midón has been blind since birth? He'll hit the SLO Brew stage on Saturday, Sept. 3 (9 p.m.; 18-and-older; $25 general admission or $50 VIP balcony at ticketweb.com). Do yourself a favor and check out some of his videos online and tune in to DJ Rick Matthews' Freedom Jazz Dance show (Saturdays from noon to 2 p.m. on KCBX 90.1FM) at 1 p.m. when Midón will perform and Matthews will interview him.
Also at SLO Brew this week, check out Metalachi this Thursday, Sept. 1 (8:30 p.m.; 18-and-older; $14 general or $30 VIP at ticketweb.com). It's a metal band playing mariachi songs or a mariachi band playing metal songs. Either way, it's as awesome as it sounds.
Ethan Tucker brings his alt-rock and reggae sounds to the Brew on Friday, Sept. 2 (9 p.m.; 18-and-older; $10 general or $25 VIP at ticketweb.com). He's collaborated with Michael Franti, and he's got a wicked cool R&B style voice.
Eleventh time's the charm
Can you believe that this Sunday, Sept. 4, marks the 11th Twang N Bang music fest?
PHOTO COURTESY OF MICAH SCHNABEL
TWANG N BANG 11!: Two Cow Garage frontman Micah Schnabel is one of 20 performers appearing at Twang N Bang XI on Sept. 4 at Frog and Peach.
"When I held the first Twang N Bang in 2009, it was partly due to the fact that it was very, very hard to book any twangy acts at local clubs," Patrick Hayes, the founder and member of the Dead Volts, explained. "Despite having great bands like Red Eye Junction and Cuesta Ridge in our area, groups with even slight country leanings were not the favorite choice of most bookers. By grouping several of those bands together, I aimed to show the clubs that twangy bands were indeed popular and worth booking."
The festival has certainly expanded from its early days. This Sunday's fest (12:30 p.m. to 1:30 a.m.; 21-and-older; free) at Frog and Peach will feature 20 bands on two stages, not to mention five shows on the nights leading up to Sunday. Local acts include the Turkey Buzzards, Bearcats, Five Parts Devil, the Creston Line, Hayley & the Crushers, Sunshine and Stardust, Shawn Clark, Hot Tina, Other Houses, and American Dirt. Touring acts include Portland's Michael Dean Damron, Tennessee troubadour Matt Woods, Bay Area singer-songwriter M. Lockwood Porter, Two Cow Garage frontman Micah Schnabel, Santa Barbara's Chasing Rainbows, and The Mutineers, as well as 50 Watt Heavy, Mike Blanchard & the Californios, GrubDog & the Amazing Sweethearts, and The Brangs all from Sacramento.
On Thursday, Sept. 1, head to Dunbar Brewing from 7 to 10 p.m. for the Twang N Bang Social Club, "a loose night of fun and unplanned sets from a variety of Twang N Bang acts."
On Friday, Sept. 2, Figueroa Mountain Brewing in Arroyo Grande will host "Twang" from 8:30 to 11 p.m., showing the twangier side of things with Micah Schnabel, Michael Dean Damron, Matt Woods, and Mike Blanchard & the Californios.
Get your "Bang" on at Camozzi's Saloon on Friday, Sept. 2, from 9 p.m. to 1 a.m. with American Dirt, GrubDog & the Amazing Sweethearts, 50 Watt Heavy, and the Brangs.
I already told you about the Shawn Clark Family Band album release on Saturday, Sept. 3, at the Guild Hall. That same day, head to The Libertine Pub at 7 p.m. for "The Night Before" with Michael Dean Damron, 50 Watt Heavy, GrubDog, the Californios, and others.
More music …
PHOTO COURTESY OF JOANNA WALLFISCH
ON THE ROAD: Jazz-inspired musician Joanna Wallfisch is riding her bike to every stop on her West Coast tour, including Sept. 1, when she plays Linnaea's Café, and Sept. 2, when she plays The Porch.
UK singer-songwriter Conor Coughlan will bring his "off-kilter voice and infectious melodies" to Tap It Brewing Co. on Thursday, Sept. 1 (5:30 p.m.; 21-and-older; free), with opening act Oso Sol. Vocal-wise, Coughlan sounds a little like Moonshiner Collective frontman Dan Curcio.
Also on Thursday, Sept. 1, American Idol contestant Jess Lamb and The Factory play The Pour House (7:30 p.m.; free). I checked out her live video for "The Last Times" and was blown away by her voice, a lively and elastic thing, full of emotion and power.
Joanna Wallfisch plays Linnaea's Café this Thursday, Sept. 1 (7 p.m.; all ages; free) and Friday, Sept. 2 at The Porch. The critically acclaimed jazz-inspired musician is bicycling independently to each concert on her West Coast tour with essentially nothing more than her ukulele and loop pedal.
Rock and blues dance band Back Bay Betty returns to D'Anbino Cellars on Friday, Sept. 2 (8 p.m.; 21-and-older; $10 at 227-6800). Expect some new music featuring saxophonist Eric Stever.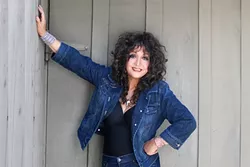 MIDNIGHT AT THE OASIS
MIDNIGHT AT THE OASIS : Blues, gospel, jazz, and R&B singer Maria Muldaur plays the Red Barn on Sept. 3.
"Midnight at the Oasis" singer Maria Muldaur returns to the Red Barn Community Music Series this Saturday, Sept. 3 (5 p.m. potluck; show at 6; all ages; $20 at the door). From blues and gospel to R&B and jazz, Muldaur does it all.
Keep up with Glen Starkey via twitter at twitter.com/glenstarkey, friend him at facebook.com/glenstarkey, or contact him at gstarkey@newtimesslo.com.