Before I got married, my idea of Christmas decorations was pulling a Christmas-themed mug out of the back of the cupboard for my coffee. Pa rum pum pum pum! I didn't see the point of putting up lights or getting a Christmas tree. I mean, you just have to take the lights down again, and it's a pain to rearrange the living room furniture for a tree.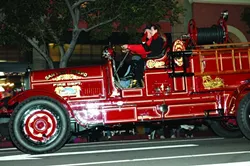 PHOTOS BY DEBORAH CASH
HAPPY HOLIDAYS : Don't miss the Downtown Association's 36th annual Holiday Parade on Dec. 7.
It's not like I don't love Christmas. I do! But I could get all the Christmas cheer I needed at my parents' or my sisters' houses.
When Anna moved in a couple years ago, it became clear that my riding the coattails of my family's holiday spirit wasn't going to fly. We were going to get into the spirit … or else!
"I will shove this holiday cheer right down your throat, mister," says Anna, who, after surviving a childhood as a Jehovah's Witness who wasn't allowed to celebrate Christmas or anything else, wasn't going to let her 10-year-old son Jaden not have his Christmas fun.
So as has become our holiday ritual, last Sunday after having a delicious breakfast at Bon Temps Creole Café, we headed over to Candy Cane Lane and walked through the mud to pick out a tree. Just to get an idea of Anna's determination to get this done, I should note she is wearing fancy high heels with lace overlays, and they were going to be hell to clean.
Anna schooled me on the difference between a noble and a Douglas fir, the Doug fir being more aromatic and fuller, the noble being more expensive. After looking and looking, Anna found the perfect tree, a really fat-bottomed 6-foot Doug fir. Add in a nice holiday wreath, a sprig of mistletoe, and a bottle of stuff to keep the tree green, and we got out of there for around $70. Not bad!
By the time we got home, it was pouring, and I tried to wait out the rain by prepping the living room, cleaning up the Christmas tree stand, and pulling the Christmas decorations out of the attic. Eventually it became clear that I was going to get wet, because Anna had waited long enough.
I only knocked over a few things while getting the tree into the living room, and then began the ritual in which Anna stands in front of the tree and I try to spin it until the "right" side is in front.
"How's that?" I asked.
"Go another quarter turn."
"How's that?"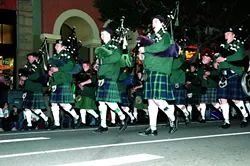 GET IN THE SPIRIT!: The Downtown Association's 36th annual Holiday Parade happens on Friday, Dec. 7, at 7 p.m., kicking off at the corner of Palm and Chorro Streets and winding around the downtown along Chorro, Monterey, Osos, and Higuera streets. This year they've received entries for nearly 100 floats, marching bands, animal groups, and classic carolers. The public is invited to come early and set up chairs or blankets for prime viewing. There will also be 10 emcee stages set up along the parade route, approximately one for every block. Get in on the holiday fun!
"Hmm. No, go back."
Eventually we got it right and Anna started decorating, lights first, "inside the branches," so the tree "glows from inside." Then the red, silver, and green ornaments. Then the loose tinsel, which I know I'm going to have to painstakingly pick out when it's time to recycle the tree. Then the new lighted star topper we got this year, along with a new tree skirt: red plaid with white trim. Very festive!
Next Anna started in on the fireplace mantle, then the console table in the foyer got decorated, then I went to watch TV as she contemplated making a wee Santa hat for this wooden African statue we have in the living room. Yeah, she will go there.
Luckily it was too wet and rainy to hang the outdoor lights, but I knew it was happening this week or else! Some neighbors already beat us to it, and the Joneses must be kept up with!
"And you know we're going to the parade next Friday, right?" Anna asked, though come on, that's hardly a question!
But I do know. I know only too well. Pa rum pum pum pum!

Glen Starkey takes a beating and keeps on bleating. Keep up with him via twitter at twitter.com/glenstarkey, friend him at facebook.com/glenstarkey or myspace.com/glenstarkey, or contact him at gstarkey@newtimesslo.com.