If you're looking for star power, that sort of indefinable charisma only a select few seem to have, head to SLO Brew on Saturday, May 4, and check out Nicki Bluhm and the Gramblers (doors at 7 p.m.; 21-and-older; $13 presale or $15 at the door), with Dave Mulligan opening.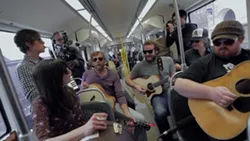 PHOTO COURTESY OF NICKI BLUHM AND THE GRAMBLERS
HOP ON BOARD! : Nicki Bluhm and the Gramblers bring their rambling sounds to SLO Brew on May 4.
Bluhm, who's married to Tim Bluhm of The Mother Hips, delivers vintage-sounding country-tinged rock that sounds like undiscovered gems from a lost artist from the early '70s. The willowy brunette looks every inch the rock star but with a girl-next-door demeanor—glamorous yet accessible.
You'll hear shades of Linda Ronstadt, Dusty Springfield, and Bonnie Raitt from this ramshackle combo, which also likes to have a bit of fun. Check out their "Van Session" cover of the Hall and Oates song "I Can't Go For That," which went viral with more than 2 million hits on YouTube!
PHOTO COURTESY OFJENI AND BILLY
GOOD HILL COUNTRY FOLK : Hear the original Appalachian folk music of Jeni and Billy on May 4 at the Red Barn.
Nicki was also one of the faces of the GAP fall campaign, and the group is readying for the festival circuit this summer with performances at Newport, Bonnaroo, and Hangout.
SLO Brew kicks off its week with Briertone on Thursday, May 2 (doors at 7:30 p.m.; all ages; $10 presale or $12 at the door), with Picture Atlantic opening. Briertone, a Christian alt-rock act, is playing in support of its newest recording Behold.
Reggae returns when One Drop with Mystic Roots plays the club on Friday, May 3 (doors at 7 p.m.; all ages; $10 presale or $12 at the door), with additional opening sets by Bare Feet and Top Shelf. Four reggae acts! That's dope, man.
On Tuesday, May 7, it's singer-songwriter night at the Brew when Jerry Joseph plays (doors at 7:30 p.m.; all ages; $12 presale or $13 at the door), with Walter Salas Humara and Steve Drizos opening.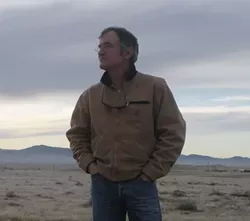 PHOTO COURTESY OF JOHN PILLOW
TRIPLE THREAT! : Actor, KCBX classical music radio personality, and singer-songwriter John Pillow will offer an intimate acoustic house concert on May 5 to raise money to send his artist wife Lindsay Wilcox to Haiti, where she'll be offering three weeks of art instruction to children in a home for displaced kids.
Finally, I want to give you a heads up about the return of one of my favorite performers, Todd Snider, coming back on Thursday, May 9 (7:30 p.m.; 21-and-older; $22 presale or $25 at the door), with Amanda Shires opening. Snider writes great, hilarious, stirring songs. Don't miss him!
Jeni and Billy were players
The Red Barn Community Music Series, in cooperation with KCBX Public Radio and Live Oak Music Festival, will present the original Appalachian folk music of Jeni and Billy on Saturday, May 4, at the Red Barn in Los Osos.
Featuring Jeni Hankins and Billy Kemp, the duo performs "new old music," drawing from traditional country, Appalachian, old-time, country blues, bluegrass, and folk music to create original songs.
According to their bio, "Jeni and Billy have crafted a unique sound that is truly their own. With their sparse sound and absorbing lyrics, they have caught the attention of critics from coast to coast. Mountain roads and mountain churches, moonshine and oxycodone, snake handlers and sherbet cake—you get to know them all at a Jeni and Billy concert. You might arrive a stranger, but you'll leave a member of the family.
"Jeni comes by her mournful, lonesome voice honestly," their bio continues. "Born in the coalfields of southwest Virginia, her singing has been compared to that of Mother Maybelle Carter and Hazel Dickens. A born storyteller, she has been a writer almost since she could put pen to paper, a vocation inherited from her journalist father and grandfather. Billy comes to the duo with a long history of music-making. He has been everywhere from Germany to the Grand Ole Opry playing his guitar and singing. Together, Jeni and Billy will draw you into captivating narratives of heartache and hard living, of true life blues and unexpected grace. Images of coal and crowns, trash and trailers, and glass and gasoline recur, and Jesus and the bottle are never far off."
The Red Barn Community Music Series is a monthly concert series showcasing local, regional, and national musicians performing old time, bluegrass, swing, Celtic, blues, and other forms of acoustic roots music. Doors open at 4:30 p.m., the potluck supper and potluck band starts at 5, and the show begins at 6. There's a suggested $10 donation at the door. All proceeds from the show go directly toward expenses and the artists. BYOB and a dish to share for the potluck supper. This show is made possible through the generous support of KCBX Public Radio and Live Oak Music Festival.
Send her straight to Haiti!
Local sculptor Lindsay Wilcox has got herself a big old heart, so when she heard about a home for displaced Haitian children started by a woman named Madame Soliette, who started taking street kids into her home in 2007 and now has 74, she decided she wanted to help out by providing the kids with art instruction.
"Art—some call it frivolous, a little extra fun. I call art absolutely vital to human life," Wilcox wrote on her website. "It defines who we are as individuals and is a basic form of communication in all societies. The practice of art in children fosters creativity, learning, and development in many other areas. Children in developing nations don't often get exposure to art that we do. I am asking for your donation to support my three-week trip to a children's home on La Gonave, Haiti, to do basic art training and creative exploration for the 74 children there. They are in great need of the help in development that art training gives."
You can donate on her website, lawilcoxsculptor.com/Art-Life-Haiti-2013.html, or you can come to her house for an intimate acoustic house concert with her singer-songwriter husband John Pillow, whom many may recognize as one of the area's best actors.
The event is Sunday, May 5, at 4 p.m. Call 781-0511 for reservations and directions.
"John's beautiful voice matches with soulful interpretations of his original tunes and favorites by David Cousins, Pete Townsend, Bruce Springsteen, and others," Wilcox said. "This is a rare treat. Those of you who have heard John before will know. Those of you who haven't are sure to be happy to have discovered this 'diamond in the rough.'"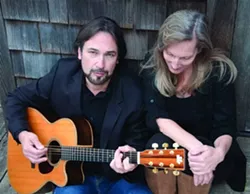 PHOTO COURTESY OF RAGGED COMPANY
WINSOME TWO : Tim Pecheco and Cindy Myers have teamed up to form Ragged Company, which you can check out live on air on May 4 when they appear on Sonnie Brown's Song Town on KCBX 90.1 FM, and on May 5 at Art in the Park at Dinosaur Caves Park.
More music …
Girls & Boys will be playing at Luis Wine Bar in SLO on Thursday, May 2, and every first Thursday of the month from here on out. "We play from 6 to 8:30 p.m.," said Josh Barrett, one half of the duo, "and it is a FREE performance. This is the last gig in SLO before we play the Bottle Rock Fest in Napa on May 12. Luis Wine Bar is a great place with one of the best beer selections in town. She has so many great beers and lots of stuff I had never tried."
Think of Ray Tarantino as a poet in the mold of Dylan, Springsteen, or Mellencamp. He's an award-winning Nashville songwriter with a soulful voice who tours the United States in a '97 Econoline van with a queen-size bed in the back, and he's played close to 1,400 shows by traveling around in that van. He plays SLO Down Pub on Thursday, May 2 (6:30 p.m.; all ages; free), as well as Sculpterra Winery on Sunday, May 5 (1 p.m.; all ages; free). Loren Radis and Skydrea Hull will also perform on May 2, and Cal Poly's Chris Gaul will play May 5.
Ranchers for Peace has been spilling socially conscious wisdom on audiences all over the state, and now they're back to play Thursday, May 2, at The Barrel Room in Atascadero. The show starts at 7 p.m. and Ranchers take the stage around 9. Ranchers will also be at Linnaea's Café on Sunday, May 5, for another installment of The Big Variety Night starting at 6 p.m. "Couple things to report," said Rancher Chas Duncan. "Production of our second EP, Not Alone, is moving toward the finish line. One more session is scheduled next week at Painted Sky in Harmony with our esteemed colleagues, The Rhythm Standards, Fred Murray and Daryl VanDruff (aka FM & DVD). We have some seriously rocking (yet strangely peaceful) tracks in the can—looking forward to sharing, soon."
If you ask me, SLO Town can't have too many live music venues, so I'm happy to announce the quiet experiment Luna Red has been engaged in has become a regular thing with live music every Thursday night from 9 to 11 p.m. On Thursday, May 2, The Mooks play; and next Thursday, May 9, you can hear The Tipsy Gypsies. Not only that, but all day on Thursdays there are drink specials ($5 well cocktails, two-for-one beers, and a $5 food menu).
Brick House Goods is getting into the music business … sort of. "I'm showcasing National Resophonic Guitars at the store and throwing an opening party on Friday, May 3, during Art After Dark," said Carla Wingett, the proprietor. "These guitars are so incredible, and they're made in SLO. Dorian Michael will be playing the instruments here, and we'll be doing a beer tasting as well. Should be fun!" The event runs from 6 to 9 p.m. at 1119 Chorro St. in downtown SLO.
The New West Guitar Group plays an intimate concert on Friday, May 3, at Painted Sky starting at 8 p.m. Guitarists John Storie and Perry Smith established New West when they were both students at the University of Southern California, and they collaborated with USC to become the first group to receive the coveted Thornton Protégé Grant. The Los Angeles Sister Cities Committee honored the group as musical ambassadors of L.A., sending them to play the 2005 World Exposition in Nagoya, Japan, and the 2007 German-American Volksfest in Berlin, Germany. Their fourth album, Round Trip Ticket, was released for Summit Records in 2011. Tickets cost $17 and are available at Cambria Music Box Shoppe, Boo Boo Records, or by calling 927-8330.
Kevin Fisher will play at Vines on the Marycrest in Paso Robles on Saturday, May 4 (1 p.m.; all ages; free). Fisher is a multi-platinum-selling songwriter who's penned the following hits for the following bands: "Long Slow Beautiful Dance" recorded by Rascal Flatts, "To Be Happy" by Sara Evans, and "Another Love Song" for Uncle Kracker. Other singer-songwriters set to perform are Dulcie Taylor, Ryan Dishen, Santa Barbara's Kat Devlin, and Nashville's Ray Tarantino.
Tim Pecheco and Cindy Myers have teamed up to form Ragged Company, which you can check out live on air on Saturday, May 4, when they appear on Sonnie Brown's Song Town on KCBX 90.1 FM. The show, which plays a great selection of folk, Americana, and singer-songwriter stuff, almost always has a live performance. The program begins at 2 p.m., and Ragged Company is scheduled to play and be interviewed from 3:30 to 4. Then on Sunday, May 5, Tim and Cindy play Art in the Park at Dinosaur Caves Park from 11 a.m. to 1 p.m. "Cindy and I both play music for Hospice Partners," Tim said, "and we've recently been collaborating, singing a mix of folk, and rock tunes. We hope to see you there! Hey ... and it's FREE!"
Sixties rock and soul band Unfinished Business will be performing in concert on Saturday, May 4, at the Templeton Performing Arts Center at 7 p.m. (Tickets are $15 presale or $20 at the door). This is a great venue, one guitarist Ed Miller calls "a smaller version of the Cal Poly PAC. We're considering this concert to be a celebration of the music of the '60s, including encouraging people to dress in '60s-style attire and inviting people to dance on stage with the band. We'll be doing more of a concert-oriented show for this event, with songs by artists such as Led Zeppelin, Cream, Jimi Hendrix, Beatles, Beach Boys, Stones, Doors, Zombies, Creedence, Knickerbockers, Badfinger, Deep Purple, Procol Harum, Buffalo Springfield, Santana, Moody Blues, Mitch Ryder and the Detroit Wheels, James Brown, Eddie Floyd, Robert Parker, Sam and Dave, Isley Brothers, Grand Funk Railroad, Dick Dale and The Deltones, Young Rascals, Spencer Davis Group, and Free. Music and artists definitely worth celebrating!"
On Sunday, May 5, pianist Joe Bagg will be the next attraction at the Famous Jazz Artist Series at D'Anbino Tasting Room. The L.A. Times calls Bagg "one of the bright lights of West Coast jazz piano." He'll perform a solo piano recital augmented with guest appearances by the series co-producers Charlie and Sandi Shoemake (vibraphone and vocals). There's a 4 p.m. show and a 7:15, each for $15—or see both for $20. Call 927-0567 for reservations.
"Don't you just love it when the universe conspires to make things all right?" asked James Scoolis. "This Sunday, May 5, is Cinco de Mayo, and it is also Burning James Funk'n'Blues jam at the Shell Cafe in Pismo Beach. Have you ever wanted to jam with the Funky Flames? Here is one of your greatest opportunities! Start time is 4:30 p.m. Fan the Flames!"
Ed Ghost Tucker—a San Diego quintet that plays indie, folk, jazz, and rock—performs at Frog and Peach on Sunday, May 5 (early evening), and Monday, May 6, at Linnaea's Café (for waffle night). They blend three-part vocal harmonies over richly layered instrumentation and eclectic time signatures. The band features Brian Disney, Ryan Miller (not of New Times fame), Rutger Rosenborg, and Cameron and Michaela Wilson.
The Lovebirds play Bon Temps Creole Café on Monday, May 6 (6:30 p.m.; all ages; free). The pop duo featuring San Diego songwriters Lindsay White and Veronica May—whose bio charmingly claims, "One has perfect pitch. One has perfect dimples"— might remind listeners of the Indigo Girls. They're touring in support of their sophomore album and a one, and a two. "Caution," their bio continues, "a live performance by The Lovebirds is a tornado of sights and sounds that may include short skirts, high heels, bowties, mustaches, percussive guitar, rock ukulele, glockenspiel, melodica, kazoos, stand-up drum kits, and harmonies that won't quit." Sierra Reeves and her
mom Susan Marie Reeves will also perform. ∆
Keep up with Glen Starkey via twitter at twitter.com/glenstarkey, friend him at facebook.com/glenstarkey or myspace.com/glenstarkey, or contact him at gstarkey@newtimesslo.com.