I've never been to a destination wedding before, so when my friends Rubey and Gabe announce—after dating for, like, seven years—that they are getting married in Playa del Carmen, Mexico, I'm the first to sign on board. My fiancée Anna and I are set to fly out at the end of October, but then an uninvited guest threatens to arrive at the same time (You suck, Hurricane Rina!), so the wedding is rescheduled for Dec. 2.
Well, the new date arrives and off we go. I know this is going to be an awesome trip when I spot Booger (Curtis Armstrong) from Revenge of the Nerds in the LAX terminal, and then I walk onto our plane and there he is in First Class.
"I love your movies, man," I gush.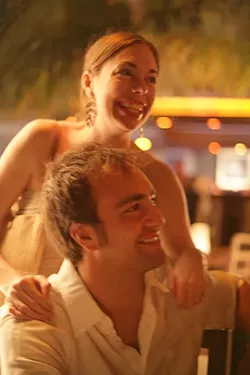 PHOTO BY GLEN STARKEY
LOVE GLOW : Rubey and Gabe share a laugh with friends at their rehearsal dinner in Playa del Carmen, Mexico.
PHOTO BY GLEN STARKEY
THE BIG KISS : After a paperwork-filled Mexican wedding ceremony, the newlyweds lay a big smacker on one another.
"Oh, thank you," he says, smiling broadly (sadly, no complimentary burp or nose pick).
We connect to our Mexico flight, land in the wet heat of Cancun, eventually find our driver Aldo (yes, we have a driver holding a placard with our names on it!), and we're off to our luxury two-bedroom Porto Playa condo—all modern furniture and Mexican tile that opens onto a lush courtyard filled with tropical plants shrouding hot tubs, pools, and waterfalls. I'm not worthy!
Our first wedding activity is at a beach bar for what is purportedly a rehearsal dinner that is essentially a food-and drink-filled night of debauchery. Anna and I eventually slip away and wind up in our courtyard hot tub. Not a bad way to kick things off.
Then it's Friday, and the wedding is on the beach. Dramatic clouds gather above the teal-colored Caribbean waters as curious tourists walk by and fishing boats bob in the background.
Interesting thing about Mexican weddings—there's a ton of mid-ceremony paperwork … really! Right in the middle of the ceremony. Lots of signatures, thumbprints (seriously!), initial here, sign there, bring up a string of witnesses to sign. I'm sitting next to Gabe's brother-in-law Ross, a lawyer, and he seems to get a little teary during this part.
PHOTO BY GLEN STARKEY
WORK WITH ME, GUAPOS! : After their original wedding photographer canceled, Rubey and Gabe found Christian (bottom right), who calls everyone "guapos," or "handsome people," and marches them down the beach for a photo shoot.
PHOTO BY GLEN STARKEY
"THE BRIDE FEEDS THE GROOM" : To the tune of "The Farmer in the Dell," Gabe and Rubey feed each other this gorgeous wedding cake. Farmer in the Dell? WTF?
Long story short, Rubey and Gabe are married, or as Rubey says later, "We're either married or we bought a condo!"
Several funny toasts later (some actually hilarious, some sort of hilariously pathetic), and we're eating dinner, then dancing, then … well, let me illustrate with one small vignette: Anna and I are sitting with a couple drinks next to the dance floor on a couch by a coffee table set-up on the white sand beach, when a guest nicknamed Crunk stumbles off the dance floor, picks my Coronita off the table, downs it, throws the empty onto the night-shrouded beach, and stumbles back onto the dance floor. And it's still early!
After a while, Anna and I drift down the beach, but later we hear the hotel kicked the wedding reception out at midnight, and they just club hopped until 4 a.m.
The next night—after a bunch of tequila shots with the remaining gang in the hot tub—we go to a traditional Mayan restaurant called Xuläm, which apparently translates as "Stuff I Normally Wouldn't Eat." We arrive late, have trouble finding it, are sent down a dark dirt road where I'm sure I'll lose my kidneys, but eventually discover it looking like a set from an Indiana Jones movie. Gabe's brother Bear (not his real name!) orders a bag of ram's meat (yes, a bag); some other friends have a dish with worms, crickets, and ant eggs; and Anna has a whole fish that's split long-ways down the middle and then laid out like a mirror image. She keeps pretending to make its two mouths talk while she eats it. I have some kind of assorted meat bowl. Gotta say, all this stuff is delicious! Tequila talking? You decide!
PHOTO BY GLEN STARKEY
SUNSET IN PARADISE: El Sol falls on the wedding reception, but even after the wedding party is kicked out of the hotel, they club hop well into the morning.
But all good things have to end, and the next day we pack up and our new driver Sergio chauffeurs us back to Cancun for our long trip home (Layover in North Carolina? Who comes up with these flight plans?).
Back in LAX, we're heading out to catch the Super Shuttle for a ride back to our car, and I see the Fonz (Henry Winkler) on the phone. Then out by the van waiting area, he rushes up and anxiously asks the attendant, "Which way to the taxis?"
"I love your movies, man," I gush.
Smiling broadly, he play shoots me with his finger and thumb and says, "Thank you!"
No thumbs up with a Fonzy "Heeey," but pretty good!

Glen Starkey takes a beating and keeps on bleating. Keep up with him via twitter at twitter.com/glenstarkey, friend him at Myspace.com/glenstarkey, or contact him at gstarkey@newtimesslo.com.