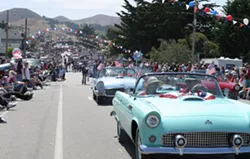 PHOTO BY GLEN STARKEY
WHAT YEAR IS IT? : The Cayucos 4th of July Parade is like stepping back in time.
PHOTO BY GLEN STARKEY
YOUNG AMERICANS : A young couple passes a huge flag on their way to the parade.
No place puts on a 4th of July parade like Cayucos. It's the most awesome, hokey, corny, wonderful parade ever! It's a page ripped from the Norman Rockwell playbook, where cutesy charm and endearing nostalgia collide.
The event reminds me of my Wisconsin childhood and the neighborhood parade we had in Madison. We kids would decorate our bikes, trikes, and wagons with crepe paper, bedecking our spokes with playing cards, dragging old soup cans attached with twine, and we'd circle the block, ending in the pocket park in the center of our neighborhood for a good, old fashion barbecue. As dusk fell, out came the sparklers.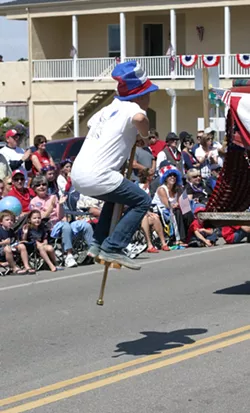 PHOTO BY GLEN STARKEY
SPPP-BOING! : A kid on a pogo stick wowed the crowd with his antics.
PHOTO BY GLEN STARKEY
WONDER YEARS : A cowboy-hatted tyke gazes in amazement as the parade rolls past.
That same naïveté is at work here in Cayucos, where half a dozen kids on Razor scooters sport red, white, and blue-dyed Mohawks; where a cadre of grass skirt-clad, boogie board-carrying ladies offer a synchronized dance routine to live music played off the back of a pickup truck; where a menagerie of circus freaks skip down the boulevard; where a guy on a tall bike circles around floats; where unicyclists wave flags and do tricks for the crowd; where a kid with a pogo stick can steal the show with his antics.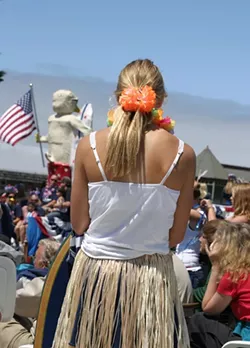 PHOTO BY GLEN STARKEY
CALIFORNIA GIRL : A hula girl watches the rest of the parade after her group finishes their hula duties.
A parade like this is almost enough to make you forget the recession, the oil leak, the two wars, the growing legions of homeless. Almost.
Glen Starkey takes a beating and keeps on bleating. Keep up with him via twitter at twitter.com/glenstarkey, friend him at Myspace.com/glenstarkey, or contact him at gstarkey@newtimesslo.com.