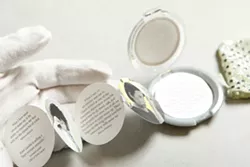 PHOTO BY STEVE E. MILLER
LOOKING AT MAKEUP : Designed by Marcia Weisbrot, 2002. Courtesy of the Special Collections Department.

BOOKISH SLIGHTLY: "Slightly Bookish" is on display at Cal Poly's Robert E. Kennedy Library (the learning commons on the second floor and room 409) through June 5. There will be an opening reception April 11 from 3 to 5 p.m. at the library's second floor café lounge, featuring renowned book artist Julie Chen and a morning workshop at 10 a.m. (dprochas@cuesta.edu or 546-3100 ext. 2756 to reserve a space). An altered book journal-making workshop will take place April 23 from 11 a.m. to 1 p.m. and May 17 from 1 to 3 p.m. For more information visit lib.calpoly.edu.
Just don't call them books. They're bookish. Slightly. For the most part. Except when they more closely resemble sculpture. Or the 
 contents of someone's underwear drawer.
Curatorial Assistant Catherine Trujillo isn't exactly certain what to call the central pieces of "Slightly Bookish," an exhibit organized and hosted by the Special Collections Department of the Kennedy Library at Cal Poly. The craftsmen and craftswomen behind the eye-popping works often refer to them as art books or book art, there being a very real distinction between the almost identical terms. But somehow any handle applied to the medium fails to capture its scope and imagination.

"It's hard to showcase something that it's hard to define," acknowledged Trujillo. "These exceed the vision of what a book is." Some have no text whatsoever, as in the case of a wallet filled with Morton's salt that mimics the sound of rain. Many expand and contract, accordion-style. Binding might consist of a make-up compact, apron, or vintage python skin. Each book is cradled in its own box, buffered, acid-free, and often custom-built. The department possesses more than 700 such books, an estimated 10 percent of which will be included in the exhibit.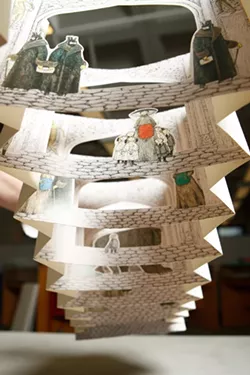 PHOTO BY STEVE E. MILLER
THE TUNNEL CALAMITY : Designed by Edward Gorey, 1984. Courtesy of the Special Collections Department.
"Trujillo admits that the Special Collections Department (room 409 of the library), where these nameless works of art are stored and the birthplace of the exhibit, is an intimidating place. Employees forbid food and pens, insist on gloves. All the more reason to pay homage to the irreplaceable treasures the university has been assembling there for more than half a century.
Because the art form has grown exponentially over the course of the past 20 to 30 years, it's impossible for the department to actively acquire every art book ever made. Most are made in limited editions not exceeding 60 to 100, and those privately made are frequently the only such book in existence. So, they limit the scope of their collection to works produced by California artists and presses. They have standing orders to purchase everything produced by particular artists and bi-annual meetings with book dealers who apprise them as to recent trends—"accordion folds are all the rage this year," etc. Student works and work from local community members will be on display too, many of the pieces remarkably personal, as in the case of the make-up compact that opens to read "my earliest memory of make-up is when my older sister first plucked my eyebrows."
They're meant to be smelled, touched, moved," explained Trujillo, reverentially, pointing out that a flat, two-dimensional book with flat, two-dimensional photographs doesn't promote the same degree of experimentation and understanding. "It's not the sort of thing you take with you on the subway. It's not like a Harlequin romance that you take and read in the tub."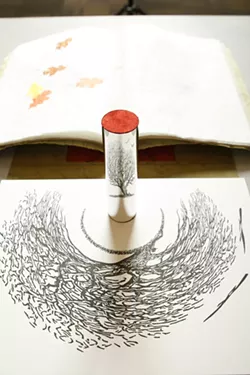 PHOTO BY STEVE E. MILLER
DIRECTION OF THE ROAD : Designed by Aaron Johnson, 2007. Courtesy of the Special Collections Department.
An English major's reproduction of Emily Dickinson's "Winter Light" letter pressed into beeswax, for example, demands greater perusal than a standard book of poetry. And a Turkey Press (based in Isla Vista) book that supposes what would happen if the rate of exchange was in dead rats rather than gold is bound as a solid bar of gold with a huge rat trap embedded in the front cover. "I love you. Here's five dead rats," reads one page of the literary masterpiece. Julie Chen, one of the foremost producers of book art and founder of Flying Fish Press in Berkeley, has constructed books that must be listened to while pieces of cardboard knock together to produce a clacking sound. Her A World Without End requires extensive assembly; a wood sliver of moon must be punctured with a metal rod. The textual sculpture is then unbound, like a many prismed star, and suspended beneath the moon. "If given the opportunity perhaps we would choose to live in the same world all over again," ponders a line on the star.
Chen will attend the exhibit's opening reception on April 11, and will lead an art book workshop in the morning. The artist first discovered book art while attending graduate school in Mills College. While there, she learned to combine her sculpting and printmaking skills with letterpress printing and bookbinding. In 1987 she established Flying Fish Press, releasing one new book each year, usually in editions of 100. Each costs between $525 and $2,400.
As if zany and poetic sculptured books weren't enough, Trujillo expanded her collaboration to the farthest corners of the campus and county. Two local book artists responsible for the Peace Library, Melinda Forbes and Julie Frankel, are serving as local curators and book art ambassadors. Trujillo tapped students Kelly Kawamoto and Kristina Chung to curate student work—both love books, although one is not at all fond of reading. And Alix Guyot and Laura Sorvetti of the college's Shakespeare Press Museum are providing letterpress ephemera. As resource curator, Kathy Travis will discuss the necessary supplies and tools to allow those in attendance to begin their own project. Trujillo was sufficiently inspired to create her own book; proof positive, she insists, that anyone is up to the task.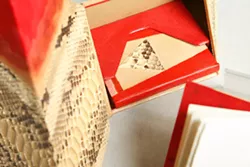 PHOTO BY STEVE E. MILLER
PYRAMIDS : An account of Herodotus designed by Susan Allix, 1995. Courtesy of the Special Collections Department.
For those philistines who have been heard to question who reads books anymore, Slightly Bookish is an assertive testament to the popularity and nobility of literature as art. Collaborations flourish, between poets, photographers, bookbinders, and fiends of the letterpress. And there's no denying that re-appropriating discarded materials into a work of art is in perfect keeping with ideals of sustainability. Art books have been exhibited at The Getty. They're finding their way into galleries, but remain shy of being considered mainstream.
As an instructional aspect of the exhibit, there will be a display featuring the anatomy of an art book—cover, endpaper, fore-edge, headband, score, signature, and spine being the unlikely appendages. A colophon, for example, is the final page of a letterpress book detailing the font, type of paper, collaborators, and other elements that contributed to the book's production.
In the era of Kindle, where hundreds of books are just a single screen away and the pleasure of interacting with a book tactically has become archaic, art books are an aesthetic revolution. In this case, it may be safe to judge a book by its cover.
Arts Editor Ashley Schwellenbach is more than slightly bookish. Send library cards to aschwellenbach@newtimesslo.com.