You might want to just take my word on this: There has been a reported surge in libido levels lately around Atascadero State Hospital's Sexually Violent Predator (SVP) section.
Â
That's perhaps not too surprising in an environment where several hundred of the state's more notorious sex criminals are housed and (in some cases) treated. But the situation that I'm talking about is odd and getting odder, if you don't mind a glorious understatement.Â
Â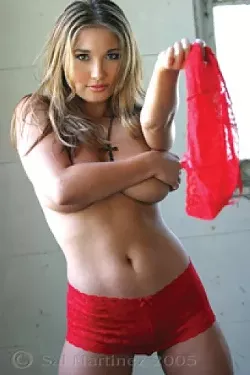 MODEL EMPLOYEE : Melissa Roper in quiet repose
#Â Melissa Roper is a mental health professional at ASH, whose patients have violent sexual histories warranting extra attention from the California justice system and longer incarcerations. As Unit 32 supervisor, Roper is a senior member of the ASH group that determines the regimen of treatment, therapy and psychological counseling offered to individual offenders. This is the Interdisciplinary Treatment Team (ITT), comprised of a psychiatrist, psychologist, social worker, unit supervisor and recreational therapist.
Â
Roper's been on the job since 2003. During that same time period and in other, more esoteric, circles, Roper has been known as "Missy,� a petite and scantily clad model on the Internet. Her pictures—until just recently --graced a website called ModelMayhem.com. Those pictures disappeared from the site late last month.
Â
But in recent days, color copies of the photographs have been widely circulated among staff and patients. This column obtained copies of the photos through surreptitious means, which I cannot reveal, even under threat of retaliation, prosecution and eventual incarceration.
Â
One photo that I now hold in my trembling hand shows Roper wearing red panties and holding her top in one hand while her arm covers her bare breasts. In another photo, Roper is sitting, skirt pulled up, on a bathroom commode and smiling radiantly at the camera. Titillating, perhaps, but not obscene.
Â
Ah, but that would seem a moral judgment on my part, wouldn't it? So in order to neutralize my borderline libertine nature, and to mitigate any possible conflict of interest on my part in this matter, I turned to a higher authority for guidance. That's how I discovered that none of this seems to bother the high-ups at ASH, either.
Â
Hospital spokeswoman Barrie Hafler contends the web postings "present no legal or personnel violation.� Says Hafler, "There is nothing we can do. This is a personal issue as long as she conducts herself appropriately at work, which she does.� Additionally, Hafler adds, "… a lot of these men have real issues with women.�
Â
A-hah! It's the messenger again, not the message.
Â
I was going to debrief a bunch of experts on appropriate workplace and professional behavior, but all of a sudden it seemed like a huge waste of time, for me and for the people I would contact. This is a really easy call, even for a guy like me who generally has no principles.
Â
However, this isn't about me. I'm thinking about the patients. This whole event has some sexually violent predators greatly agitated, and not in the manner you might be mulling.
 Â
One of the patients caught up in the Roper furor is Jeff Gambord. You might remember Gambord for his efforts to have surgical castration in order to speed his eventual release from the Atascadero facility. which we reported on in New Times (April 25, 2002) in a piece cleverly titled, "Take Mine, Please!�
Â
 "If they catch us looking at a woman in a sexual way, they write us up,â€? says Gambord of hospital officials. "So the employees are under orders to not do anything that will cause patients to think about them in a sexual way.â€?Â
Â
(Before you ask: We columnists have lots of sources others might consider unsavory. It's just part of the job, you understand, and it's a hard job.)
 Â
Gambord says he recently got a "green sheet� for "stalking� in the Roper case. That was courtesy of his social worker, who thought, according to Gambord, "I looked at [Roper] wrong.�
 Â
ASH police spent two hours going through Gambord's quarters looking for Roper's pix, incorrectly believing Gambord already had acquired the pictures to facilitate his solitary musings.
 Â
Gambord thought the premise for the search was odd, because patients in ASH are allowed to possess X-rated pornography, as long it doesn't involve children and other extreme sexual themes such as bondage, S&M, and bestiality.
  Â
"We can have it, by law. But they [hospital staff] take note of who has it, and that goes into the record,� says Gambord.
Â
Now, Gambord says Roper's ex-boyfriend, a guard at the hospital, has been assigned to watch him in his room: "So I get 'the stare' from him hour after hour.�
Â
Fair's fair, Jeff. You've made a few people nervous in your day, I expect.
Â
Anyway, long story short: Gambord, I can state unequivocally, was not my source for the pictures. He did get copies, but those eventually got pinched by ASH cops before he could mass-mail them to the universe.
Â
And unit supervisor Roper? She won't comment on her pictures. And I really, really want to hear those comments. ∆
Daniel Blackburn can be reached at djblackburn@charter.net