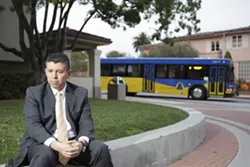 FILE PHOTO BY STEVE E. MILLER
OUTGOING PERSONALITY? : If Sen. Abel Maldonado is confirmed as the state's lieutenant governor, someone will have to fill his 15th District Senate seat.
The Central Coast is on track to have one of its own in statewide office. On Nov. 23, Gov. Arnold Schwarzenegger named State Senator and former Santa Maria mayor Abel Maldonado as lieutenant governor. As of press time, his confirmation by the Legislature was still pending.
"I'm honored to take on the position of lieutenant governor, and I look forward to working with the governor to tackle important issues facing California and to ensure all Californians have the opportunity to realize their own American Dream," Maldonado said in a press release.
Later, his staff referred all questions regarding his appointment to the governor's office.
"Sen. Maldonado has proven he has the strength and courage it takes to reach across the partisan divide and put the interests of Californians first," Schwarzenegger said in the same release, "and he is absolutely the most qualified person to take on the role of lieutenant governor."
Maldonado—whose district includes the northern portion of Santa Barbara County, San Luis Obispo, Monterey, and Santa Cruz counties, and the southeast portion of Santa Clara County—must be confirmed within 90 days. That's no small feat with a Democratic majority in the Senate.
Then there's the chance that Maldonado's confirmation process could be further complicated by senators—Democrat and Republican—who've declared their candidacy for lieutenant governor and won't wish to run against an incumbent.
And assuming Maldonado is confirmed, it has yet to be determined if his seat would be filled via special election or would stay vacant until regular elections in November 2010.
Were the election to be held, it promises to be hotly contested. If a Democrat wins the 15th District seat, it would move that party within one seat of a two-thirds majority in the Senate.
When asked about the senator's appointment, given conservative anger at Maldonado's past record of voting across party lines, Chairman of the Republican Party of San Luis Obispo County Tom Bordonaro said that while he was sure there are people who disagree with Maldonado's voting record, his appointment was "nothing but positive."
"To have someone home grown in statewide office, I know he'll remember us when he's confirmed," Bordonaro said.
Bordonaro agreed that Assemblyman Sam Blakeslee is the current Republican front-runner for Maldonado's 15th District Senate seat. But the chairman noted that there may be a new challenger on the field.
According to Bordonaro, California Real Estate Commissioner Jeff Davi, a resident of Monterey County, hasn't officially announced, but told "500 of his closest friends" that he has plans to run for the 15th District seat.
As of press time, Davi could not be reached for comment.
SLO and Monterey counties' Democratic parties hadn't returned calls about potential Democratic contenders for the 15th District seat as of press time.
While Maldonado's appointment would surely make for interesting elections next year, COLAB Director Andy Caldwell said it's one of the lieutenant governor's duties—as a member of the California State Lands Commission—that stands to have the greatest impact for residents on the Central Coast.
The three-person panel, of which the lieutenant governor is a member, voted 2-1 in February to deny drilling in the Tranquillion Ridge Oil and Gas Project in the waters off Vandenberg Air Force Base.
The 2-1 vote was made along party lines, with the commission's two Democrats voting against it. Caldwell thinks that by changing the makeup of the commission to a Republican majority, there's a chance the PXP deal may be revisited. That deal, Caldwell noted, would be helpful in the midst of California's current budget shortfall.
"Literally the same week that the state controller was sending out IOUs, he voted no [along with Lt. Gov. Garamendi] to the PXP project, worth a billion dollars in royalties," Caldwell said.
All this, of course, relies on Maldonado being confirmed. San Luis Obispo Republican Party's Bordonaro is confident, however, of success.
"It think it will be difficult," he said, "but Abel's never shied away from a difficult race."
Nicholas Walter is a staff writer at New Times sister paper, the Santa Maria Sun. Contact him at nwalter@santamariasun.com.