The cold, moist sensation of a plump raindrop unexpectedly hitting your nose. The rough, gritty give of sand beneath your toes. Texture and touch are inexplicably linked, but you can mimic the look of it.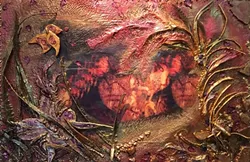 PHOTO COURTESY OF PASO ROBLES ART ASSOCIATION
THINGS THAT BIND: Deprise Brescia created the mixed media encaustic piece 'Deep Connections' while thinking about the love that she has for her niece.
In the art exhibit Texture, put on by the Paso Robles Art Association and currently on display at Studios on the Park in Paso Robles, local artists take to the media of paint, photography, and glass sculpture to give their work a literal bump.
Deprise Brescia, vice president of the association and a featured artist in the show, said the emphasis on texture gives the art a little something extra.
"Most of the work I do, I love physical texture pieces that aren't flat," Brescia said. "Pieces that have depth, but also depth in meaning."
Two of Brescia's works are featured in the show. Deep Connections is an encaustic mixed media piece that was inspired by the love she has for her niece. Photos of herself and her niece are featured in many layers along with various stones.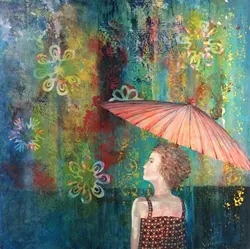 PHOTO COURTESY OF PASO ROBLES ART ASSOCIATION
IS THIS REAL LIFE?: 'Dreamy Showers' by San Luis Obispo artist Valerie Marlow uses acrylic paints, rubber stamping, and scraping.
"It's the deep connections you have with people that's psychic; it's beyond physical," Brescia said.
An acrylic mixed media piece, Dreamy Showers by San Luis Obispo artist Valerie Marlow, is a brightly colored and cheerful depiction of a woman with a pink umbrella gazing at the onslaught of the psychedelic rain of textured neon flowers.
"Color or a moment in time inspires me," Marlow said. "You're looking thoughtfully at emotions of past experiences of memories. All the textures are things that have passed by or that I have remembered."
A photograph, Texture of Wisdom, by local artist Joseph Amnazio is obviously two dimensional, but the delicate folds of skin on the elegant lady in the photo, make it pop, almost as if you could touch her face.

LOOK, BUT DON'T TOUCH: The Texture exhibit will be on display at Studios on the Park in Paso Robles until Feb. 28. All the pieces are for sale and range from $100 to $4,000. The gallery is open Thursdays and Sundays from noon to 6 p.m. and on Fridays and Saturdays from noon to 9 p.m. For more information, visit

studiosonthepark.org

.
Whether or not art is your thing, Brescia insisted that the show has something for everyone.
"There's a lot of things that are very interesting," Brescia said. "The art blesses people and feeds your spirit."
Ryah Cooley's current favorite texture is puppy ears at rcooley@newtimesslo.com.