The names alone tell the story:
San Luis Obispo's Save Our Downtown. Concerned Citizens of
Photo by: Steve E. Miller
PRACTICE SAFE DEVELOPMENT : Dr. Joseph Abrahams, a 17-year SLO resident and member of Save Our Downtown, said the height of new buildings could destroy San Luis Obispo's charisma.
# Cayucos. Atascadero Homeowners Association. San Miguel Area Residents Trust. Toro Creek Opposition Group. No on Measure J.
These days, it seems that nearly every proposed Central Coast development leads to the forming of a new group of activists organized specifically to oppose it.
Button-wearing members of these groups pile into city council meetings, acquire thousands of signatures for petitions, and voice their animated opinions to local media outlets as they struggle to keep SLO County development the way they want it: very limited.
Some say these activists are helping preserve the county's luscious landscape, while others say they're to blame for high housing prices.
But the real question is this: When it only takes a politically friendly city council or County Board of Supervisors to approve them, do these groups ultimately have any genuine sway on the developments they're fighting against?

Out of scale
Cyndi Malmen, owner of Morro Bay Coffee Shop, first heard of the Cayucos Del Mar development when proposed developer Franco DeCicco and his architect had a meeting at her establishment. DeCicco asked her husband what he thought of the plans.
"At first I thought, 'Oh my, they are going to build some nice two-story buildings,'" Malmen said. "Then I saw the project and I thought 'No way.'"
Malmen explained that the proposed development upset her because she felt the Mediterranean-style project didn't mesh well with the existing neighborhood's architectural style, which is mainly Victorian and Western.
"When you have a little jewel like Cayucos, you have to protect it," Malmen said. "It doesn't mean you close the doors, but it does mean you think about the existing neighborhood and make it fit. If not, that's where the uncontrollable expansion of a small town begins."
Shortly after learning about the project, Malmen and a group of fellow residents assembled an organization known as the Concerned Citizens of Cayucos. The group's goal is to either halt or alter the construction of the Cayucos Del Mar development a proposed four-story, mixed-use project that would include residential condominiums, commercial space, a convenience store, a bistro, and underground parking at the corner of Ocean Boulevard and Old Creek Road.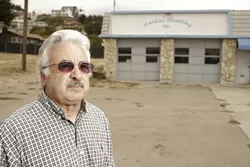 Photo by: Steve E. Miller
TURNING DREAMS INTO REALITY : Franco DeCicco, the developer of the proposed Cayucos Del Mar project, said the project is part of his American dream.
# Most members of the group say they understand that the developer has the right to build on his land but they wish the project could be more in scale with and more in tune with surrounding buildings.
Malmen said that the group has collected more than 1,200 signatures from locals who oppose the development.
"This is America it's supposed to be government by and for the people. We are the people, we're speaking out, and there's a lot of us," she said.
DeCicco, who moved to the United States from Italy following World War II, also has patriotic views only his are a little different than Malmen's.
He first proposed the project nearly nine years ago. He said he's pursuing the "American dream" and an opportunity to build a place where his family could both live and work.
DeCicco has said that even though the activists have slowed the development process down immensely, he intends to work with them.
"It's difficult to make everyone happy, but we'd like to create a friendly environment. It's important to work with the community to be successful in any business," DeCicco said. "Activists are my heroes. Mother Teresa, Martin Luther King, Nelson Mandela, Mahatma Gandhi those are people I admire. But I have a problem with the negative activists people that hurt the American dream."
The group battling DeCicco's development said they couldn't find any legal grounds to fight it, but rather they're relying on their comments, petitions, and attendance at local government meetings to persuade those in power to change the building's plans.
Already, they've made some impact, as DeCicco said he's agreed to scale his project down by about 30 percent.
Malmen's not satisfied. She believes that DeCicco's compromise wasn't a gesture intended to please the community, but more of a tactic to avoid future problems.
She said the group would continue fighting the development.
"Why should the people behind him be punished by putting a 30-foot wall between them and the ocean?" she asked.

'A conscience of the town'
In San Luis Obispo, a local citizens' action group that members call Save Our Downtown has formed to fight what founders view as a crush of proposed projects that could do everything from eliminating public parking spots to destroying Bubble Gum Alley. The group currently boasts more than 500 signatures in opposition to the large-scale projects that are in the process of getting permitted for the downtown section of San Luis Obispo.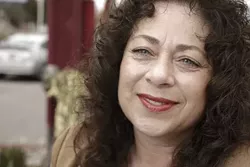 Photo by: Steve E. Miller
EARLY MORNING BUZZ : Cyndi Malmen, owner of the Morro Bay Coffee Shop and a member of the Concerned Citizens of Cayucos, said she first heard of the Cayucos Del Mar development when the proposed developer and his architect had a meeting at her coffee shop and asked her husband what he thought of the plans.
# "There are currently 10 to 12 projects up for building permits, two of which are landmark projects: Chinatown and Garden Street Terraces," said Joseph Abrahams, a Save Our Downtown member. "They stand to change the character of downtown and livability of San Luis Obispo."
Abrahams, a 17-year SLO resident, said he realizes that between escalating property values and earthquake retrofit requirements, an architectural facelift to downtown SLO is inevitable. And he said he's at peace with the idea of revamping the city's core he just doesn't want the new buildings to destroy the city's charisma.
"We don't need to be a sleepy, laid-back SLO those days are over," Abrahams said. "However, we may lose the charm of that section of SLO and the county in the process if we don't put out information on the effect of the bulk, height, and the dominance of the buildings that are proposed."
In an effort to bring awareness to their concerns, numerous Save Our Downtown activists frequently attend and express their frustrations at local planning and building hearings. According to Abrahams, the outspoken group has made the planning commission "pick up their ears and become responsive" to the their fears concerning downtown SLO losing its unique ambience.
"We've induced them to become very serious about the issues we've raised," Abrahams said. "What we have done is become a presence as a conscience of the town. We are responsible for how it grows and how it appears."
One of the developers who tops Save Our Downtown's most-wanted list is Hamish Marshall. Call him SLO County's version of Donald Trump only with an Australian accent and a better haircut.
Marshall, president of WestPac Development, has been involved in construction and development on the Central Coast for more than 15 years and said that he's seen activists oppose the building of every project his company has worked on in this county.
He said objectors have always played a role in a project's approval process and often create challenges and hurdles for his company.
Marshall speculates that SLO County has and will always be a relatively slow-growth area because there's more attention to detail to projects in smaller cities. Though such attention usually means more time and more money are required for his projects to reach completion, Marshall feels that the process is beneficial to the community.
"Everyone's input is generally helpful for the short-term and long-term gain of everyone in the city. It's beneficial to retain the wonderful things that we all cherish about SLO," Marshall said. "It really is a matter of having the ability and patience to work through the mitigations to make each project copacetic to the public and to ourselves to have a quality project at the end of the day."

'It's a lot of work'
If one community can be said to be at the heart of modern development/activist struggles, it's Atascadero.
With a history of openness to development, but a new slow-growth majority on the City Council elected amid a debate over a proposed Super Wal-Mart the berg of about 27,000 is one of the hottest sites for development conflicts.
Cindy Sasur, who's been active in Oppose Wal-Mart and the Atascadero Homeowners Association, said she wasn't politically active until November of 2003, when workers started cutting down her trees and grading her property to clear way for a 20-foot, fully paved fire road.
She recalls crawling into the bucket of a bulldozer and crying, pleading for them to stop. When her tearful attempt failed, she made a promise to herself to fight all development that doesn't support Atascadero.
"Obviously we don't support a big-box idea like a Wal-Mart," she said. "It will do a great deal of damage to all local business owners. We've seen this happen in Paso Robles, and I've seen business owners shut down within three years of Wal-Mart's opening."
But it's not just those opposed to new development who are becoming active.
Atascadero real estate agent Jolene Horn is far from a traditional activist. Though she says she was a hippie in the 1970s, she "got married, had children, and kind of got mainstream again."
That all changed when she heard about Atascadero's plans to increase the no-build zones around area creeks and rivers something she was told would have impacted her plans to develop a creekside parcel.
"It's not flattering to say, but I was pretty apathetic until it hit home, because it was going to affect our financial investment in a piece of property," she said. "And then I had to pay attention."
Not only did she pay attention, Horn became organized becoming one of the leaders of a group that launched a petition drive to put the matter before voters. Instead, the council opted last month to simply scrap the change. She'd won.
"God, it's a lot of work," she said of her stint in political activism.
"I didn't really anticipate a political activism career. But at the same time, it's important that the people in power know that we're paying attention, that the public is paying attention, and they can't just slide things in," she said.

Get SMART
After becoming aware of a development project that would change 550 acres of agricultural land into a suburban residential development, numerous San Miguel residents and property owners formed the San Miguel Area Residents Trust. They hope to stop the construction.
"We feel that residential growth should be within the urban boundary lines before developers consider putting housing on agricultural land," said SMART chairman Norman Grencius. "It's virtually putting another San Miguel on the other side of the freeway of San Miguel. We're trying to meet with supervisors, organizing more residents to be aware, but most people are ignorant of what's going on and of the consequences. We're fighting it. We are winning little battles, but we have not won the war."
In addition to commercial projects, the development would contain 345 single-family homes and 44 multi-family units on lot sizes from 6,000 square feet to 20 acres. The development would include an 11-acre community park, smaller pocket parks, and a six-mile trail system. One-third of the 550 acres would be protected open space.
Brent Grizzle, partner and project applicant for the San Miguel Ranch, seems to share other developers' frustrations concerning the slow building process within the county. He said that it's been almost four years since he proposed the idea of the San Miguel Ranch project and estimates it will take another two to three years before there's even a remote possibility of getting the construction started.
Grizzle said that his project isn't being affected by true activist groups, but rather by people who simply don't want any alterations to the county landscape. He believes there's a faction in SLO County that opposes all growth and change, which, according to him, could be harmful to those who want to someday call the county their home.
Grizzle assumes that local planning departments aren't used to processing residential subdivisions on a scale that the rest of the state encounters, and he considers that point to be a major factor in why housing prices are so high on the Central Coast.
"I think homeowners in SLO County think they got theirs, and let's close the gate and keep people from moving in," he said. "People need to be careful about the no-growth policies because they are pricing the working-class population out of the housing market. Every region in the state has a responsibility to accept a fair share of the growth that's coming in. SLO should accept a moderate amount of growth."
Yet Grizzle said that talks with project opponents have been helpful.
"I think the dialogue has been healthy so far. I think their discussions that facilitate the environmental impact reports are making the process better because the issues that need to be studied are discussed more frequently," Grizzle said. "In the end, our project will benefit because of the discussions."
Overall, Grizzle said development in SLO County is becoming increasingly difficult because the parcels of land that are available are more challenging to develop than in the past, and the permit process is becoming more onerous.


Speak up early
John Euphrat, assistant director for county planning, agrees with Grizzle's theory.
"It's harder to find sites with all the resources available, and road access," he said. "Many of the more developable sites have already been developed."
Euphrat said activists play an important role in county development.
"They're kind of like a watchdog," Euphrat said. "We've always had an active and healthy environmental community, and most developers pay attention to the activists particularly when they get involved early in the process."
Euphrat said activists should voice their concerns in the early stages of development because that's when it's most valuable
"If it comes up early it can usually be looked at," he said. "We try to provide them as much information as possible, but if it comes up late it's harder for decision-makers."
Staff Writer Kai Beech can be reached at kbeech@newtimesslo.com.