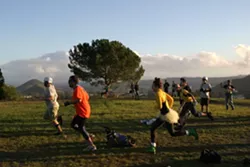 I
t's mid afternoon on Sunday, Dec. 13, and I'm sitting outside at McCarthy's, working my way through a shot and a beer—scandalous, I know, but I'm on staycation and tomorrow's Monday to you but just another day in paradise to me.
In walks my friend Tim, who with pint in hand tells me about an impending illegal, unsanctioned, impromptu flat-track amateur bike race happening at an undisclosed location in the next 90 minutes. I've got nowhere to go and all day to get there, so I head home, grab my camera, shove a couple brews in my pockets, call my dog Spicoli, his dog Mr. Hand, and a hot chick who lives in my house, and we're off.
It's a crystalline fall day, hazy blue sky filled with scattered clouds—reminders of a recent rainstorm. We climb, arrive upon a plateau, and we're surrounded by bike aficionados in outfits, yes, outfits: a downhill ski helmet and goggles, tutus, little pink wings, a faux grass hula skirt, knee socks, day-glow '80s aerobic togs, two—count 'em!—two teal jumpsuits, and one guy with black bike shorts over which he wears a camouflage, one-piece girl's bathing suit replete with plunging neckline.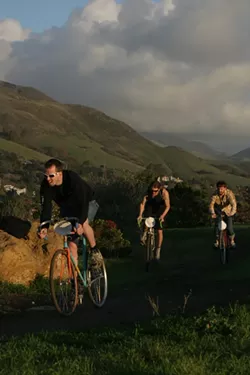 The sun sinks, casting long shadows. The mud-slick track circumnavigates the hilltop, nearby ridgeline racing along one side, all of San Luis stretching out gauzily on the other, two Sisters marching north toward the sea.
I feel raw energy, giddy excitement. People chatter, swilling cheap canned beer or coffee drinks from a table set up with two insulated urns and a bottle of off-brand liqueur.
"Five minutes to race time," someone bellows, as spectators nervously eye the seven bikes (one's a tandem!) laying midfield, the rutted muddy track, the riders psyching-up their fellow teammates, taunting opponents.
Then they're galloping o'er field toward the bikes, leaping on and racing 'round the track. Mud flies, bikes slide, spectators gasp! There's a shortcut but taking it means dismounting and consuming one beer before resuming the race. It's the best/worst shortcut ever.
'Round and 'round they go, 14 laps total. Most spectators line-up near the bike handoff where teammates try to switch without flopping face first into mud. Moderate success, but enough muck-filled face-plants to keep the bloodthirsty throng cheering.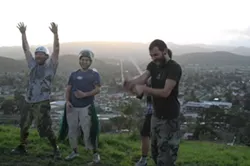 I am bearing witness to the thrill-a-minute, live-on-the-razor's-edge, laugh-in-the-face-of-death, crazy-ass world of beer-fueled underground bike racing, and it's beautiful, baby.
Then before I know it, it's over: A winning team crosses the finish line. Victory laps ensue, followed by an award ceremony. Discharged champagne makes a wet plume across the dimming sky, then a short-lived mud clod fight. Now the sun sets on a group of SLOhemians who found a way to make their own fun this chilly, December afternoon.
Glen Starkey takes a beating and keeps on bleating. Contact him at gstarkey@newtimesslo.com.