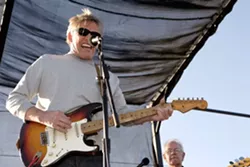 PHOTOS BY STEVE E. MILLER
WILD MAN! : Gary Busey delivers a rip-roaring set of oldies at "Doo Wop Saturday" on Nov. 21—part of the Paso Digital Film Festival.
S
tephanie Sampson is carrying Gary Busey's baby. You heard it here first! Take that, Access Hollywood
! In your face, People
Magazine
!
I'm sitting in one of the train cars that doubles as the Green Room at Sylvester Winery. It's parked on a grassy knoll overlooking the grassbowl below, where Chris Montez ("Let's Dance," 1962) has taken the stage after Busey's set. Our interview is a disaster.
Wait a minute. I'm getting way ahead of myself. Let me go back an hour.
New Times photographer Steve Miller and I arrive at the Paso Digital Film Festival's "Doo Wop Saturday" event about 2:30 p.m., and it's nearly empty—a few people scattered around the lawn and a band on stage.
Is that Bob Barker? I crane my neck and peer at the silver fox with the microphone, tall and silver and too tan. He's wearing a pink v-neck sweater and slacks. I know it's Dave Somerville of The Diamonds fame, but he could be Bob Barker.
It's a white, gauzy fall afternoon and support staff appears to outnumber guests. … Gary Busey!
I spot him near the stage being dragged onto the "dance floor" where he moves like Michael Jackson if the king of pop had been a blond orangutan. "Go! Go, Johnny, go. Go!" sings Bob Barker.
Like a stalker, I follow Busey up to the VIP section and watch as he approaches Kathleen Quinlan. Double star sighting! Awesome. I lean over the wrought iron rail, pretend to watch the show while serendipitously watching Quinlan and Busey with my peripheral vision, as Bob Barker launches into Buddy Holly's "All My Love."
Busey goes apoplectic! He whistles and catches the soundman's eye, running his finger across his throat before jumping the fence and loping down the embankment as the soundman cuts the singer's mic.
"I guess we lost sound," says Bob Barker, his voice small, unamplified.
Clearly, nobody gets to sing Buddy Holly but Gary Busey!
Then I make eye contact with a beautiful blond woman wearing brown-fringed boots and a cropped brown coat, her hair running in tendrils down her face.
It's Dr. Lois Lee, who founded the Children of the Night program, a 24-bed facility that helps transition children out of prostitution.
"I sued the LAPD" and "I caught the Hillside Strangler" are two phrases I scrawl into my notebook. That, and "The LAPD wouldn't go because she was a whore." Dr. Lois Lee talks fast and has an agenda. She's shoving brochures in my hand and then mentions Quinlan is her "best friend" and played her in the 1985 TV movie Children of the Night.
Then Kathleen Quinlan walks up to me and Busey gets on stage and starts playing guitar and singing "baby, baby."
Lois is introducing Kathleen and then Tennessee Jimmy Harrell walks up and mentions everyone's going to the Pine Street Saloon after the screenings tonight: "It's an armpit, but everyone's going to be there."
"I love armpits," says Kathleen Quinlan at the exact moment I fall in love with her.
"I hate to say this, but all I can think about is that nude scene in The Doors when you're dancing around naked with Val Kilmer," I blurt.
"You and my sons' high school classmates," quips Kathleen, not skipping a beat while also suggesting I have the emotional maturity of a horny high school boy.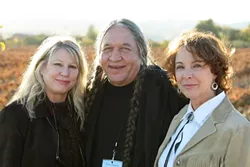 PHOTO BY STEVE E. MILLER
THE BEAUTIFUL PEOPLE : (Left to right) Dr. Lois Lee caught the Hillside Strangler, former Ponca Nation Indian Chief Dan Jones worked with Kevin Costner on 500 Nations, and I'm in love with Kathleen Quinlan—and not just because she danced naked in Oliver Stone's The Doors.
"Was it fun working with Oliver Stone?" I ask in a lame attempt to distract from my social ineptitude.
"I wouldn't call it fun," she confides. "He's really tough, but he gets a performance out of you. It ain't gonna be pretty, but it's gonna be good."
"You're gorgeous," pops out of my mouth.
"Oh, you're sweet," Kathy says (I'm shortening her name 'cause we're close like that).
Then Miller is taking Kathy and Dr. Lois Lee's photograph and filmmaker and former Ponca Indian Chief Dan Jones, who worked with Kevin Costner on 500 Nations, gets in the picture, his long ponytails dangling between Kathy, the new love of my life, and the woman who caught Kenneth Bianchi, the asshole who killed ten young women over the course of five months starting on Oct. 17, 1977.
Busey's off stage now after a raucous set and I decide to go in for an interview. I walk up behind him, put my hand on his shoulder, and say, "Hi Mr. Busey. I'm Glen from New Times. I wrote the story about you."
Nothing.
A woman standing next to him hears me and says, "I'm Vicki Roberts of Kismet Talent Agency," then turning to Busey says, "Gary, this is Glen from New Times. He wrote some nice things about you."
"I can't hear you," says Busey, glaring, and I see a hearing aid in one ear. She talks. He repeats he can't hear.
I stand there with my notebook and pen, and grudgingly Busey says, "Let's go talk in the train car."
We arrive.
"Is there anything to eat in here?" he asks, and a young woman scurries over with some enchiladas. He looks at the food but doesn't touch it, and he turns to me.
"OK," he says, taking off his sunglasses for the first time and peering at me with a sunken-in, bleary eyeball. The hairy eyeball!
"Um, feel free to eat," I say. "Don't let me stop … "
"You can't stop me from anything I want to do," says Busey, cutting me off mid-sentence.
He's trying to throw me off my game, so I come in with a softball: "I knew you played drums, but I had no idea you were an accomplished guitarist. How long have you been playing?"
"Probably about five lifetimes, but in this one since 1970," he shoots back.
"It must be difficult …" I begin.
"Nothing is difficult. I have no fear, no doubt, and great faith, and I've loved this woman for 31 lifetimes," says Busey as his girlfriend sits across from him and happily tells me she's knocked up.
Somehow the conversation steers to his 1988 death-defying motorcycle accident, which accounts for his sunken, leaking eyeball, and he's talking about faith: "It stands for Fantastic Adventures In Trusting Him," he says, pointing his index finger skyward.
Buseyism. This interview is circling the toilet bowl.
Then Miller gets kicked out of the VIP section by the festival's staff photographer, so we leave and I go right to the video store and rent The Doors. Kathy and I want to be alone.