"I hope I die before I get old," The Who once belted out in "My Generation," not knowing the title of that very song would one day be appropriated by a community theater's spring fundraiser geared toward baby boomers. And yet here we are.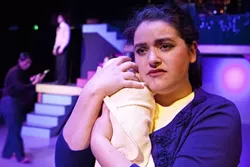 PHOTOS BY STEVE E. MILLER
MAMA SAID: Kerry DiMaggio stars as Amy, a young mother navigating a tumultuous decade, in My Generation!
Playwright David Vienna, director Kevin Harris, and choreographer Drew Silvaggio—the same team that created last spring's sizzling This is Rock 'n' Roll: The Alan Freed Story—are back with My Generation!, a comparatively watered down musical about the '60s, staged at the San Luis Obispo Little Theatre.
My Generation! was conceived during the opening weekend of This is Rock 'n' Roll, and it largely replicates that production's successful formula: First, take a figure whose life story encapsulates the essence of a decade. (Last year's production told the story of the '50s through the life of Alan Freed, a controversial radio DJ, alcoholic, simultaneous exploiter and promoter of African-American music, nemesis of Dick Clark, and the coiner of the term "rock'n'roll.") Add an excellent triple-threat cast, professional choreography, a sparkly set, and a live band cranking out one hit after another, and you're in business.
Unfortunately, My Generation! delivers on all but the first, and the most crucial, element: the story. Instead of Freed's fight to break through a whitewashed musical landscape, his gradual moral erosion, vices, infidelities, and a gripping descent into alcoholism and anonymity, we have the far tidier story of Max and Amy (real-life siblings Marcus and Kerry DiMaggio), a young couple working together on the set of a television show that resembles a knockoff of Ed Sullivan. As the crew rapidly prepares to go live with the next performer, Amy tries desperately to get Max's attention, but he's too preoccupied to listen. Finally, as the grinning, campy singer Neil Sedaka (a perfectly cast Travis Nefores) and bevy of showgirls burst into song with "Calendar Girl," Amy drops the bomb: She's pregnant.
After work, the couple discusses what they're going to do about the news, confiding in Max's best friend Billy (Redzuan Abdul Rahim). They quickly decide to marry and have the child, singing "It's Now or Never." Thus begins a series of classically '60s situations, tailored to fit around a playlist of rockin' '60s hits. Amy pursues a career as a songwriter, though her mother can't see why raising a family isn't fulfilling enough. Max stands up to one of the TV show's cartoonishly racist sponsors and loses his job for it—providing his family with another reason to be disapproving. His clean-cut brother (Wade Tillotson) ships out to Vietnam. Billy, being Vietnamese, gets into a fistfight over being called a commie.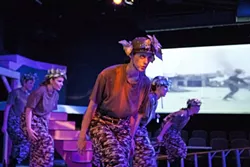 PHOTOS BY STEVE E. MILLER
WIPEOUT! : A Beach Boys hit becomes the soundtrack to a generation of young people preparing for the Vietnam War in the original musical My Generation!
This is the '60s, all right, but the textbook '60s, each character employed to paint part of a broad, vague portrait of the decade, and not much else. Yes, racism is bad. Women are advancing in the workplace, and the war is unpopular. The times, they are a-changing. We get it. But I can't help wondering, why is it necessary to hit all of these buttons so obviously? Why not tell the story of a decade through a character whose life is actually interesting independently of what decade he or she is in? This is Rock 'n' Roll's Alan Freed was such a character, and while I had no nostalgic feelings about the '50s, I found myself riveted by his story alone. Freed's ethically questionable choices easily provoked discussion on many levels. The cotton-candy plot of My Generation!, by contrast, seems comfortable to coast on nostalgia.
While there are moments of humor and wit in the dialogue, the infectious music is the driving force of My Generation!. Fortunately, every member of this talented cast possesses a stellar singing voice, which, backed by a live band (under the musical direction of Stephen Tosh) and performed to Silvaggio's clean, innovative choreography, is a sheer delight to the senses.
Many favorite songs of the decade are reinterpreted in intriguing ways: The Beach Boys' "Wipeout" becomes a song about combat training, performed by female ensemble members, who look delicate and small in their fatigues. Kerry DiMaggio's clear, strong voice moves from sorrow to anger as she bids her marriage goodbye with Dylan's "It Ain't Me Babe."
Amy and Max's young daughter Carrie-Ann (Sophie Kardel) brings an innocent, lost sadness to "California Dreaming," her angelic voice bemoaning the brown leaves and gray skies—before ensemble member Seth Blackburn takes over and makes the song smutty. Surrounded by scantily clad hotties, he winkingly croons about the "church" he passed along the way.
In the context of a funeral, we realize how melancholy "Feeling Good" can be. Dancers move hypnotically around a coffin, their movements gradually growing bolder with the song, invoking the kind of tentative hopefulness that comes after great suffering. It's a new dawn; it's a new day.
Ensemble member Michelle Hansen, as a hippie chick, belts out Sly and the Family Stone's "Everyday People," and her bohemian entourage follows her movements like pins drawn to a magnet, Silvaggio's choreography conjuring a groovily undulating, amorphous organism.
TALKIN' ABOUT MY GENERATION: My Generation! plays the SLO Little Theatre through March 25. Tickets cost $35; visit slolittletheatre.org or call the box office at 486-2440. The theater is at 888 Morro St. in downtown San Luis Obispo.
The moment when Max drops acid and witnesses the American lunar landing to, appropriately, David Bowie's Space Oddity, is another instance when the narrative and the music sync together magically.
These are songs that must bring back heady memories of youth—for those who lived through the '60s. For this demographic, perhaps, the show's plot needn't be overly complicated, conclusive, or specific. It's almost as if the narrative between songs is left intentionally vague, so that audience members can more easily transpose their own memories, their own stories, onto the characters onstage.
But for a kid of the '80s such as this writer, the plot of My Generation! has, as its title suggests, a kind of exclusivity, like a film that only makes sense if you've read the book.
But the music kicked ass!

Arts Editor Anna Weltner is more comfortable in Hammer pants. Tell her she missed out at aweltner@newtimesslo.com.