We've got a battle royale heating up in downtown SLO, and live music lovers are going to be the winner.

When Mother's Tavern opened in 1994, one of the things it promised was to add more live music to a flagging downtown music scene that had suffered the loss of D.K.'s West Indies Bar a few years earlier. For more than a decade, Mother's did, but eventually former owner Paul Brown realized that live music was a money loser compared to DJ-driven dance nights. Eventually, Sunday afternoons were the only times Mother's hosted live music, and SLO Brew was left to trot out the same tired bands month after month with no competition to spur the club to greatness.

SLO Town floundered for several years, though Frog and Peach eventually took up some slack. Though that venue was hardly stellar for live music, they made a real go of it. Enter Downtown Brew, which re-imagined SLO Brew into the premier live music venue for the downtown. Even without any serious competition save a show here and there from the Graduate, the new Downtown Brew owners have been going balls-out to heat up the local music scene. Meanwhile, the local bar mafia—aka Ash Management, which owns nearly every other bar in town—has just upped the ante in two ways. Frog and Peach, since their remodel, has become a very credible venue. Now Ash Management has purchased Mother's Tavern, which means SLO has three seriously awesome live music venues operating at once.

If you go back this far, I liken our new situation to SLO's music heyday when D.K.'s, SLO Brew, and the Darkroom were all operating, a scene that also spawned other little clubs like Brubeck's downstairs, Club 781, and Sebastian's. That was before the police seemed to worry about little things like cabaret licenses, the lack of which doomed The Dwelling (formerly Osos Street Subs). Clearly, with the po-po breathing down the necks of potential twee music venues, we're not going to go back to the days when every joint that serves beer could have a live band, but to have three serious clubs operating simultaneously is great for the scene, which brings me to the phoenix-like return of Mother's, whose awesome sound system and stage has been languishing like an abandoned pristine Corvette in grandpa's garage.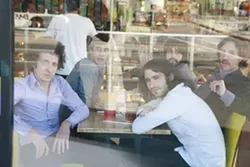 PHOTO COURTESY OF LOW VS. DIAMOND
VISIT YOUR MOTHER! : Mother's Tavern is back in the live music biz with an awesome show featuring Low vs. Diamond on April 3; a portion of the proceeds benefit the Central Coast Autism Spectrum Center.
On
Friday, April 3
, Mother's hosts
Low vs. Diamond
, a band
Rolling Stone
named one of six "artists to watch" in 2008, saying they're a "West Coast quintet [that] crafts widescreen rock anthems built for stadium sing-alongs."
Low also recently played both David Letterman's and Jimmy Kimmel's shows, and listening to their immediately hooky songs, it's clear this is an up-and-coming band that will quickly graduate from medium size clubs like Mother's to big venues.
"We're really stoked to be bringing back good live music to Higuera Street," said Johnny Kenny, director of marketing and promotions for Ash Management. "Our goal is to revitalize Mother's Tavern as a mainstay for national touring artists, and at the same time keep the ticket price at $10 or under."
A portion of the concert's proceeds will be donated to the Central Coast Autism Spectrum Center because, after all, April is Autism Awareness Month. Now get out to Mother's and make sure they don't go back to canned music!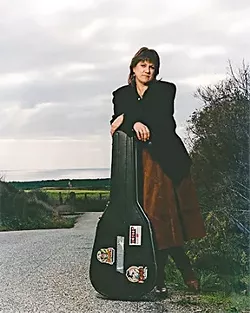 PHOTO COURTESY OF MARY MCCASLIN
FOLK QUEEN : Western and folk music legend Mary McCaslin returns to the Central Coast with an April 3 concert at Coalesce Bookstore.
On the McCaslin
Mary McCaslin is one of those artists people see once and keep returning to. Whether she's performing an Old West ballad or delivering a haunting rendition of pop standards and rock classics like "Ghost Riders in the Sky," the Beatles' "Things We Said Today," or the Supremes' "My World Is Empty," she's imminently mesmerizing.
And wait until you get a load of her rendition of the Who's "Pinball Wizard" made more unique by her clawhammer banjo accompaniment! Her open guitar tunings and affecting vocals are hard to get out of your head.
Western and folk music legend
Mary McCaslin
returns to the Central Coast with a
Friday, April 3
, 7 p.m. concert at Coalesce Bookstore under the auspices of the Cambria Hoot Roadshow (772-2880; $18). Santa Margarita's
Jade Jackson
will open the show.
PHOTO COURTESY OF CHANGO SPASIUK
IT'S A SMALL WORLD : Accordion master Chango Spasiuk was born in South America in a region with music was influenced by Eastern Europe, and he's become the master of the northeastern Argentina musical amalgam known as chamamé. Hear him April 7 at Congregation Beth David.
Everybody polka!
By any measure,
Chango Spasiuk
is a superstar. According to Joe Boyd, "Accordion master Chango Spasiuk has single-handedly brought about rebirth of the soulful and seductive dance music of northeastern Argentina known as chamamé."
Born in Apóstoles, Misiones, his grandparents were Ukrainian, so El Chango, as he's known, had a strong early polka influence, and Eastern European musical influences were also already present in the chamamé music of the region.
UK's
Guardian
in a 4-star review of his new album,
Pynandí
, called it "one of the great originals of the Latin music scene," and during his current tour, he'll make stops at New York's Carnegie Hall, two dates in Los Angeles, and a stop at Yoshi's in San Francisco … and he'll also play lil' ol' SLO's Congregation Beth David on
Tuesday, April 7
, at 8 p.m. ($20 presale at Boo Boo Records or $25 at the door).
More music …

Tyrone Wells
, whose album
Remain
debuted at No. 1 on the Singer-Songwriter charts, plays Cal Poly's University Union at 11 a.m. on
Thursday, April 2
. His album is still riding the Top 20, and his single, "More," is currently being featured on both A&E's
Intervention
and TLC's
Personal Justice
.
Santa Cruz singer-songwriter
Amanda West
rolls into SLO County this week with a bevy of shows and 14 years experience under her belt. Her voice has been repeatedly called angelic, and she occasionally plays the piano, banjo, and djembe, in addition to the guitar. She plays
Thursday, April 2
at 10:30 a.m. on Cal Poly's student radio station KCPR 91.3FM, then that evening at 7 p.m. at The Clubhouse with local musician
Anthony Roselli
. On
Friday, April 3
at 8 p.m., see her at Linnaea's Café. Then on
Saturday, April 4
at 9 p.m., she'll be at Monteleone's Rock in Paso Robles. Finally, check her out on
Sunday, April 5
at 9 a.m. in Cambria's Gold Coast Center for Spiritual Living.
Shhh. It's a secret. Come closer. Okay, I smell your breath; not that close. Bluegrass and beyond act
Cuesta Ridge
is sneaking in a little outdoor concert at the Cliffs in Shell Beach on
Friday, April 3
from 4 to 7 p.m. Keep this one quiet. You know how the Cliffs gets when all us locals show up and get rowdy.
Soul jazz legend
Red Holloway
performs with the Mike Raynor Group on
Friday, April 3
, at the Inn at Morro Bay, with pianist
Bob Harway
joining in, from 7 to 10 p.m. James "Red" Holloway, a Cambria resident, is an international jazz superstar, having performed with everyone from Dexter Gordon, Lionel Hampton, Jack McDuff to Billie Holiday, Ben Webster, Sonny Rollins, and Lester Young.
Ready for some real blues? According to The Cinders, that's what they play: "Yeah you can, and should, dance to it, but it's not rock, it's blues. And it's not museum-piece blues. It's certainly rooted in the Chicago tradition and [we're] fully cognizant of the Delta's place in the pre-Chicago history, but [we] start there and play the music from [our] own modern standpoint, four guys that were raised on blues, roots rock, and jazz and it all plays a part in making a music that furthers a tradition instead of copying one." Feel it at Monteleone's Rock on
Friday, April 3
, at 9 p.m.
PHOTO COURTESY OF BIG ROCK BALALAIKAS
HE'S EITHER REAL SMALL OR THAT'S A BIG GUITAR : Take a sonic trip to Russian on April 4 when the Red Barn Community Music Series presents Big Rock Balalaikas in St. Benedict's Church.
Take a sonic trip to Russia on
Saturday, April 4
when the Red Barn Community Music Series presents
Big Rock Balalaikas
in St. Benedict's Church in Los Osos at 7 p.m. (there's a 6 p.m. potluck if you're interested). This series presents music that "harkens back to a simpler time, when people gathered at the crossroads to share food, friendship, and traditional music," according to organizer Stuart Mason. As for Big Rock Balalaikas, they play traditional Russian folk instruments. Admission is $10 at the door.
Edward Trybek
—classical guitarist, composer, and winner of several awards—plays the G. Roger Bailey Scholarship Fund concert at Coalesce Bookstore on
Sunday, April 5
at 1 p.m. (772-2880; $15). At the prestigious 49th Tokyo International Guitar Competition, Trybek won the silver medal. In 2005, he earned three gold medals in competitions including the 5th Thailand International Guitar Competition; the Portland Guitar Competition (U.S.A.); and the University of Southern California Concerto Competition.
On
Sunday, April 5
, the Famous Jazz Artist Series at the Hamlet in Cambria presents its annual showcase for the college jazz talent on the Central Coast. Combos from Cuesta College (under the direction of
Ron McCarly
) and Cal Poly (under
Paul Rinzler
) will be performing two sets starting at 4 p.m. Call 927-0567 to reserve your $15 tickets.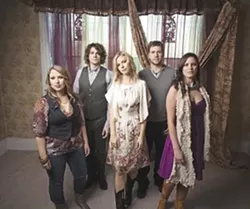 PHOTO COURTESY OF BEARFOOT
BLUEGRASS BABES : Americana roots band Bearfoot plays an intimate concert on April 5 at Matt's Music.
Don't let Sarah Palin sour you on all things Alaskan. Not everyone up there is an ignorant, hypocritical, narcissist. Take Americana roots band
Bearfoot
, which plays an intimate 5 p.m. concert on
Sunday, April 5
at Matt's Music (call 237-0054 for tickets). These 2001 Telluride Bluegrass Band Champions (an honor they share with the Dixie Chicks and Nickel Creek) don't see Russia from the kitchen window and think that makes them an expert and they don't preach abstinence-only sex-education while having a knocked-up 17-year-old daughter. Instead they deliver "airy Northern ballads that are tempered by back-alley Southern blues, while jazz stomp meets Appalachian breakdown."
Folk pop-rock act
Sound Semantics
, based in Portland, hits Linnaea's Café on
Sunday April 5
at 7 p.m. Their influences include many all-time favorites: the Beatles, Elliott Smith, Radiohead, Jimi Hendrix, Led Zeppelin, Bob Dylan, Paul Simon, Lionel Loueke, Hadag Nahash … well, okay, those last two aren't all-time favs. In fact, I don't know who the hell they are. Hit Linnaea's to find out.
Bay Area rock, blues, funk, soul act
The Whiskey Thieves
hit the Frog and Peach during their 23-city "Whiskey and Women Tour" on Tuesday,
April 7
. The tour name is drawn from their song "Whiskey and Women," a soulfully rendered track in which the narrator reflects, "Whiskey and women all the time can't be good for me." What do they know?
PHOTO COURTESY OF DEL THE FUNKY HOMOSAPIEN
DEL AT THE CONTROLS : Oakland-based alt.hip-hop king Del the Funky Homosapien returns to Downtown Brew on April 8.
Who's the funkiest homo sapien of them all?
Del the Funky Homosapien
, the Oakland-born alt.hip-hop artist who's become a SLO Town favorite, packing Downtown Brew whenever he plays, as he will on
Wednesday, April 8
with opening act
Mike Relm
. Del, Ice Cube's cousin, was a member of Cube's early collective Da Lench Mob, but Del's style wasn't as militant and angry, so he went on to form his own crew, the Hieroglyphics. Lately Del's been rolling solo, and his newest album,
The 11th Hour
, will be released as both a CD and DVD. This 8 p.m., all-ages show costs $21 presale or $23 at the door.
As an example of the kind of competition the DT Brew/Mother's/Frog nexus will bring, next
Thursday, April 9
, country fans will have to make a hard choice: See
Reckless Kelly
with opening act
Micky and the Motorcars
at Downtown Brew or head over to Frog and Peach and see
Rancho Deluxe
. Screw it! You know you're just going to go to both, running back and forth between sets to make sure you're not missing anything. ∆
Glen Starkey gives people the sensation of déjà moo: the feeling you've heard this bull before. Complain at gstarkey@newtimesslo.com.
CD Reviews
Various Artists—Boogaloo Pow Wow: Dancefloor Rendez-Vous In Young Nuyorica
The sound of New York's Latin community exploded in the '60s. As the civil rights era pushed a transition in American culture, a new generation of young Latinos fueled their new Afro-Cuban rhythms with large doses of vibrant American soul. On packed dance floors, you'd hear a sound that came to dominate the sound of New York streets: adrenalized hand-clapping, party exhortations quipped with American street slang, and fierce back-beat drumming. Here, on Boogaloo Pow Wow, record label Honest Jons presents a terrific compilation of bugalú, covering all the bases from Cubop (Machito's "Tanga") and Latin soul (Kako's "Cool Jerk") to the impressive instrumental heat of bass legend Israel "Cachao" Lopez on Tito Rodriguez's "Descarga Cachao." For a single disc, this is dance music at a moment's notice, and will either fill out your already burgeoning salsa collection or act as your primer to a timeless energetic sound.



Ramblin' Jack Elliott—A Stranger Here
Elder musicians seem to finally be getting their last hurrah. As Rick Rubin reignited Johnny Cash's career with inspired, stripped-down performances, Joe Henry has made a similar attempt to resuscitate careers of legends like Bettye LaVette and Solomon Burke. For the man who footed around with Woody Guthrie and inspired Bob Dylan and Pete Seeger, Henry pushed Ramblin' Jack Elliott to "interpret country blues music from the Depression era of his birth." On A Stranger Here, Elliott resurrects ten dark, poetic folk songs that touch on struggle, love, and justice, perfectly tuned to our present history. For assistance, Henry recruits the musical talents of Van Dyke Parks and David Hidalgo to create a haunting, vivid landscape for Elliott to preach over. Whether it's the moody, evocative version of "Grinnin' In Your Face" or the barrelhouse piano blues of Rev. Gary Davis' "Rising High Water Blues," Elliott reads each song with authentic, suave cunning.
—Malik Miko Thorne, of Boo Boo Records and KCBX's "Night Train."