PHOTOS COURTESY OF JOSEPH LLANES
GET THEM TO THE GREEK: Guitarist Andrew Wessen (left), drummer Ryan Rabin (top middle), frontman Christian Zucconi, and keyboardist/vocalist Hannah Hooper first met on the Greek isle of Crete in 2009.
The band Grouplove met the way paramours do in an elegant, European novel. Frontman Christian Zucconi met artist Hannah Hooper in Manhattan. Days later, the two are in Greece, at an artists retreat, where they meet guitarist Andrew Wessen, bassist Sean Gadd, and drummer Ryan Rabin. Five years later, the alternative pop group has now released two albums, been featured in Coca-Cola and Apple ads, and had original songs on the soundtracks for The Fault in our Stars and the HBO show Girls. On Aug. 13, Grouplove will play the Avila Beach Resort alongside fellow bands Portugal. The Man and Tokyo Police Club. I recently spoke with Grouplove drummer/producer Rabin about the tour, corporate sponsorship, and the ideal musician to tour with.
New Times What's the weirdest concert experience you've ever had?
Rabin There was a surreal moment three years ago. We were at a festival in Lisbon, Portugal. I don't know how it happened. This was way, way early days before our album was even out. The promoter of this festival put us right before Blondie and Coldplay and it's Lisbon, so everybody was in the dressing rooms right next to each other and we could watch Blondie and Coldplay from the stage. There were 30,000 or 40,000 people and someone decided to have stunt planes fly over the concert. They were so loud; it was just a really surreal moment.
New Times Moving on, how do you think you have evolved as band, in terms of sound and just in terms of approach when it comes to creating and playing your music?
Rabin It's a natural thing that happens with most bands. Definitely us. We've been touring for four years straight without too much time off. So, that naturally makes you a tighter unit. You get more confident as bandmates as you go along and can hear that progression between the EP and the first and second album. We're all friends first and foremost. The lead guitarist Andrew and I have known each other for a long time. He and I are like brothers. Everybody else, we've just become closer if anything. You learn people's sort of pressure points and what makes people angry or happy. You learn when people need space. I think that just makes the relationship stronger is when you understand people's sensitivities. We're lucky to say that we're better now than we've ever been.
New Times Because Honda Civic sponsors this tour, have you had to make any creative compromises? How do you feel about corporate sponsorship?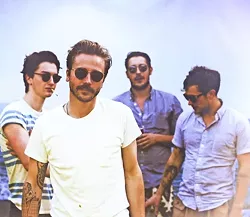 PHOTOS COURTESY OF DANGER MOUSE
PORTUGUESE PLEASE: Psychedelic rock band Portugal. The Man originally formed in Alaska in 2006 and have since released seven albums.
Rabin I think it allows you to be more creative. It gives you extra money to put into the show and the look of the show. One of our stipulations is that because we have a painter in the band [Hannah Hooper], we still need to be in complete creative control. So, with any sort of tour promo things, they will be our aesthetic. They [Honda Civic] were really cool with that from the get-go. The sponsorship and branding moments are pretty minimal. They get to get their brand out to their young audience coming to our shows. For us, it's great. We get to be in creative control and have the extra means to do the kind of show we want to do. And, this has been our biggest tour yet.
New Times Do you think this kind of partnership between corporate sponsors and bands is becoming a more regular thing in the music industry these days?
Rabin Well, the trend is becoming more and more creative. Bands five or 10 years ago, the idea of playing a song in a commercial was crazy. Bands didn't do that or people would say, "Oh man, they sold out." Thinking about it now seems ridiculous. Bands are trying to sell songs to a bigger audience, and in the process, make a little extra money. It's just more generally accepted for people to discover songs through commercials and TV shows. It's more accepted and more creative. There are companies out there that specifically facilitate brand partnerships with creative entities, whether it be painters or musicians or directors, and the job of all these companies is to find happy partnerships where it doesn't encroach on creativity and allows the creator the financial means to have creative visions. It's not, "paint this car into your Shepard Fairey or telling the director to change a scene up." More and more, we're seeing the creative scene in a creative place, not more corporate or commercial. I don't think it's bad, what happens when it happens, as long as the creative vision is not compromised.
New Times What would you describe as the creative vision of Grouplove?
Rabin It comes from spontaneity. It's at the root of how our band was formed. The way we met, in Greece five years ago, was on a whim. Then, everybody went out to LA and recorded music for a day—that spontaneous action resulted in recording an EP for a month and then that action resulted in moving to LA. All these building blocks of spontaneity also relate to songwriting and production. We'll come up with an idea for a song and bring that to the band, and the five of us will add to it without any preconceived notions.
SUMMER, SOUNDS, AND SAND: Grouplove will perform alongside Portugal. The Man and Tokyo Police Club at Avila Beach Resort on Aug. 13. For more info, you can visit grouplovemusic.com or avilabeachresort.com
New Times Any future plans for the band when this tour finishes out?
Rabin We'll probably take a bit of time off after the year's done. Probably regroup after the new year and refocus again. With this band, we are trigger-happy if we are on the road for too long. It's been four years non-stop. We need a little break to focus back up again. I don't think we're gonna try to plan it out too much. Not to take anything away from people who make concert albums, but for us, it's much more about being spontaneous. The best music happens when we're not overthinking it.
New Times One, quick last question. If you could tour with one musician or group, real or imaginary, who would it be?
Rabin Definitely Michael Jackson. Thriller, Off the Wall Michael Jackson. I love the new shit, the old shit. I love it. He's my hero.
Jessica Peña would ideally like to tour with Spinal Tap. You can find her smelling a glove at jpena@newtimesslo.com.