Singer-songwriter Inga Swearingen opens her new album, Let Me Call This Home, with a cover song: The Police's 1979 hit "Message in a Bottle." Like Cassandra Wilson did on her 1993 album Blue Light 'til Dawn on tracks such as Robert Johnson's "Come into My Kitchen" or Van Morrison's "Tupelo Honey," Swearingen has completely reinvented "Message in a Bottle" as a mysterious and haunting jazz tune.
From there, Swearingen's album slides into "Edge of Town," a song she co-wrote with LA-based guitarist Jeff Miley. He did the music and she the lyrics, and the song is the perfect showcase for her stunning vocals and Miley's clean guitar work.
PHOTO BY BARRY GOYETTE
HOMETOWN GAL: Inga Swearingen (second from left) and her band—Jeff Miley (left), Dylan Johnson (second from right), and Britta Swearingen—play an album release concert on Aug. 27 at the Clark Center.
"Find My Way" is a song about Swearingen's personal philosophy: "I want to take what life hands to me and handle it beautifully. Whatever I've done before today,
whatever love's come and gone away. Whatever I was given as a place to begin, I've got to find my way, I've got to find my way. Whenever I begin to sink below,
whenever I've tried everything I know,
whenever I'm faced again with that same closed door, I've got to find my way, I've got to find my way. However frustrated I'm feeling when I can't get through to you, however immature I'm acting and I need a talking to, however lost I feel and I don't know what to do,
I've got to find my way, I've got to find my way." The song also gives her a chance to show off her light and airy scat singing.
It's a terrific record with impeccable musicianship, populated by three more songs with music by Miley and lyrics by Swearingen as well as a few more rearranged covers: The Eurhythmics "This City Never Sleeps," "I Don't Need No Doctor" made famous by Ray Charles, and an Edgar Meyer-penned instrumental that Swearingen wrote lyrics for: "I'm on a road, I meant to share it with you. I don't know where it leads. Accompanied by memories, if you only knew, all of the lovely places I've carried you. And if I ever should miss you too much, it's just a short trip home. I'll close my eyes and feel your touch. No longer will I be alone. My memories will bring me back home."
Though this is Swearingen's fourth album, she described the process of bringing it to light as a "learning curve," saying that she felt like "a total rookie." It's hard to believe judging from the results, and Swearingen is anything but new to performing and recording. She won the very first Montreux Jazz Festival Shure Vocal Competition and has appeared several times on the NPR show A Prairie Home Companion hosted by Garrison Keillor. She's toured nationally and internationally, but she still calls Atascadero home, where she lives with her husband and child on her family's farm.
The theme throughout the collection is as the title indicates: songs about home, what home means, how you find your way home, and how home nurtures you.
"Sometimes home is a place, other times it's a person. You can long for it, or want to leave it. And songs can take you home or take you far away," Swearingen explained in press materials. "There is a constant to my sense of home, and it's also ever changing. I love the people I love, and no matter where I am, I carry them with me and I am home. But I also must leave to be able to come back. The songs on this album express this pull and yearning."
Living with her parents, raising her young family, and working the farm has had her clearly focusing on the home front.
"It's definitely an easy thing for me to talk about," Swearingen explained over coffee. "I guess you could say I've been nesting, living on my parents' farm with my family. We're in a certain chapter in our lives where we're really focused on family. I'm a wife, a daughter, a mother all on the same property, so that's a big part of where my energy goes into."
This Saturday, Aug. 27, Inga Swearingen (vocals, acoustic and resophonic guitars) will perform an album release concert at Arroyo Grande's Clark Center for the Performing Arts with bandmates Jeff Miley (acoustic and electric guitars, banjo, backing vocals), Dylan Johnson (bass), and her sister Britta Swearingen (cajon, backing vocals) (7:30 p.m.; all ages; $25 tickets include a CD available online at clarkcenter.org, by phone at 489-9444, or at Boo Boo Records).
They'll perform songs from the new album as well as some older material, and they'll perform a jazz improv piece over the voices of children talking about what home means to them. It should be a really special evening.
"The CD release party has so many people coming together to make this happen," Swearingen added. "And not just the players. The total amount of baking, all the homemade cookies!"
Yep, it sounds like coming home.
Take it Easy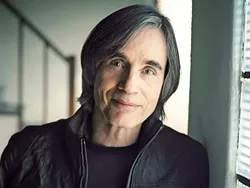 PHOTO COURTESY OF JACKSON BROWNE
DOCTOR MY EYES : Jackson Browne plays Aug. 26 at Vina Robles Amphitheatre, drawing on decades of hit songs.
So many of Jackson Browne's songs have become iconic. Does anyone ever get sick of "These Days," "The Pretender," "Running on Empty," "Lawyers in Love," "Doctor My Eyes," "Take it Easy," "For a Rocker," or "Somebody's Baby?" I know I don't!
Jackson Browne plays Vina Robles Amphitheatre on Friday, Aug. 26 (7:30 p.m.; all ages; $55 to $95 at vinaroblesamphitheatre.com) with longtime bandmates Val McCallum (guitar), Mauricio Lewak (Drums), Jeff Young (keyboards), Bob Glaub (bass), Alethea Mills (Vocals), and multi-instrumentalist Greg Leisz (guitar, lap steel, pedal steel).
"This is my ideal band, with some of my favorite players, whose combined gifts provide the musical foundation and emotional underpinnings of my new songs," Jackson said in press materials. "The interplay between Val McCallum and Greg Leisz—the effortlessness of their chemistry is a gift really, that just dropped into my lap. I feel fortunate to have them out on the road for this tour."
Browne's well known as an activist. He was an early protester of Diablo Canyon Nuclear Power Plant among other plants. There's not much you can write about him that people don't already know. His first name is Clyde. He was born in Germany. His first wife, Phyllis Majors, was a model and actress who committed suicide a few months after they were married. He dated Daryl Hannah for almost a decade. All you really need to know is whether you like his music.
Packages and GuacFund benefit seats are available at jacksonbrowne.com. The Guacamole Fund supports grassroots activities focused on the environment, social change, peace with justice, energy, and a non-nuclear future.
Also at Vina this week is Southern rock and jam band Gov't Mule on Sunday, Aug. 28 (7 p.m.; all ages; $40 at vinaroblesamphitheatre.com or $45 at the door), with special guest Blackberry Smoke. Gov't Mule, fronted by Grammy-winning guitar legend Warren Haynes, has 15 studio and live albums under their belts.
Also, don't forget Peter Frampton plays Vina Robles Amphitheatre this Thursday, Aug. 25 (7:30 p.m.; all ages; $59 to $79 at vinaroblesamphitheatre.com).
The calm before the storm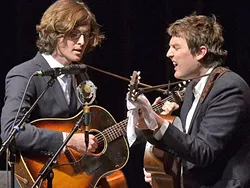 PHOTO COURTESY OF THE MILK CARTOON KIDS
GOOD FOR YA: Good Medicine Presents has a slew of shows coming next month, including the Milk Carton Kids on Sept. 14 at the Fremont Theatre.
I count 17 upcoming September concerts on Good Medicine Presents' website next month, so perhaps they can be forgiven for taking it easy this week with only one show, when Wordsauce plays Tooth & Nail Winery on Friday, Aug. 26 (5 p.m.; free).
The local eight-piece live hip-hop/funk band features terrific musicianship and engaging emceeing, all created live and on the spot. I was just up at Tooth & Nail last Friday for the Leftover Cuties show, and it's such a comfortable outdoor venue with great hospitality, comfortable lounge seating (get there early!), and terrific food and wines available. It's the perfect way to start your weekend!
Check Good Medicine's website for times and tickets for upcoming shows next month like The Mother Hips on Monday, Sept. 5, at The Cliffs Resort; Matt Costa in Cayucos on the beach (hopefully … details with the town are still being worked out) on Saturday, Sept. 10; The Milk Carton Kids on Wednesday, Sept. 14, at the Fremont Theatre; G Love & Special Sauce on Sept. 15, at the Fremont, and a whole bunch more!
Zella & Franti!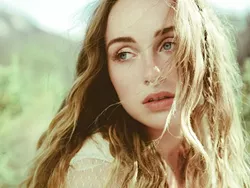 PHOTO COURTESY OF ZELLA DAY
OPENER : Zella Day (pictured) opens for Michael Franti & Spearhead on Aug. 25 at the Avila Beach Resort.
Don't forget this Thursday, Aug. 25, Michael Franti & Spearhead play Avila Beach Resort (5 p.m. doors; all ages; $35 and $80 available at ticketfly.com or Boo Boo Records) on their Soulrocker Tour. I told you about Franti last week but not much about his killer opening act, Zella Day, whose new single "Mustang Kids" is blowing up!
Recently, she's been making appearances on all the late night shows and getting tons of laudatory ink in pubs like The Fader, SPIN, Interview Magazine, Vogue, InStyle, ELLE, and Vanity Fair.
Her music is hook-laden and sexy as hell, with swelling choruses and infectious melodies, and she's a charismatic live performer who can totally command a stadium. This is going to be a great show!
Reggae in the Brew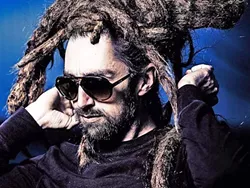 PHOTO COURTESY OF E.N YOUNG
SLO REGGAE : E.N Young headlines a two-band reggae show at SLO Brew on Aug. 31.
SLO Brew's got one show cooked up for you this week, featuring E.N Young and Pacific Grown on Wednesday, Aug. 31 (doors at 9 p.m.; 18-and-older; $12 general admission or $20 for VIP balcony at ticketweb.com).
Young, born Ian Allan Young, is a San Diego roots musician who started playing piano at age 6. A broken arm at 12 led to a drum set by way of physical therapy, and soon after he gravitated toward reggae, eventually becoming a writer, producer, and member of the Tribal Seeds family.
Pacific Grown is a six-piece alternative reggae band from Salinas, whose "music is deeply rooted with reggae influence catchy hooks and melodies," according to their bio.
More music …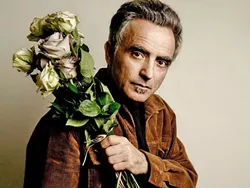 PHOTO COURTESY OF MICHAEL FRACASSO
AUSTIN ICON : Michael Fracasso plays the Steynberg Gallery on Aug. 25.
Iconic Austin singer-songwriter Michael Fracasso plays Steynberg Gallery this Thursday, Aug. 25, with local friends Bob & Wendy opening. Fracasso is touring in support of his new album Here Come the Savages (8 p.m.; all ages; $15).
Jill Knight will bring her amazing voice and gorgeous songs to Creekside Reserve in Cambria on Saturday, Aug. 27, for a benefit concert for Greenspace—The Cambria Land Trust (3 to 5 p.m.; all ages; $10 at the gate with kids under 12 free).
Bruce Guynn & Big Rain bring their uplifting soulful country and blues to D'Anbino Vineyards & Cellars this Saturday, Aug. 27 (8 p.m.; 21-and-older; visit danbino.com for details).
PHOTO COURTESY OF THE FIXX
ONE THING LEADS TO ANOTHER: New Wave heroes The Fixx headline the two-day Stone Soup Music Festival in Ramona Garden Park on the first day, Aug. 27.
The annual Stone Soup Music Festival in Grover Beach's Ramona Garden Park this Saturday and Sunday, Aug. 27 and 28, has too much entertainment to mention here, but their big score this year is The Fixx, playing on Saturday from 7:30 to 9:30 p.m. Visit aggbchamber.com/stone-soup for more info.
West Coast Ghosts Tour comes to Madonna Inn's Round Room on Tuesday, Aug. 30 (8 p.m.; $15 presale at brownpapertickets.com), featuring Zealyn, Kris Orlowski, Judah Akers, and Tyson Motsenbocker. The idea is to bring eclectic indie artists to play unusual venues.
Keep up with Glen Starkey via twitter at twitter.com/glenstarkey, friend him at facebook.com/glenstarkey, or contact him at gstarkey@newtimesslo.com.
PHOTO COURTESY OF TYSON MOTSENBOCKER
GHOST TOUR!: Tyson Motsenbocker (pictured) is one of four acts playing Madonna Inn's Round Room on Aug. 30, part of a West Coast tour that will bring the artists to unusual venues.