A 36-year-old SLO County Jail inmate died of a blood clot after spending nearly 48 hours in a restraint chair, according to documents obtained by New Times
Andrew Holland was found unresponsive in one of the jail's observation cells on Jan. 22. He died less than an hour after he was released from the restraint chair, where he'd been placed after correctional deputies witnessed him attempting to harm himself, according to a coroner's report. The report determined that Holland died from a clot in an artery in his right lung.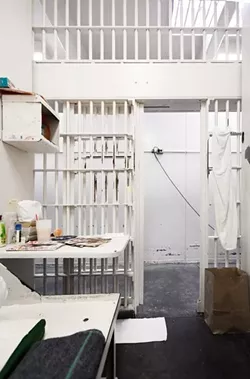 FILE PHOTO
JAIL DEATH: SLO County Jail inmate Andrew Holland, 36, Atascadero, died shortly after spending almost 48 hours in a restraint chair, according to a coroner's report.
Holland had been in custody since September 2015 and had a history of violence against police officers and jail staff. He also appeared to have struggled with mental illness and had been declared mentally incompetent to stand trial three different times, according to court records. At the time of his death, Holland had been waiting for 12 days to be transferred to a county mental health facility.
According to the coroner's report, Holland was placed in the chair at 6:55 p.m. on Jan. 20 after one of the correctional deputies observed him trying to punch himself in the face. On the chair manufacturer's website, Aedec describes its "Pro-Straint" chair as utilizing a seven-point harness system, soft wrist and ankle straps, and an "ergonomic pocket" for each leg to safely restrain an inmate who is a danger to themselves or others.
"The monitoring officer can exercise (or medicate) the prisoner without releasing them from the restraint chair," the website stated.
Holland wasn't released from the chair until 4:43 p.m. on Jan. 22, nearly 48 hours later. At 4:55 p.m. that day, Holland was observed lying on his stomach, nude, in his isolated observation cell. The coroner's report stated that a video showed that Holland appeared to be having trouble breathing at about 5:02 p.m. At 5:08 p.m., he had apparently stopped moving. The coroner's report stated that correctional deputies entered the cell and began CPR one minute later. Holland was declared dead at 5:36 p.m. A medical examiner's toxicology screening found no drugs or alcohol in Holland's system.
According to written guidelines used by the SLO County Sheriff's Department, restraints like the chair are to be used "no longer than is reasonably necessary to provide for the legitimate safety concerns of the inmate, staff, or others." The policy also requires that a staff member or healthcare professional conduct regular checks on the inmate's condition and behavior.
The corner's report stated that correctional staff kept an observation log and recorded checks by deputies, medical staff, and mental health professionals. Sheriff's Office spokesperson Tony Cipolla said jail staff followed custody restraint policy. Cipolla said correctional deputies checked on Holland every 30 minutes—a total of 259 times. He also said jail logs showed 18 medical checks and three mental health checks were also performed.
The coroner's report provided to New Times did not specifically state that the use of the restraint chair caused the fatal blood clot that killed Holland and classified his death as "natural." In an email response to questions from New Times, Cipolla said that the formation of embolism or clot was a "natural response by the body under many circumstances."
"Our Pathologist, Dr. [Gary] Walter, stated that the prolonged seated position is 'possibly contributory' to clot formation," Cupola said. "He also stated that dehydration and self-injury are also 'possibly contributory,' however the chair itself does not cause clots to form."
The coroner's report stated that Holland refused food and water "numerous times" while he was restrained.
The sheriff's restraint policy also states that the restraints should be checked to ensure that circulation is not compromised and requires a "range of motion" procedure of alternately moving a restrained inmates arms and legs for 10 minutes. Sitting or laying down for long periods of time without moving can sometimes cause circulation to slow and blood to pool in extremities such as legs, which can cause a clot to form. Cipolla said Holland received the range of motion procedure every two hours.
The use of the restraint chairs by correctional staff has long been controversial. In 2000, an Amnesty International report raised concerns that improper training and inadequate supervision could lead to unnecessary pain, injury, and even death for inmates placed in the restraint chairs.
Cipolla said the Sheriff's Office would continue to use the chair if the situation warrants.
"As with all significant events, the Sheriff's Office conducts a comprehensive audit of our actions and procedures," Cipolla said. "As an agency, we always seek to follow best practices."
Speaking to New Times April 11, Holland's father, Albert, said he could not comment on the report.
"I have retained legal counsel, and they have advised me not to speak," he said. "So I wouldn't be able to comment."