You won't see artist Hallie Elizabeth's work at the latest gallery or coffee shop art show in downtown San Luis Obispo, but online more than 35,000 fans wait for the latest posting of her art across Instagram, Facebook, and Tumblr.
"It's been surreal," the SLO-based artist said. "I've had some very lovely comments where people have said that it's helped them to process something traumatic."
IMAGE COURTESY OF HALLIE ELIZABETH
DARKNESS: Hallie Elizabeth uses her art to work through her own struggles with depression, something her fans find relatable. During these times, darker imagery, like skulls, makes its way into her work.
If people respond on a deeper level to her art, it's because Hallie Elizabeth puts a lot of herself into it. Her dreamy, watercolor-like digital art pieces are very emotionally evocative and female focused. In fact, most of her pieces feature a long-haired brunette with dainty features and freckles, which is also an apt description of Hallie Elizabeth.
"I kind of look at art work as my therapy," Hallie Elizabeth said. "It's the way I process what I'm dealing with in life. It's my visual diary."
Hallie Elizabeth grew up drawing with her mom, but her passion for art took off when she came across one of her mother's art books that focused on another female artist who famously put herself in the art—Frida Kahlo.
"I thought it was the coolest thing I had ever seen," Hallie Elizabeth said. "I wanted to know more."
While Hallie Elizabeth went on to study photography and graphic design, she now works by day as an administrative specialist at the Community Counseling Center in SLO, nurturing her art in the off hours. While she made some cursory stabs at getting her art into the local gallery scene, it never quite took off in an area flooded with plein air landscapes of the ocean and rolling hills filled with wine grapes.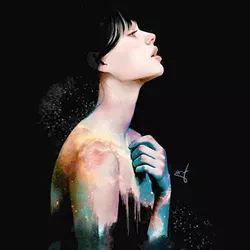 IMAGE COURTESY OF HALLIE ELIZABETH
DREAMS: SLO artist Hallie Elizabeth takes inspiration from her dreams and journaling. Her female-centric work has a dreamy, watercolor-like quality to it.
"My stuff doesn't necessarily fall into that realm, so I found people online who appreciated it," she said.
Around 2012, Hallie Elizabeth launched an Instagram profile and started posting her work. Gradually interest grew. That first year, she was thrilled to hit around 1,000 followers, but then she saw a huge spike in 2015 and 2016 when she contracted with companies like iCanvas and Society6 to promote and sell her art. She now has around 14,000 followers on the photo-sharing app alone.
Hallie Elizabeth keeps her work ethereal and emotional, focusing on themes like depression, matters of the heart, and processing death. Lately, as Hallie Elizabeth works through different phases of life, the darker side of things has seeped into her work. A recent piece features the artist with crystals coming out of her head behind a skull with crystals also coming out of the top of its head. Still, the artist is appreciative of the range of emotions that come with life.
"It can be a beautiful thing, just feeling the full spectrum of emotions," Hallie Elizabeth said. "In order to feel the happiness, you have to know sadness."
While Hallie Elizabeth's own website is currently under construction, her work can be viewed on her various social media platforms. She's currently busy with a long-term project to design and produce a deck of tarot cards.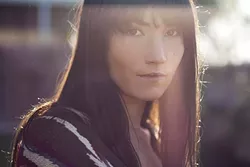 PHOTO COURTESY OF HALLIE ELIZABETH
SELF-REFLECTION: More than 35,000 people follow SLO artist Hallie Elizabeth across Instagram, Facebook, and Tumbler. She uses her art to process thoughts and feelings about life.
While her art work often emulates her own struggle, Hallie Elizabeth wants her followers who may be dealing with depression to know that tomorrow can always be a little brighter than the day before.
"It's OK to feel that way," Hallie Elizabeth said. "And there's always hope. There's a strength in being vulnerable."
Ryah Cooley is scrolling through Instagram. Contact her at rcooley@newtimesslo.com.