There's possibly no more comfortable place on the Cal Poly campus right now than the University Art Gallery.
Within that white room, you'll find all the plush features of the coziest pad—a zebra-print rug, fluffy pillows, ample seating, and elaborately crocheted decor. This is a place where you'd want to hang, want to explore, bring your friends, and have a chat in. Welcome to Making Space for Free-Play, a new exhibit from artist Sheila Pepe.
PHOTO COURTESY OF JAY THOMPSON
A DASH OF PEPE: Pepe, who has shown at New York's MoMA PS1 and in the country of Georgia, speaks to a group of art students in Cal Poly's Dexter building.
As a young girl, Pepe's mother taught her how to crochet, and she hasn't stopped since. Born in New Jersey in 1959, she grew up enmeshed in the hard-working, church-going ethic of an Italian Catholic family. But soon, she began to separate herself, first by ditching church in favor of coffee and cigarettes and later by her avant-garde artistic endeavors. Influenced by feminist art pioneers like Faith Wilding and installation artists like Judy Pfaff, she began experimenting with conceptual sculpture in school.
"I had a fixation on objects of any kind," she mentioned during an art talk on the Cal Poly campus. "I love objects that are votive, in space, but what I especially like is when they come together to mean something more than abstraction."
Pepe's early work underlined this intention and aesthetic, with pieces that explored not only the bounds of formalism, but also the bounds of place and social norms. Toward the end of her art school tenure, she crafted a sculpture with bricks that lay on top of hair rollers placed in rows across a carpet. Alone, the objects don't convey much, but when put together in that context and in that space, they formed a provocative commentary on the difference between domestic and industrial space; the past and the present; and notions of gender politics.
These themes (gender, space, place, materiality) have followed Pepe throughout her career. She's a staunch feminist and lesbian, and from the get-go, her creations—whether they be shadow drawings or art films—have set out to find a voice and a new language that can be both understood and articulated.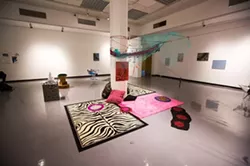 PHOTO BY KAORI FUNAHASHI
ROOM TO GROW: Installation artist Sheila Pepe collaborated with the students of Cal Poly art professor Diana Puntar to create the pieces in Making Space for Free-Play.
"I'm interested in the ambiguous, the uncanny, abnormal—things you sense beneath the cracks," she said. "[They] are made to defy ownership [with an] intimacy of space. Art [is] to be experienced, both optical and visual."
Over the years, Pepe's moved from small, more self-contained pieces to sweeping, interactive installations. She crochets nearly all-year-round, using materials as varied as nautical towline, men's bootlaces, and fuzzy yarn. Recently, she's crocheted curtains, webs, and seat covers for installations in Boston, MoMA PS1 in New York City, and Tbilisi, Georgia, where visitors were invited to help dismantle the crocheted drawings and use the material for their own creations.
For this exhibit, Pepe teamed up with Cal Poly art professor Diana Puntar and her classes.
The students designed and crafted their own "chair-like sculptures" out of mixed materials in the same spirit as Pepe's crocheted pieces, which take the form of seat covers, rugs, and canopies that are hung from the gallery's ceiling and central pillar.
The result is a funky atmosphere, filled with odd shapes, disparate textures, and vibrant colors. There are chairs made of cardboard, seats wrapped in plastic, neon-pink doilies, and sketches of a nude woman lining the walls. It's an eclectic mix, intended to expand with new objects as the exhibit runs its course. The crochet and carpets blur the line between the stuffy, formal setting of an art gallery and the intimate familiarity of the domestic space.
STRING YOU ALONG: You can experience Making Space for Free-Play through March 13 at Cal Poly's University Art Gallery. The gallery is open Tuesday through Saturday from 11 a.m. to 4 p.m. Admission is free. For more info, visit artgallery.calpoly.edu.
But more than that, it's a room made from a group of people for a group of people. It's a space transformed into a meaningful place.
"Let's have fun, make a place for other people to do things," Pepe said. "There's a sense of putting things in a place, infiltrate the white box, and make it feminist. It's a place to do things—my take on social sculpture. … Architecture is a social enterprise, so is sculpture."
Jessica Peña's more of a knitter, but you can teach her how to crochet at jpena@newtimesslo.com.