THE 17TH ANNUAL HOSPICE DU RHONE MAY 1–2, FRIDAY AND SATURDAY: Wine aficionados come first for the amazing array of Rhone wines at HDR, no doubt about that. But here's another good reason we love this celebration: the outstanding meals chefs create to complement the 22 different Rhone varieties. This year a local favorite, chef Maegen Loring of the Park restaurant in SLO, will prepare breakfast, lunch and dinner during the entire HDR celebration. That means Rhone wine connoisseurs will feast on fabulous treats no matter what this talented chef cooks up. At breakfast, SLO Roasted Coffee will be there to ensure you're fully caffeinated for a full day of wine tasting. This year's seminars focus on local talent, including extraordinary winemakers who well deserve attention. On Friday during "Somms Gone Wild!" you'll taste the wines of Cris Cherry of Villa Creek Cellars and Paul Lato featuring his eponymous label from Santa Maria Valley, plus wines by three other sommeliers. Next attendees will get a lesson about "East Side West Side" with Clarissa Nagy of Bonaccorsi Wine Co., and Greg Brewer of Melville and Brewer-Clifton, from the Santa Rita Hills region of Santa Barbara County. On Saturday it's a guided lesson in choosing proper glassware, "What's in Your Cabinet?" led by the distinguished Georg Riedel with winemakers and wine experts who will discuss the wines you're tasting. Afterward everyone will walk away with the set of four wineglasses compliments of Riedel. The last seminar, "Beyond the Yellow Brick Road," showcases the wines of Justin Smith of Saxum, and Sashi Moorman of Stolpman and Piedrassasi, both of whom are admired by their peers for going over the bar in viticulture and winemaking. Some tastings are priced individually: on Friday the "Rosé Luncheon" and the "Rhone Rendezvous" of reserve and library wines, barrel samples and new releases; on Saturday "Lunch and the Live Big Bottle Auction" of specially crafted Rhone wines, the "Grand Tasting," and the "Farewell BBQ." The package is $795 per person, individual events are priced $100\person. For details and ticket purchases go to www.hospicedurhone.org.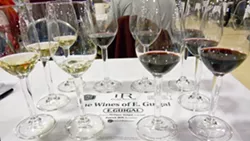 The wine industry has blossomed during the past 40 years on the Central Coast and we've had many serious wine events that attracted American and international travelers. Wine connoisseurs will travel any distance to taste great wines, especially the outstanding varieties produced here. But there is only one event that brings an array of international winemakers to us, Hospice du Rhone (HDR). Each year winemakers fly in from South Africa, New Zealand, Spain, and France to share their outstanding wines with everyone.
Even more compelling for the international artists is the opportunity to celebrate their unique varieties and blends among their peers. This year, they'll sit in on seminars focused on our super winemakers and Central Coast wines that are renowned around the world. For those of us who are guests, we'll have the opportunity to taste rare Rhone varieties and blends that are made in such minute quantities we may never find them in the marketplace or in restaurants. I've focused on two excellent local brands highlighted this year at HDR, which are reason alone for attending the educational event.
Winemaker Paul Lato will offer two 2007 Syrahs, Larner Vineyard and Bien Nacido Vineyard, under his eponymous label during the "Somms Gone Wild!" seminar. Lato, a Polish immigrant who was a sommelier in Toronto for ten years, was inspired by winemaker Jim Clendenen of Au Bon Climat in Santa Maria, who invited him to experience the 1977 harvest. He loved it and after returning to Canada began dreaming of becoming a winemaker. In 2002 he left his sommelier career behind and relocated to Santa Maria to devote himself to making wine.
In 2004 he introduced his first Syrah while sitting in on a panel at the Aspen Food & Wine Classic. Moderator Jeff Morgan, a wine critic and author, said of Lato's Syrah: "I've tasted thousands of Syrahs during my career and I see Paul Lato as the next generation of rising stars in Syrah."
Lato also makes some of the finest Pinot Noirs around. Lato pointed out, "I don't make everyday table wines. I'm devoted to producing fine wines that express the character of the incredible vineyards where they were grown."

ROLL OUT THE BARRELS—A PASSPORT EVENT APRIL 30–MAY 3, THURSDAY THROUGH SUNDAY: If current times make HDR unaffordable, the San Luis Obispo Vintners Association's weekend event is budget-friendly. Thursday evening there's the popular "Barrels in the Plaza," a food-and-wine fest with live music and a barrel- building demonstration, only $25 per person. Friday evening features winemaker dinners at the finest local restaurants, prices vary. On Saturday and Sunday, the passport event makes you a VIP at all of the wineries, $55, and $40 for designated drivers. Wineries include: Ancient Peaks, Baileyana, Tangent, Cal Poly, Edna Valley, Domaine Alfred, Chamisal, Claiborne & Churchill, Javadi, Kelsey See Canyon, Laetitia, Kynsi, Ortman, Piedra Creek, Per Bacco, Sinor-LaVallee, Salisbury, Sextant, Saucelito Canyon, Tolosa, Wood, and Wolff. For details about this event and reservations visit slowine.com or call 541-5868.
Restaurateur Cris Cherry is highly respected for his Villa Creek establishment, and his wine list ranks among the best in the county. With the introduction of his Villa Creek wines, made in the spirit of great wine producers of the southern Rhone and the bodegas of Rioja and Priorat, he's also a highly sought-after wine producer. With his wife JoAnn, they create unique and individual blends with Grenache, Syrah, Mourvedre, and Tempranillo from Paso Robles' finest vineyards, including those of James Berry, Booker, and Denner.
During the sommelier seminar Cherry will introduce two new wines: the 2007 Garnacha, not in markets yet; and 2007 La Boda, "the wedding," a 50-50 Grenache and Mourvedre blend that's available at Villa Creek Winery and 15 Degrees C. He's also showing a library selection that is a favorite of his, the 2005 Bete Noire, meaning the black beast, 60 percent Syrah and 40 percent Mourvedre. "I wanted to show wines that represent our style, French-cooperage, fruit-driven wines with decent acidity."
You can reach New Times' Cuisine columnist at khardesty@sbcglobal.net.